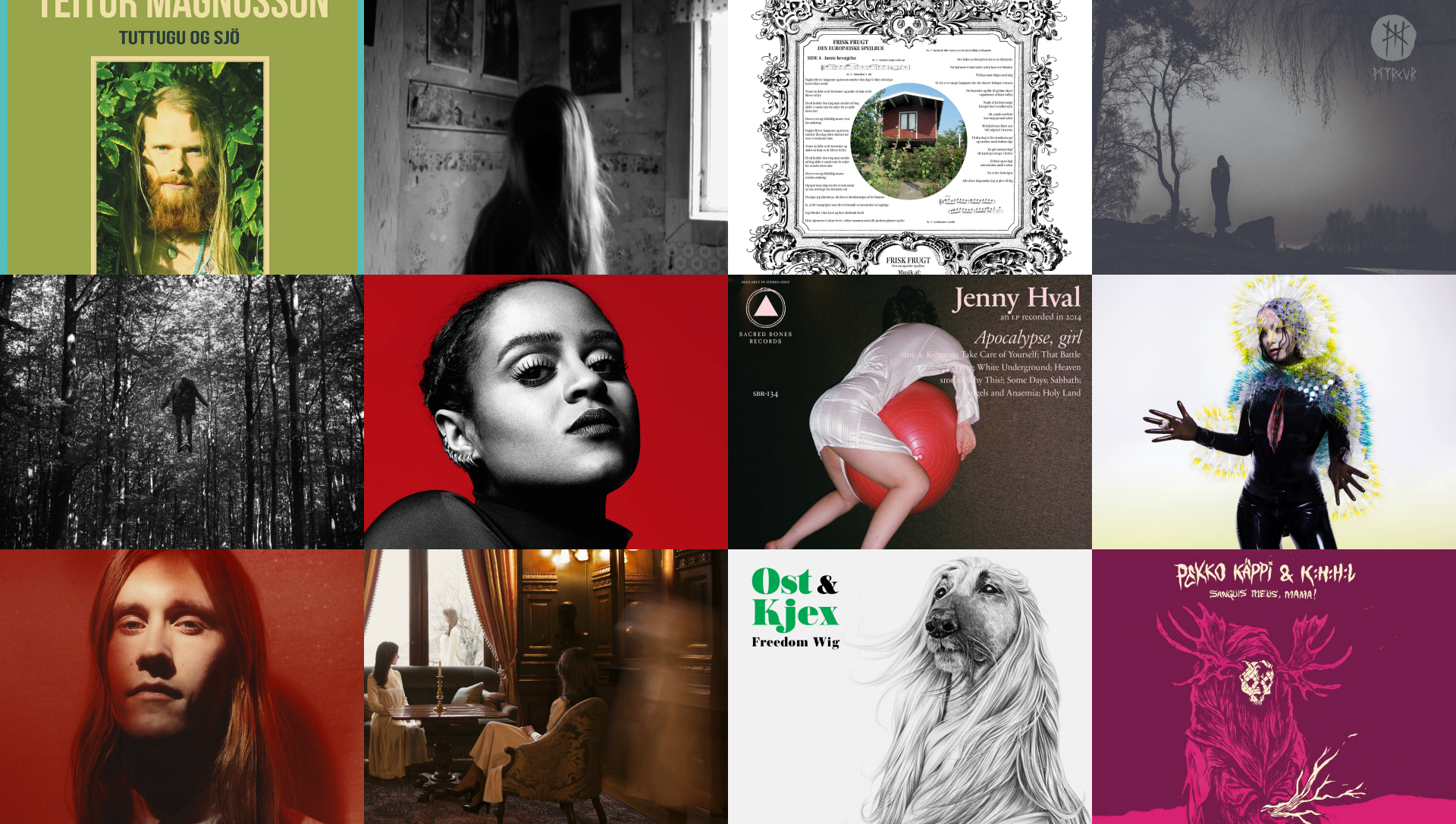 Jan 2016
The Phonofile Nordic Music Prize Returns for a Sixth Edition!
Back in 2010, Icelandic musician and much loved Sigur Rós member Jónsi stepped up to the podium at Oslo's by:Larm Festival to become the first ever winner of the newly introduced Nordic Music Prize, an award which recognises outstanding musical creativity through selecting a best album from the previous year's releases.
Since the first award was handed out, artists from throughout the Nordic region including Goran Kajfes [SWE], First Aid Kit [SWE], The Knife [SWE] and most recently Mirel Wagner [FIN] have all been honoured with the prestigious title, and we're very excited to announce that the prize is set to return in March for a sixth edition!
The Phonofile Nordic Music Prize has tasked itself with "celebrating and honouring the album as a format for artistry" and in order to do this, works with a Nordic jury of experts to pick a 12 album shortlist, with an eventual winner being selected by an international committee at a special listening session in Oslo.
The Nordic jury – consisting of music critics and journalists from the five Nordic countries – released the following statement, referring to their hand-picked short-list of nominees to be considered for the final prize.
"The Nordic idea of a collective welfare system continues to be a model society for politicians around the world. Yet the Nordic Music Prize jury have managed to find 12 strongly individualist expressions coming out of Iceland, Norway, Finland, Sweden and Denmark. From established stars like Björk over upcoming darlings like Seinabo Sey and Jaakko Eino Kalevi to strange and adventurous souls like Frisk Frugt and Jenny Hval.
The jury have once again embraced the unmistakably brilliant minds as well as the deeply personal tempers. Some of them reaching out to a wider audience, maybe confirming a Nordic feel, others diving deep into uncharted territory, blowing up any kind of stereotypes."
The winner will be announced at a ceremony at by:Larm Festival in Oslo on Thursday 3rd March, so let's not wait any longer – let's take a closer look at each of the nominees for the Phonofile Nordic Music Prize!
Teitur Magnusson – 27 [Iceland]
Teitur excelled on his 2015 release 27, which saw the Icelandic musician perfecting the craft of making simple yet striking, melodic and thoughtful tunes, which explore the important emotional issues of day to day life in a direct and powerful way. Not just a solo musician, Teitur Magnusson is also a member of Icelandic reggae group Ojba-Rasta, proving that the music that he makes is as versatile as it is disarming.
Björk – Vulnicura [Iceland]
Written in the aftermath of a difficult break up, Björk's ninth studio album Vulnicura is a truly majestic piece of work. The lyrics arrive in a stream of consciousness address to a departed ex-lover and it's emotional honesty have you hooked in a second.
Frisk Frugt – Den Europæiske Spejlbue [Denmark]
Anders Lauge Meldgaard – alias Frisk Frugt's – third album is quite a departure from his previous release, which saw him interpreting music from Mali and Burkina Faso. This time, the artist has been travelling around Europe and experimenting with the folk and classical music he found on the way, resulting in a modern and contemporary take on songwriting, woven into orchestral collages.
Myrkur – M [Denmark]
M is the first full-length album by Danish one­-woman black metal project Myrkur​ who burst onto the Nordic music scene in 2014. On M, Amalie Bruun, the voice behind Myrkur, blends second­wave black metal, Nordic folk music and haunting choirs, showcasing the artist's prodigious compositional and vocal talents.
Danni Toma – Grå [Denmark]
Danish-Palestinian rapper Danni Toma had his break through as a member of the Aalborgs HvadEvigt? crew but has since made a name for himself in the Danish rap scene. Toma started working on Grå right after his first solo debut album Woman was released in 2013, helping him to cope with and overcome a breakup with his ex-girlfriend of eight years.
Ost & Kjex – Freedom Wig [Norway]
Five years after Cajun Lunch, the Norwegian House duo Ost & Kjex returned in great style, channeling all sorts of deep dance music for their new album Freedom Wig. Their sound has matured heavily, and Freedom Wig captures us with hypnotic vocals, a gospel choir and collaborations with various artists from the thriving Norwegian music scene.
Band of Gold – Band of Gold [Norway]
What began as a pile of homemade demo recordings by singer, composer and multi-instrumentalist Nina Elisabeth Mortvedt, now appears as the first record by Band of Gold under the same name. In collaboration with her other half, musician and producer Nikolai Hængsle Eilertsen, Band of Gold has become a celebration of skeletal funk, country soul and chamber pop, full of musical details.
Jenny Hval – Apocalypse, girl [Norway]
Jenny Hval has in recent years made a name for herself as a writer, journalist, recording and sound artist both in Norway and abroad and her exceptional third album Apocalypse, girl was produced by Norwegian noise music legend Lasse Marhaug, stretching the limits of what pop music can sound like and testing our imaginations at the same time.
Seinabo Sey – Pretend [Sweden]
Pretend, the breakthrough record by Seinabo Sey, contains instantly addictive, beautifully crafted pop music, laced with fiery gospel choirs, trip-hop beats and a voice strong enough to move mountains. The artist just took home the prestigious trophy for 'Best Artist' at Sweden's P3 Guld Awards, so we're excited to see if her success will be mirrored at the Phonofile Nordic Music Prize…
Anna von Hausswolff – The Miraculous [Sweden]
The miraculous place, the alternative dimension where human beings like to escape to from everyday life became the focal point of Anna Von Hausswolff's third album The Miraculous. Recorded in part in Piteå, Sweden on one of Scandinavia's largest pipe organs, these hauntingly beautiful melodies sound as if they're carved out of ice blocks and accompanied by the arctic wind.
Jaakko Eino Kalevi – Jaakko Eino Kalevi [Finland]
Jaakko Eino Kalevi is one of the most hyped and loved Finnish artists, busily bringing his irresistible voice and style to festivals in Europe and the United States. His self-titled album Jaakko Eino Kalevi is a richly immersive and hyper-vivid record, taking us to a wondrous place where everything happens in its own time. Click here to check out Jaakko's very own Nordic Playlist and to see what some of his favourite tunes from the Nordics are!
Pekko Käppi & KHHL – Sanguis meus, mama! [Finland]
Pekko Käppi, a well known player of the jouhikko, a traditional Nordic bowed string instrument, teamed up with Tommi Laine and Nuutti Vapaavuori to form Pekko Käppi & KHHL in 2013, releasing Sanguis meus, mama! in 2015. The trio's minimalistic and straightforward sound has a distinct odour of pop, layered with colliding rhythms and psychedelic sights.
Who do you think will win this year's Phonofile Nordic Music Prize?
Let us know on Facebook, Twitter and Instagram!