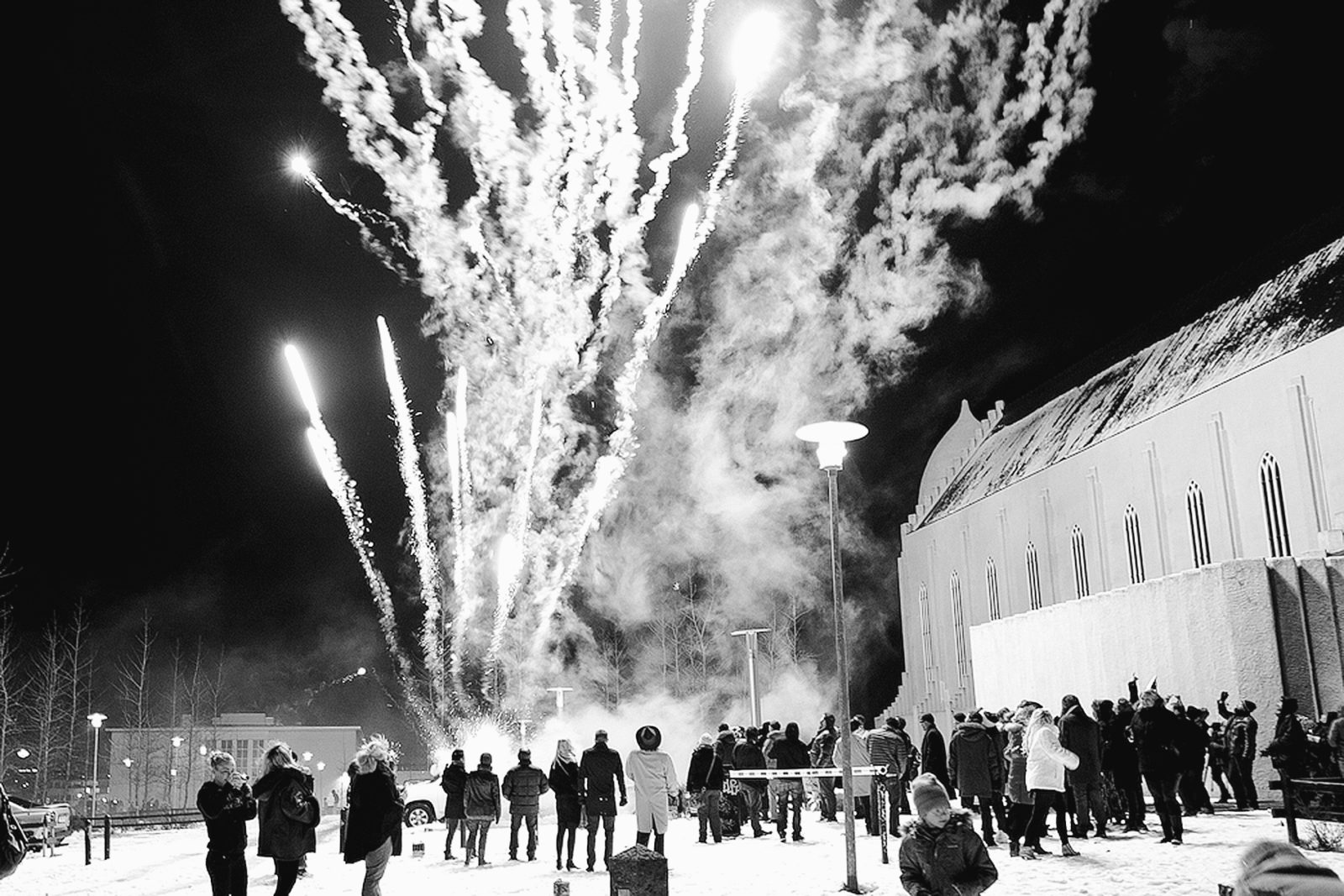 Dec 2015
But if 'Jingle Bells' and 'Last Christmas' are the only tunes popping into your head right now, then you've come to the right place as your winter soundtrack is about to get a distinctively Nordic makeover.
We here at the Nordic Playlist are welcoming the spirit of the festive season with a playlist packed full of our favourite winter-themed tunes from great Nordic artists such as Of Monsters and Men, Emilíana Torrini and Mew, as well as dipping into some Christmas hits from the like of The Raveonettes and The Hives and some off-kilter festive additions from The Knife and Lindstrøm!
Press 'play' just above to tune in to our Festive Winter Mix on Spotify, Deezer and TIDAL – and make sure to follow the playlist as we'll be updating it with more tracks as the Christmas season gets underway!
What better way to kick off a Christmas playlist than with a dedicated song from one of our favourite Danish duos? The Raveonettes released 'The Christmas Song' back in 2003, and more than 10 years on, the song remains one of the finest festive indie anthems out there. Clearly big fans of the season, the band's Sharin Foo and Sune Rose Wagner went on to release another Christmas record in 2008 in the shape of Wishing You A Rave Christmas – so this year, we invited them to teach us 'How To Write A Killer Christmas Tune'! Find out more by clicking here, and check out Sune's very own Nordic Playlist now!
In 2012, Nuuk native Nive Nielson and a number of collaborating musicians known as The Deer Children released Nive Sings! – a critically acclaimed record which grabbed worldwide attention for its beautifully honest stories, delicate melodies and vivid imagery. 'Winter Song' is definitely no exception to the rule, serving as a perfection addition to our winter-themed Nordic Playlist by adding a bit of Reindeer Inuit Indie … or North Pole Snow Pop? We could go on forever with this!
Find out more about the unique music scene of Greenland as well as tuning in to a hand-picked Nordic Playlist full of Nive's favourite songs and artists from throughout the region…
Team Me – Winter Olympics '94
We're heading to Norway next, and reminiscing about the winter of 1994 when the Winter Olympics hit the North! Team Me reflected on this memorable occasion in their track 'Winter Olympics '94', which was taken from the band's 2012 EP Female Lead.
The Elverum outfit released their second album Blind As Night! last year and at the same time, created their very own Nordic Playlist! The band announced their decision to go their separate ways a few weeks back, but fear not! More music from this great bunch of musicians will be making its way to you soon – in the mean time, warm up for the winter with this fantastic track from Team Me.
Ásgeir – Head in the Snow
As you probably know, the winters up North tend to get rather cold, dark and melancholic, something Ásgeir captured perfectly in his winter track 'Head in the Snow' from his 2014 album In the Silence. In this super soothing tune, he brings out the inspiring yet heavy tones of the Nordic winter and dazzles it with sonic flourishes. This sets the scene beautifully for an inspiring Winter Song – with capital letters!
Rounding off a year full of outstanding music from the North, the fantastic First Aid Kit help us look to 2016 with their track 'New Year's Eve'! We caught up with Johanna and Klara Söderberg at Roskilde Festival back in the summer (remember the summer?! The sunshine, the warm breezes…) to find out about their incredibly successful most recent album Stay Gold, and to invite them to share their favourite Nordic tracks and artists.
Tune in to First Aid Kit's Nordic Playlist by clicking just here, watch our exclusive interview from Roskilde Festival and count down the days to the start of a brand new year with the pair's delectable tribute to the passing of the years.
Swedish singer and previous Nordic Playlist curator Veronica Maggio has true superstar status is the Nordic countries, thanks to her iridescent pop stylings and sensational voice. Her festive version of 'Ballad om vintern' differs from her pop tunes, but is a true treasure of a tune with its beautiful, minimalistic arrangement and Veronica's strong yet soft voice expressing the colours of a Swedish winter dream right in front of us. It wouldn't be a winter playlist without it!
Aurora – Half The World Away
Aurora's selection as the voice of the John Lewis Christmas advert this year is big news, as she becomes the first non-British artist to soundtrack the adored advert series, which has become a Christmas institution in the UK.
Depicting a lonely man being contacted by a kind-hearted earthling child (who's sure to be on Santa's 'good' list), Aurora's heart-wrenching cover of the Noel Gallagher-penned track 'Half The World Away' has become the soundtrack of Christmas 2015, so we caught up with Aurora herself to find out more about her favourite Christmas tunes, her Christmas traditions and her New Year's resolutions!
Aurora made her own Nordic Playlist earlier this autumn, as well as taking part in a special interview with us – so get to know this rising star better, right here at the Nordic Playlist!
Not your traditional Christmas song by any means, but this track is a fitting tribute to the energy, dazzling lights and good spirits flying around in the final month of the year. 'December Theme' from Finland's Satellite Stories provides a fantastic burst of energy, encouraging us to keep up the heady momentum of the Christmas season before we're able to fully relax during the holidays.
'December Theme' is taken from the 2013 album Pine Trails, which preceded the release of the band's latest album Vagabonds earlier in 2015 – find out more in Satellite Stories' Nordic Playlist interview!
Ólöf Arnalds – Turtledove
Lifted from Ólöf Arnalds' latest album Palme, 'Turtledove' may not have been intended as a Christmas song, but the strong connection of the birds with the season, along with Ólöf's warm, cosy tone and style make this song a perfect soundtrack for frosty, wintry days.
Listen to Ólöf's Nordic Playlist and find out more about this fantastic artist right here!
Amanda Bergman – Vintersaga
The song 'Vintersaga' was originally written and recorded by Ted Ström back in 1984, and has since enjoyed re-workings from a number of Swedish stars from a range of genres, including Andreas Johnson and Monica Törnell. In early 2015 though, a more epic and vivid version of the track than had ever been heard before was released, crafted by the poignant voice of Amason's Amanda Bergman and the immeasurable skills of producer Oskar Linnros.
Grand and beguiling, this version of 'Vintersaga' captures the intensity of a Nordic winter, so tune in to the track as part of our Winter mix now, and find out more about Amanda's band Amason in their specially curated Nordic Playlist…
Of Monsters and Men's 'Winter Sound' is a powerful anthem which was featured on the quintet's recently released and critically acclaimed Beneath the Skin as a bonus track. Following in the footsteps of such catchy tracks as 'Little Talks' and 'King & Lionheart', the song's lyrics depict a couple's struggle to find peace with each other. We couldn't stop listening to it, so included the up-beat song into our Winter playlist this year, taking us far away to the glaciers and volcanic landscapes of their home country, Iceland.
Guitarist Brynjar Leifsson joined us at the Nordic Playlist earlier this year to tell us all about Beneath the Skin, and to share a playlist of some of his favourite Nordic songs to us. Listen to it right here!
The Hives and Cyndi Lauper – A Christmas Duel
Swedish rockers The Hives teamed up with American pop icon Cyndi Lauper in 2008 to create a classic Christmas track entitled 'A Christmas Duel'. Their aim was to reinvent the conventional holiday song, and they definitely succeeded with a heady juxtaposition of sweet music and nasty lyrics. We like to release our inner punk every once in a while, and don't see any reason why this can't be done during long winter nights as well! See us rockin' around the christmas tree …
Husky Rescue – Snowfall
Finland's Husky Rescue gave us a taste of a Finnish winter back in 2011, when the track 'Snowfall' was released as part of their Ship Of Lightalbum. Not only does this band harbour an outstanding live reputation, but following on from the release of their latest album The Long Lost Friend in 2013 and the recent unveiling of new track 'Tree House', are also establishing themselves as a recording force to be reckoned with.
'Snowfall' takes a dark glimpse at the wintry season, conjuring images of cold, frosty nights and chilly, short days – so tune in to the track now by pressing 'play' just above and selecting your favourite streaming service!
Keeping in line with winter songs meant for quiet, cosy nights, Emiliana Torrini's 'Snow' is taken from the singer's second album Fisherman's Wife released in 2005, and is a stunning showcase for the Icelandic star's mellow voice to recount tales of love and loss.
Find out more about how her home country Iceland inspires her to write such atmospheric songs, and which tracks and artists Emiliana selected for her superb Nordic Playlist by clicking here…
Amanda Bergman, who as well as being a superb musician in her own right, is also a vocalist in Amason, has revealed herself to be the queen of winter songs, with TWO tracks featured in our playlist! Her version of the immortal classic 'Jingle Bells' brings out an undeniably nostalgic feel, combined with her velvety voice. It truly shows Amanda as an incredible strong storyteller and we could have this beauty of a tune on repeat all day.
Sans Parade – On December 13th
'On December 13th' is the closing track of Sans Parade's self-titled debut album released in 2013. While the title refers to the Nordic tradition of celebrating St. Lucia's Day, the musical arrangement supports the wintery atmosphere the band wanted to convey. Paired with dark lyrics, the end result is a melancholic winter song perfect for cosy nights in front of the fire place.
Mew – She Came Home For Christmas
A track that shouldn't be forgotten in any December playlist is the grandiose 'She Came Home For Christmas', taken from Danish outfit Mew's seminal 2003 album Frengers. The song is a melancholic ode the season, to happiness, to love – a poignant reflection on an emotional year, performed by a band that can capture heartache like no other.
2015 saw the long awaited release of new music from this coveted outfit, so find out more about the making of the record in a special Nordic Playlist curated by the band's Johan Wohlert.
The title track from Ólafur Arnalds' 2013 album, 'For Now I Am Winter' is a beautiful reflection of the frosty landscape surrounding the Icelandic artist's studio. Featuring the vocals of Agent Fresco frontman Arnór Dan, with this song, the pair succeeded in creating a mesmerising mirror of Iceland's impressive vistas as the nights get longer and the skies get darker.
2015 has been a very busy year for Ólafur, who has been busily touring with his side project Kiasmos, while maintaining his stance as a revered composer and all round excellent musical fellow. Check out Ólafur's Nordic Playlist here, and keep a close eye on the site for some special news from Kiasmos, coming soon!
The Knife – Reindeer
Fully embracing the age old tradition of Christmas songs, but in a suitably non-traditional fashion, 'Reindeer' from The Knife is one of the strangest, quirkiest Christmas songs out there – and we can't get enough of it.
'Reindeer' is the closing track from the band's 2001 self-titled debut album, an off-kilter tale which allows this unique pair to add their off-beat gloss to a festive tune. Why not remind yourself of what this pair does best by revisiting their last album Shaking The Habitual as you wrap your Xmas gifts?
Lindstrøm – Little Drummer Boy
Christmas is a time for sharing, a time for playing and a time for embracing and expanding traditions – an attitude perfectly captured when Lindstrøm decided to cover a Christmas classic and to give it a thoroughly modern twist.
At an expansive 45 minutes long, the full version of Lindstrøm's reinterpretation of 'Little Drummer Boy' provides the perfect soundtrack to your avant-garde Christmas dinner. We've opted for the shorter blast for our playlist however, coming in at just under 5 minutes long as Lindstrøm offers up a space age reworking of a yuletide classic.
God Jul, Gleðileg Jól, Hyvää Joulua, Glædelig Jul, Merry Christmas from all at the Nordic Playlist!
Discover more special Nordic Playlist Christmas features here…
www.facebook.com/nordicplaylist
www.twitter.com/nordicplaylist
www.instagram.com/NordicPlaylist