Feb 2016
The Gothenburg native has become a household name in recent months, on the back of her success in the hit TV show Så mycket bättre.
Striking a chord with the programme's audience, Miriam Bryant proved that not only does she have a serious knack for transforming lyrics and melodies, but she also demonstrated that she's a genuine, inventive and thoroughly talented artist.
On the 1st January 2016, Miriam released an EP featuring a series of the cover versions that she performed in the show, and this powerful collection of covers has already gathered more than 70 million streams on Spotify alone. Miriam and her band are now preparing to head out on the road to bring not just covers from the show to audiences around Sweden, but also Miriam's original tracks such as 'Dragon', 'Push Play' and 'Finders Keepers'.
We invited Miriam to join us at the Nordic Playlist and to share a hand-picked selection of her favourite Nordic artists, so tune in to her playlist by pressing 'play' just above, and read on to find out more about what the future holds for Miriam Bryant!
We think the best place for us to start is your recent TV appearances, because you've had a very busy start to the year – can you tell us a little bit about your participation in the show 'Så mycket bättre'?
So basically it's a cover song show where they ask artists from different genres and ages to do covers of one another's songs, and the general idea is to do it better than the original. For me, it was really exciting because I was the underdog in the show so it was really important to work on each and every track for a long time.
Me and my producer did it together and for me it was the first time producing – like, really getting into the production. So it was really good for me to get a better insight into that part of everything. We worked on six different covers for five months. We really worked hard and I'm really proud of the outcome, I think the covers… they feel like mine.
What kind of thing do you have to do to make it your own? Did you have a certain process? 
First of all, we got to pick the songs ourselves. Sometimes it was hard to pick the right track to cover but a lot is in the instrumentation, in the instruments you choose to use in the production and whether to keep it really organic or use electronic influences and make it sound fresh and new. I did some radical changes to the lyrics as well. Basically we just changed the whole songs. There still needs to be a resemblance to the original because you don't want to be rude or disrespectful or anything, so that was a battle to still make it sound like me, but fresher and newer.
So it's kind of like a blank canvas with the sketch already on it, and then you get to add the flourishes…
Exactly, that's exactly how it is. In the show, it's not just about the music. I mean for me, it is a lot about the music but there is also the social part, the interviews, the dinners and the conversations. It's a conversation based show really, and I really tried hard to be myself the whole time and to forget about the cameras.
It's a strange situation because you never have dinner with eight people where everyone is just listening to one person at a time. It's just a little bit unnatural but I think it worked well.
So the next step is taking this all out on the road, going out to play live?
Yeah, well there is hopefully a need … a NEED (laughs) … there are hopefully a lot of people, or some people at least, that want to see me now after the show because I was obviously presented to the bigger masses. But I'm going to go on tour with my own stuff and then bring some of the songs from the show on tour with me.
I'm working on new material too but I think I'm going to release that after the summer – there might be a single before the summer but, but yeah, I'm definitely going to bring some songs from the show on tour with me, but not all of them as it is important to stay true to yourself, stay true to what you are doing.
What do you want people who come to your show to go home feeling? What do you hope people will experience when they come see you live?
I hope that people will appreciate the songs we did for the show as well as my old stuff, because that is really important to me. My wish is to make them sad and happy… and just make them feel something.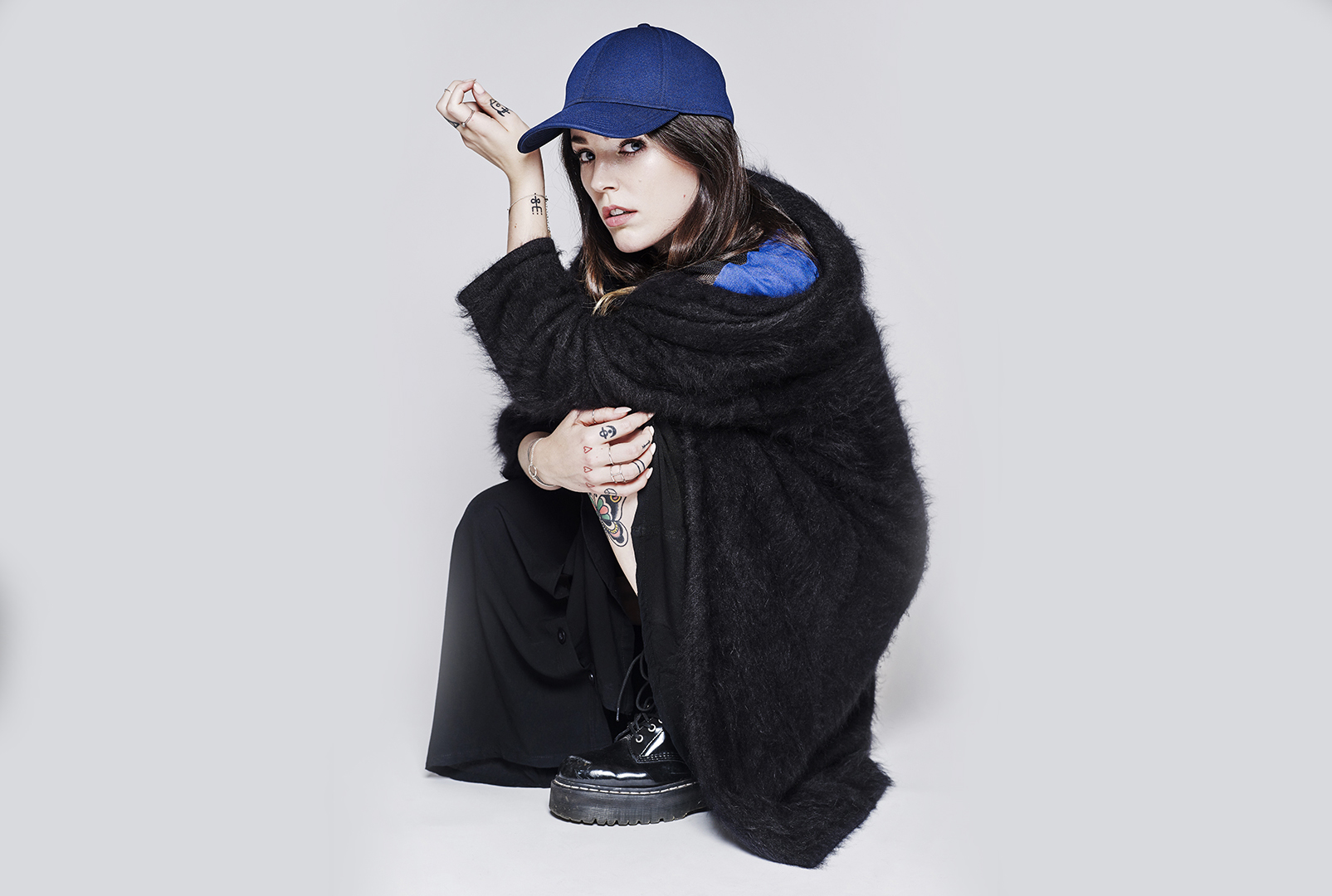 Is there a Nordic artist that you can think of that has either been really influential on you, or somebody that you just can't stop listening to?
It's definitely Håkan Hellström for me. I'm not a crazy fan or anything but… yes, I am! (laughs) But Håkan Hellström for me, he has always been around, he's always been in my ears, in my headphones since I was, I think, ten or something. So yeah, he has been really important for me. I even have a Håkan Hellström tattoo! I'm a little bit of a fangirl when it comes to him – and I'm definitely not the only one, he definitely is a legend in Sweden.
And you've picked some of his tracks to go into the playlist. So which ones did you picked?
I picked 'Atombomb' which is the inspiration to my tattoo as well. And I picked 'Det är så jag säger det' …
And you put Niki & The Dove in there as well?
Yeah, I think Niki & The Dove have been putting out some really cool stuff lately and the single 'Play It On My Radio' is one of my favourite songs at the moment. I think it sounds really urban and really fresh and cool, but still has that old-fashioned sound to it too.
Niki & The Dove are absolutely brilliant, obviously, but are there any other Swedish artists, any other up and coming Swedish artists that you are keeping a close eye on?
Up and coming Swedish artists… I think that we are all up and coming the whole time. I think you just try to elbow yourself through … because there is so much new, so much good stuff there.
There are so many female artists in Sweden that I really look up to that aren't maybe considered up and coming, but that have been up and coming and just broke, like Tove Lo for example is one of my big favourites. Seinabo Sey. There is Marlene. She is up and coming, she has been up and coming for a while and I think that she is an amazing songwriter and she has one of the most amazing voices in Sweden. She is going on tour with Sabina Ddumba. Yeah, there are lots of female artists I think. Being one myself, I always try to support other female artists.
And you hinted at some music later in the year but is there anything else that we can expect from you? Do you have any big news you'd like to share?
Oh I always have big news but I can't share it! It's all secrets. But apart from the music that is coming out, I'm going on tour and I'm looking forward to the summer. We are going to continue touring all through the summer. I'm going to start rehearsals with my band – we have a new musician which is really exciting for me, and for the other guys because we have been playing the same songs for a while and we keep playing them, so we need some fresh ideas and to work on the live sets more.
This show ['Så mycket bättre'] I have been on, it enabled me to have a better live set 'cause that stuff is expensive! So that is all going to go back into the production – I'm not going to get a Prada jacket! I'm just going to do what I do and try to do it better.
www.miriambryantmusic.com
www.facebook.com/miriambryantmusic
www.twitter.com/miriambryant