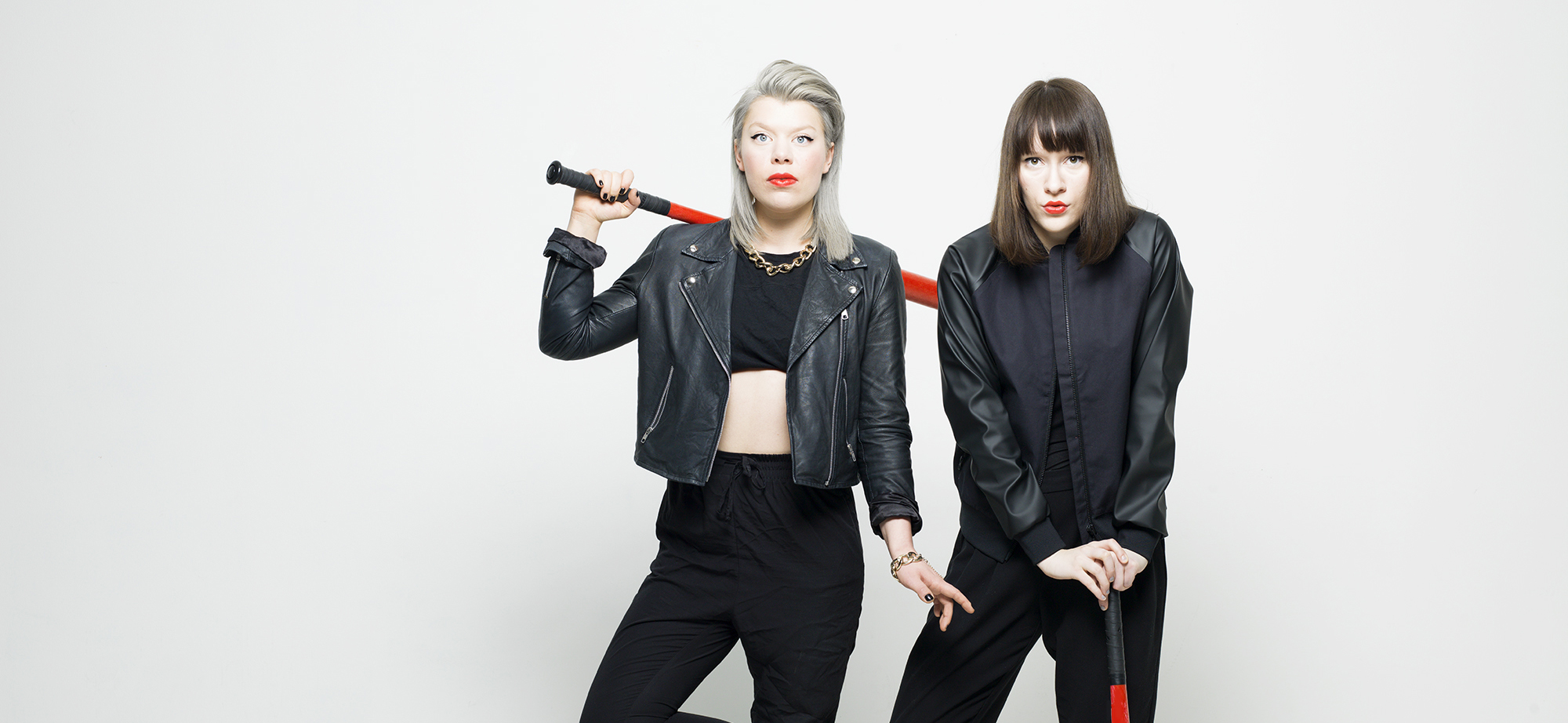 May 2016
Sisters Emma and Mia Kemppainen have been making an indelible sonic mark as LCMDF – formerly known as Le Corps Mince de Françoise – since 2009, when their breakthrough track 'Something Golden' was released via iconic French electro label Kitsuné.
Since then, the Finnish duo have released an armful of singles, EPs and a debut album entitled Love & Nature, establishing themselves as powerful purveyors of confrontational pop music, infused with elements of hip-hop, urban and floor-filling electronica.
2015 saw the pair return in full force, brandishing a brand new single entitled 'Fooled' which once again propelled the pair the forefront of the Finnish alt-pop scene. Subsequent singles 'Rookie' and 'Procrastination 365' have laid a tantalising trail, leading towards the duo's much anticipated next album – so to find out more about what's in store, we invited LCMDF to curate their very own edition of the Nordic Playlist!
Click the speaker button above to tune in to a hand-picked selection of the duo's favourite Nordic tunes, and read on to find out what lies in their future, how they feel about English language music in the Finnish pop world and why the story behind their latest single 'Rookie' is so important.
Thank you so much for joining us at the Nordic Playlist! Where are you both right now, and what are you up to?
Thank you for having us! Boy this is exciting, as we're probably the biggest two fans of Nordic music in Finland. At the moment we're in Berlin doing live rehearsals for our upcoming shows in London, The Great Escape Festival and Barcelona. Including new songs and reworking some of our old tunes… We've been really into adding harmonies to everything lately, it ends up sounding like a twisted kids choir when done right.
You've been steadily releasing new music over the past year or so, so can you tell us how you're writing songs at the minute? And has your process changed much over the past few years?
In 2015 we started experimenting with dance music in a whole new way. Working with new producers from the EDM world is a new thing, as it hasn't been done in the Finnish indie-world before. It pushes you out of your comfort zone to create something new and exciting. We've tried different approaches on writing, and produced some stuff ourselves. Dance music like Ed Bangers and Kitsuné stuff was a really big inspiration for us back when we started, so in a sense we're back to the roots of LCMDF.
And what have been you biggest ambitions when writing your new material?
As our debut album Love and Nature was written as a collection of songs, without thinking where it was supposed to be played, it ended up as a record people listen to when they're alone. When we started writing new material we wanted the songs to be suited for listening in company of your friends. They're supposed to be played at parties, something to dance to together. We've got a lot of comments from fans about how empowering our music has been to them, and that's something 'bout LCMDF that will never change.
Ripples were made when you released the track 'Rookie' back in December – we'd love for you to tell us more about the sentiment and intention behind that song, as it's a really important message… And how did you feel about the reaction to the track?
The studio session with 'Rookie' was really short and intense. The lyrics are like sentences straight from my diary. It really felt like the song came to us. Like a lot of bulked up energy being channeled to the song in the studio that day. For a long time, we've been labeled a girl band and women artists, also continuously given interviews where people want us to comment on our gender. It's been awkward, since we just wanna make music. (Also, how many male musicians frequently have to answer if they're a feminist in a interview?)
But put that aside and we'll see that there are actual problems in the industry that we've experienced (including those gender questions in interviews), and I felt they needed addressing. I guess that's why it comes out with such a strong expression, it's something we've held back for a long time, not to be stigmatised. You don't wanna sound like a broken record, but then you realise the industry actually is the broken record, repeating its old norms, and that you can make it stop by doing something. This song is an encouragement for that. And now we don't really give a shit about what people think, because, it's really simple, common sense I mean. Why not speak about it?
So… can we start getting excited about a new album soon?! 
We're in the studio working and it's penciled to be released early 2017.
After the success of 'Rookie', getting our message out via Fader and Nylon in the US, we wanted to spend lots more time in the studio experimenting with ideas and sounds before an album release.
You recently played with KAKKMADDAFAKKA in Germany, and are embarking on some tour dates in the coming weeks – so what will you bring to your live shows? What can your audience look forward to?
New songs! And as I mentioned earlier we've reworked some of our old material too. There is a very strong tropical pop vibe over the whole thing. Tying together new songs and older classics with new beats, moods and crazy rave-vibes.
We love mixtapes here at the Nordic Playlist, so has anyone ever made you a mixtape or a playlist that has been really memorable? Or have you made one for someone else? 
We remember well when we got chosen to pick the music to be played at Monki stores around the world, it was a complete playlist with like, 200 songs, (at least!) There was a lot of room for creativity, and we ended up adding quite a lot of weird old Finnish songs in the selection, as well as some old Doctor Alban and I guess Crazy Town 'Butterfly' ended up in the final mix too. So if you've been to a Monki store, for example in Berlin or London, you've might have heard them play Nylon Beat or Darude 'Sandstorm'. And yes, that was us behind it.
Can you tell us about each of the tracks in your Nordic Playlist, and why you picked them? 
We built our Nordic playlist starting with LCMDF-like tunes, but the playlist morphs into EDM and pop, as well as tropical house, disco, and finishes off with some rap, trap and indie. The selection we got here is really just stuff we listen to regularly. We play a lot of DJ-sets and I've hosted a radio show at Radio Helsinki so the list could be even longer, but here are the essentials.
Death Team – 'Gold'
This Swedish band is just insane! They're so frickin' cool with their fuck you-attitude, and amazing melody hooks. I met them when I was DJ-ing at Where's the Music? festival in Norrköping and we're planning a possible collab as well.
Venior – 'Robber'
I first met Emelie in 2014 and was immediately stunned by her songwriting skills and voice. When she launched Venior in 2015, I got really excited about her style and the next level production she's put up since I first saw her.
Sharks – 'Not Like The Others'
These girls are the coolest. And this song is a banger. I like to play it in my more trap-oriented DJ-sets.
Retro Stefson – 'Time'
Played with this Icelandic band a couple of times and we lived in Berlin during the same time around 2011. And c'mon, this tune is just insanely groovy! I love the weird synth-line too.
Icona Pop – 'Someone Who Can Dance'
As we weren't that into 'Emergency', I was happy to hear this new Icona Pop tune that combines Kateboy and the ruthlessness of Touch & Go and Le Tigre. Icona Pop have really paved way for our kind of music in the mainstream, endless respect to them for that!
Galantis – 'No Money'
As songwriters we often come back to listen to really well written pop songs. Galantis is a band that has been on our songwriting reference-list since we heard them the first time. The toplines are just pure bliss.
Bearson – 'Pink Medicine'
This is something I stumbled across on Soundcloud and it grew huge really fast. This chopped vocal sample topline is so emotional, bittersweet.
Eloq – 'You know'
I had Eloq over to play one of my trap nights in Helsinki. I've really been into trap since early 2013 and it's fun to see how that sound has influenced the mainstream. And it hasn't really shown any marks of disappearing, it's just morphing its expression as the lower BPM's continue to dominate the charts worldwide.
Madi Banja – 'Inga problem'
We've been really excited about the Swedish R'n'B artist Lorentz and found Madi Banja through him. Really clever and interesting production on this one.
Being sisters, you guys are sure to have a long musical tradition between you – so who are some of the Nordic artists that you bonded over when growing up? 
We're part of the Swedish speaking minority in Finland (yes, we speak Swedish to each other) so we grew up with a lot of Swedish pop culture reading magazines like Frida and Okey and digging a lot of the stuff Swedish mainstream was pushing out at that time.
Max Martin has affected our lives from an early stage, and we listened to a lot of ABBA as kids too.
Not to forget childhood guilty pleasures Aqua, Dr. Bombay and S.O.A.P, as Scandinavian music played an essential role in the Eurodance boom in the 90s.
As teenagers we started listening to Bob Hund, Jenny Wilson and Frida Hyvönen. I could say we discovered electronic music in its modern form through The Knife, that later led us to listen to electro pop by Annie and Robyn. Lately diggin' the works of Seinabo Sey, Elliphant and MØ.
And can you recommend any new or old favourite artists from Finland that we should absolutely check out? Emma, with your Radio Helsinki show, you must have some excellent tips for us!  
The major labels in Finland have almost no focus on English-sung music, so we really have to rely on the independent artists, who work their way through the Internet and international contacts (THANK GOD for Music Finland helping acts on this front).
It's really a shame, as we have a lot of talent but there's no money put into the process of building exportable pop music from Finland. To be successful, one option would be to change your language to Finnish, but that in the end just supports the inbred music culture that keeps the standards of English sung music low.
We need schools and camps and motivation and budget for this, that's how it's built in Sweden. Right now you really need to believe in yourself and fight your own vision to do stuff sung in English, we need to unleash the pop power that Finland withholds! (Here's a graph of the English speaking music in Finnish top 100-hitlists via YLE).
And here are some tips! Venior is one to watch! We've collaborated with the rapper View on a song, and might be working on some more stuff too. Noah Kin is a real talent, so check him out if you haven't yet. Lenno probably makes the most exciting electronic music from Finland right now, and Jaakko Eino Kalevi is your fit if you like something weird but fantastic. I personally admire how Krista Siegfrids has fought her way to the airwaves with English-sung pop, it's not easy to do that in Finland.
And finally, what does the rest of the year hold for you? What are you most excited about?
Mostly excited about going back to the studio and cooking up something reeeeeally exciting to blow everybody's minds! Both LCMDF tunes and collaborations. We're really active on snapchat so I recommend to join us to see what's happening in the studio and at our shows, there's some really weird stuff happening there from time to time.