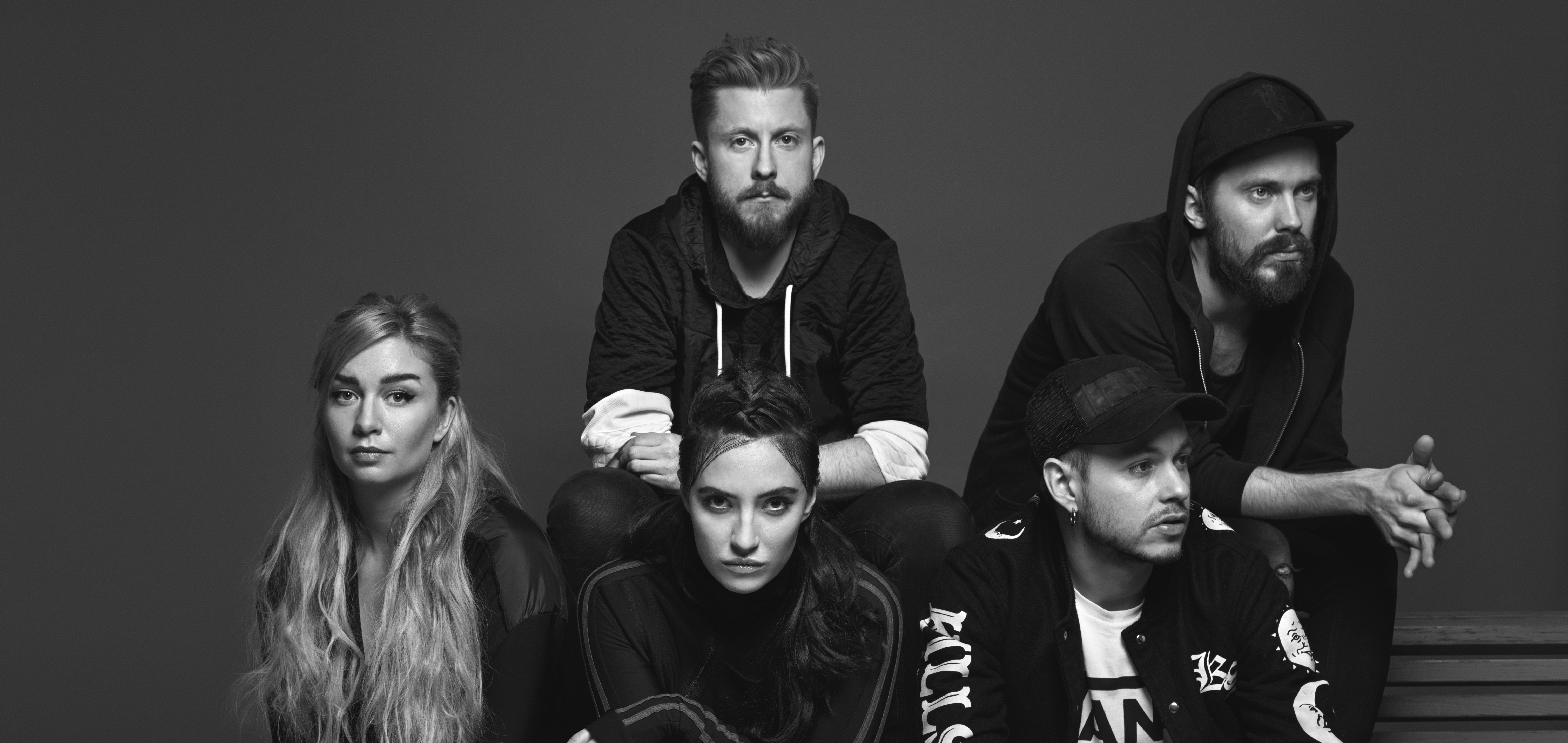 May 2016
Returning with the exceptional singles 'Someone Who'll Get It' and 'Golden Ticket' earlier this year, Oslo based five-piece Highasakite have already set expectations high regarding what musical flourishes their second studio album Camp Echo will have to offer when it's released in May 2016.
Camp Echo marks a much anticipated return for the band, whose last album, the powerfully melodic Silent Treatment, didn't just break records in their home country of Norway, but it smashed them to teeny, tiny pieces, as the LP racked up an extremely impressive 94 consecutive weeks in the Top 40 album chart.
And it wasn't just the prowess of the tracks on Silent Treatment that has impressed fans around the world, but their exceptional live performances have become a hallmark of the band's identity too. Having honed and perfected their set over the past few years (including tours alongside Icelandic pals Of Monsters & Men), Highasakite have become one of the most coveted bands on the live scene – and with summer dates at Roskilde and Øya Festival lined up, music lovers across the Nordic region will have multiple chances to catch this unique band in a live setting in the coming months.
As we count down the seconds until the release of Camp Echo on the 20th May, vocalist and songwriter Ingrid Helene Håvik has taken time out of the band's busy schedule to tell us more about their forthcoming record, their upcoming live performances and to reveal her all time favourite Nordic artists in a hand-picked Nordic Playlist, just for you. Tune in now by pressing the speaker button above and selecting your favourite streaming service!
Thank you so much for joining us at the Nordic Playlist, Ingrid! Where are you chatting to us from today, and how are you doing?
Hello! I am in Trondheim with the rest of the band now, rehearsing and doing pre productions for the live shows ahead. It's a lot of fun.
We've been getting very excited for the release of your upcoming album, especially after hearing your latest single 'Golden Ticket' – can you tell us a bit more about that song, and the inspiration behind it?
I think that 'Golden Ticket' is maybe the most poppy song on the album. It's very cheerful and catchy, but at the same time the lyrics are a bit gloomy. I love that combination between an upbeat sound and melancholic lyrics.
What have been some of your favourite moments making the new album, compared to making last album?
My favourite part of the process is sitting alone and writing the songs and lyrics. When I'm in that mood and just take in everything of the world and try to create my own space. With this record, I didn't go to Istanbul and New York to write the music, but I instead went to a spa hotel called Farris Bad just two hours outside of Oslo. Just to be alone, but at the same time not travel too far because I've had enough traveling with the touring the last couple of years.
What was your main ambition when writing and recording Camp Echo?
I just really wanted to write songs that could go well with an electronic sound. I wanted us all to agree on how we wanted it to sound, and I think we did.
And if you had to pick a personal favourite track from it, which would it be and why?
I think my favourite might be 'My Name Is Liar'. It's just so fun to sing, and aggressive and dancey and passionate and fun.
We had the good luck of seeing you play live in London a few weeks ago which was spectacular – what are your live plans for the year, and how are planning on incorporating the new songs into the show?
We are doing a little European tour in May, and then it's summer festivals both in Norway and in Europe. And then we will continue touring until it's time to make another record again. We're really excited about playing all of the new songs from Camp Echo, and I think that we will just play the old songs as they are.
Can you please tell us about some of the tracks in your Nordic Playlist, and why you picked them?
Wildbirds And Peacedrums – 'The Drop'
I chose this one, because Wildbirds And Peacedrums was one of the bands that made me want to go in a more pop direction. Mariam's singing is so inspiring.
Emilie Nicolas – 'Grown Up'
I chose this one because it's one of the most beautiful songs that I have ever heard. And Emilie has such a beautiful voice, it's heartbreaking.
Jenny Hval – 'A Silver Fox'
Jenny Hval is a very important inspiration for me as a songwriter and singer. This song is so short and so pretty.
Susanne Sundfør – 'White Foxes'
When I first heard this song, I was so jealous. I really wish that I had written it!
Robyn – 'Dancing On My Own'
When this song came out, and the three records, I was totally hooked on Robyn. It was so pop, but still so sophisticated. That was new to me at that time.
Lykke Li – 'I Follow Rivers'
Lykke Li's album Wounded Rhymes was the main inspiration for the very first EP we made.
Ane Brun – 'Do You Remember'
This music video is so cool! With all the drummers and stuff.
Fever Ray – 'Concrete Walls'
Fever Ray has been an inspiration for our new album Camp Echo. There are so many cool sounds on this record, and it's so moody and dark.
The Knife – 'Silent Shout'
The Knife has also been a big inspiration – the arpeggiators and the drum sounds and the open soundscape.
Royksopp & Robyn – 'Monument'
I love this song to death nowadays. I listen to it every time I go for a run. It's really motivating for running up the hills. I imagine the hills to be my monuments.
Agnes Obel – 'Fuel to Fire'
I have listened to Agnes Obel a lot. I really like the mood in her songs and the piano playing. It kind of reminds me of the movie "Amelie from Montmartre"
Choir Of Young Believers – 'Hollow Talk'
This song is the opening song on the TV series "Broen". It is a Danish/Swedish crime show that I really like. It´s very nordic noir. I think the song is perfect for the eerie mood, but also very beautiful alone.
Mum – 'When Girls Collide'
First time I heard Mum was at a live concert in Bergen 5 years ago, and this song came just one year after. I really like this song, because of the synthesizers and kind of naive but dancey drum machine.
FM Belfast – 'Synthia'
A friend of mine showed me this band. We were on tour in Norway, driving for like 8 hours in a small car and we were "dancing" to this song. We had so much fun!
View – 'Lace'
I really like the synths and sound on this song. I am also a RnB/soul-lover, so this mix suits me well.
Here at the Nordic Playlist, we like to help our friends and followers get to know the Nordic region through recommendation – so can you share any big Nordic inspirations with you? An artist, a place you've visited, a book you've read by a Nordic author?
I really like this author called Nils-Øivind Haagensen. He writes the most beautiful and inspiring poems.
Finally, what does the rest of the year hold for you? What are you most excited about?
A lot of hard work and lots of fun and travelling. Just being on the road is what I'm most excited about.
www.highasakite.no
www.facebook.com/highasakitemusic
www.twitter.com/Highasakiteband