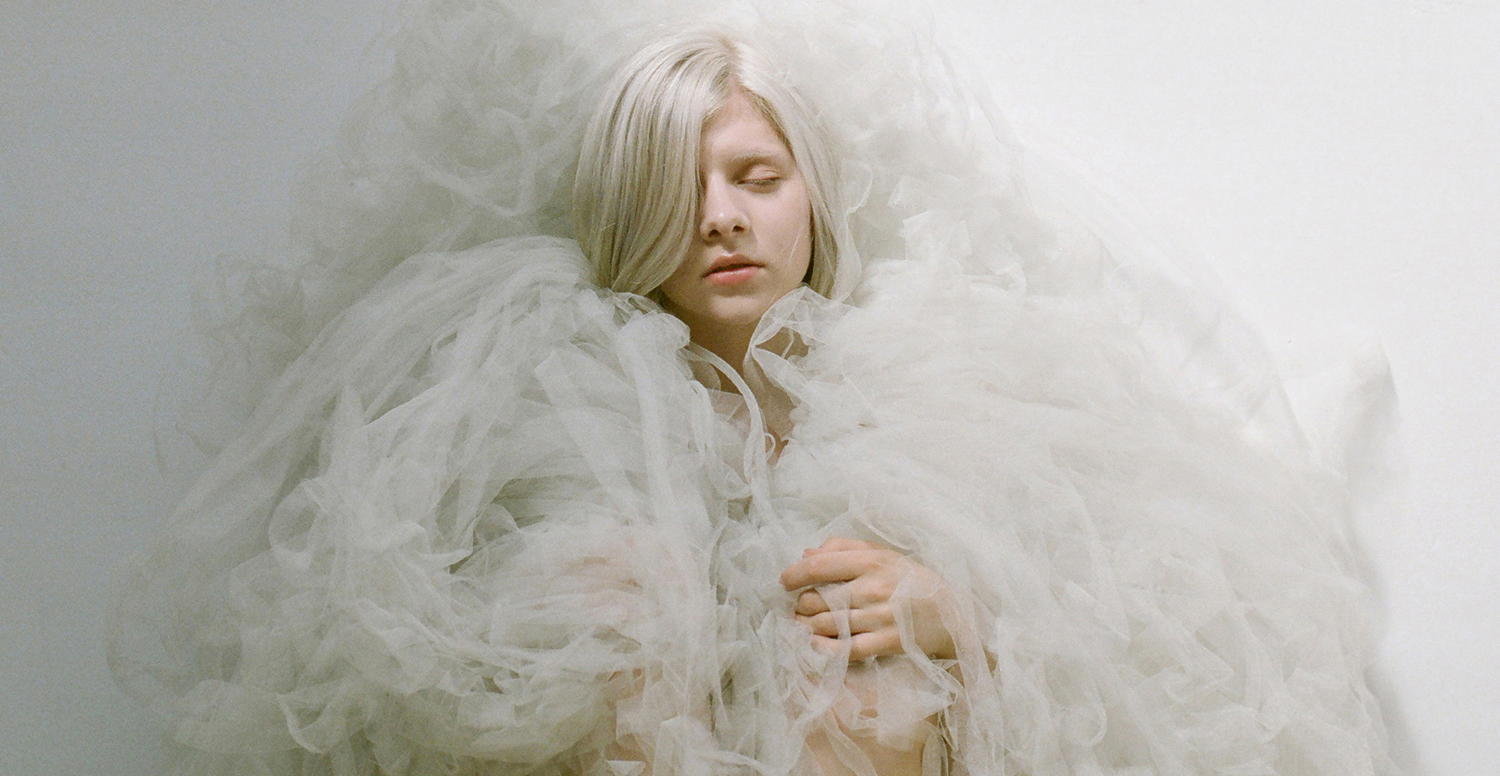 Sep 2015
Listeners were taken from the first instant, as the Bergen-bred songstress unleashed 'Awakening' upon an unsuspecting but quickly captivated audience.
Quickly gathering momentum and acclaim, Aurora went on to further inspire with songs such as the epically lifting 'Running With The Wolves' and the tenderly catchy 'Runaway', all the while enchanting audiences with her powerfully moving live performances.
Aurora is now fresh from releasing another new track, and yet another tantalising taste of what her much anticipated upcoming album has in store in the shape of a poignant and haunting number entitled 'Murder Song (5, 4, 3, 2, 1)'. So to find out more about her music, her artistry and the musician herself, we're very happy to have Aurora join us as the curator of the latest Nordic Playlist!
Tune in to a hand-picked selection of her favourite artists from the North by selecting your favourite streaming service from the options above, and read on to delve deeper into the magical world of Aurora.
Thank you for joining us at the Nordic Playlist, Aurora! Can you tell us a bit about what you've been up to lately?
I've been travelling a lot, and i've been in the studio trying to finish my album – and it is finished now… almost! Almost…
I'm very busy compared to what i'm used to being…but it's fine, I'm having a really good time! And my band – they are the greatest people i've ever known.
As you're travelling around so much, do you have any ways of keeping yourself happy on the road?
I've always been quite good at doing all these small things that make me happy, like I sometimes bring small candles – which I don't think i'm allowed to do, but I do – to the hotel rooms so I can light some candles before I go to bed…
And I bring my books, so I can read, and I bring empty books and I try to write some songs, even though I don't have my piano with me of course.
But I try to at least write some lyrics, which makes me very happy – it makes you very proud when you've done that.
You just mentioned that you've finished recording the album, so can you tell us what it was like to be in the studio and the process of putting it all together?
I really love being in the studio, it's my favourite thing in the world. It's just been really fun – i've been in Bergen, in my home town, that's where I recorded almost everything together with my bass player O Martin and my drummer Magnus. We did it together, the three of us, and it's just been really fun.
Are you excited to get it out there, or a bit nervous?
Yes… yes, that too. I'm very nervous actually but i'm so excited that it's ok, because I can't wait to release more that shows people a bit more who I am music-wise, it's hard to show that through the singles – I find it quite difficult. So it'll be nice to release the album.
Are there any Nordic artists in particular that you really look up to, or that have been really influential on you becoming a musician?
It's weird because when I look back, I mainly think that Bob Dylan and Cohen are my heroes and influences, but of course there's more than that – and i've always loved Ane Brun. I think she's lovely, and her album A Temporary Dive was a really big part of my life, I needed that album a lot and it was a good comfort through my 'temporary dive', if you can say it like that.
And I also absolutely love this kind of rock/Viking band from Bergen called Wardruna and they're just wonderful, it's really dark and a bit heavy and they sing old lyrics in old Norwegian, it's really cool… it reminds me of Vikings, and I guess, you know, we are Vikings, kind of…!
Where did you discover them?
I think I went to a record shop and I saw this amazing cover art, and I thought 'I like that' – and I bought it and then i had a listen and it was really cool. They use sounds from nature, like twigs and wind and rain, and I quite like that – I love nature, and I quite like heavy music.
Can you tell us about some of the other tracks that you've picked for your Nordic Playlist?
I picked 'The Love You Have In You' by Asbjørn – I just really love that track and i've met him a few times and he's a wonderful person as well, so it's hard not to love him!
It's just a beautiful song – 'The Love You Have In You' – and the video, which everyone should definitely see – is just very gorgeous, just humans, it's very pretty.
I also love, as I said, Ane Brun, and I picked a song called 'All We Want Is Love' from the newest album of hers. It's really, really beautiful. It's weird, because I don't like that many love songs but I guess both of these that i've just mentioned are about love.
Then a song that's a bit different from the two other songs – I love a band called Seigmen from Norway, and they have a song called 'Monument' which is quite hard and hypnotising. I've seen them live once, and it was amazing.
Speaking of live shows, what is it that you try to bring to your live performances?
Before, my only goal was not to pee my pants – because I was so nervous abut going on stage! But I guess lately, I've done it a lot which is nice because i'm getting used to it and i've started to really enjoy it as well. And it's also the only way I get to meet my fans in person, which is quite nice – it's a way to connect with people.
But now, my only goal is to make people feel something. Especially for me, music is very much about helping us feel everything we need to feel – all these feelings that we try to push away or that we forget are there, we get reminded of it when we hear music… it's a nice thing to be reminded of these feelings, and that's what I want with my music and my live shows, that we can feel all of these emotions. And laugh as well, and dance – feel everything – cry and laugh and dance, that's be the perfect combination, if that was possible.
And finally, what do you have coming up?
I'm travelling a bit more, then from the 11th of December i'm done and I have "holiday" until the 1st January, then i'm performing in England in a very nice church.
And then there's a few things to do – even though the album's ready, there are many things that aren't ready yet, so when all of those things are ready and everyone's happy, then we can release it – I think March next year is the time. That's just for now. It's a long time, I feel, I really want to release it now but there are a few things that need to be ready first.
www.aurora-music.com
www.facebook.com/iamAURORA
www.twitter.com/auroramusic