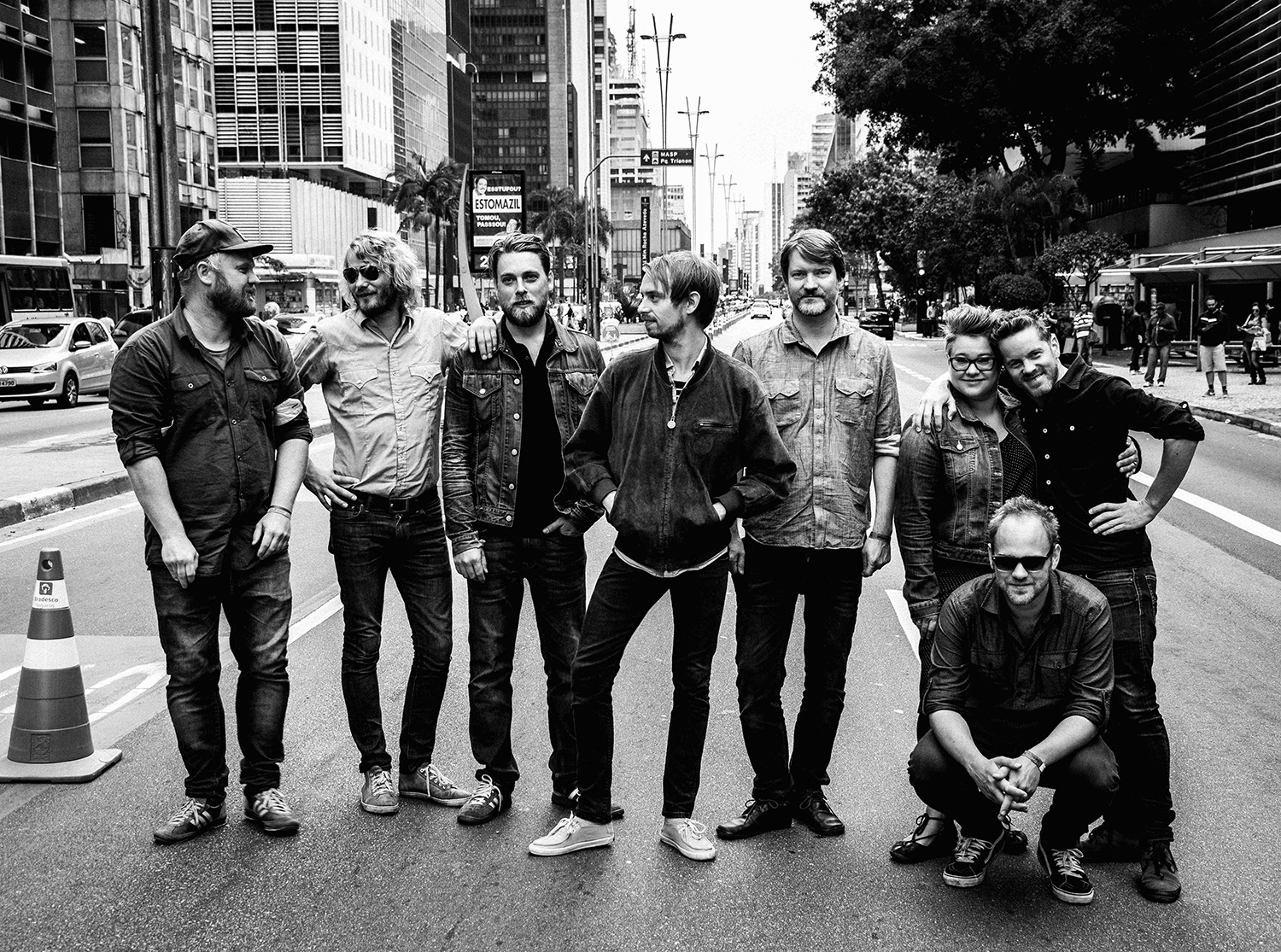 Aug 2015
2015 has been a remarkable year for experimental Norwegian outfit Jaga Jazzist, who made a name for themselves over the past 20 years by exploring and playing with genres from jazz to rock to prog to electronica and everything that lies between, touring and living in different parts of the world and working with a multitude of the world's most inventive artists.
Celebrated as a favourite band of The Mars Volta and many more, Jaga Jazzist are widely recognised as a truly unique musical proposition and this year, the outfit are back with unstoppable force, unleashing new music, a widespread tour and a whole host of festival appearances.
To mark the 20th anniversary of the band – formed in the early '90s in Tønsberg – Jaga Jazzist recently released a brand new record entitled Starfire, a more detailed, more electronic and more "dancey" album than we've heard from the band before, recorded in LA before being revealed to avid live audiences at shows throughout the US.
Jaga Jazzist are now back in Norway and gearing up to perform at Oslo's iconic Øya Festival, so we invited multi-instrumentalist Lars Horntvethto reveal more about the creation of the band's latest album, as well as to shout about his favourite Nordic artists and most coveted inspirations.
Tune in to the latest Nordic Playlist now by pressing the 'speaker' button, just above!
You're in the middle of an enormous tour at the moment, and will be returning to your native Norway to play Øya festival. What should fans expect of your live shows, and what are some of your favourite memories from the tour so far?
Touring with Jaga is probably what we enjoy the most. The shows get better every night, more dynamic and always small changes that we find interesting and hopefully the audience will too. We also have a great visual show these days and the energy on stage is on fire.
The greatest shows so far on this tour have been Montreal Jazz Festival, Sled Island and Webster Hall in New York. My favourite moment was definitely Montreal Jazz Festival, because they have the most enthusiastic audience in the world (at least from what I have experienced).
Your live performances are always a thrilling experience, so how do you go about preparing such intricate music for your live shows? And how many instruments do you guys have with you at the minute?!
Our process is to rehearse the songs as close to how they sound on the album and then expand from that. There are always small changes happening when we have gigs every day for a while.
We didn't rehearse at all before we recorded our last album. Everything on that album is bits and pieces and it was recorded in a bunch of different studios around the world over a period of two years. So rehearsing those songs took a good while. We needed to expand our setup even more because there are so many synth parts on the album. So instead of having maybe 3 or 4 synths on stage, we now have 8 of them plus around 35 other instruments.
One of the things we've learnt about Jaga Jazzist is that the band is full of contrasts, you continually change the shape of your sound to create a new, dynamic experience for each record. So what were your main ambitions when creating Starfire?
The ambition for every album we do is always to try to do the opposite of what we did last time. Since One-Armed Bandit was an album where we basically rehearsed quite complicated, proggy songs for months and months and then recorded them mostly live, the process on Starfire was very different. We didn't rehearse and we were never more than 3 people in the band in the same room at the same time.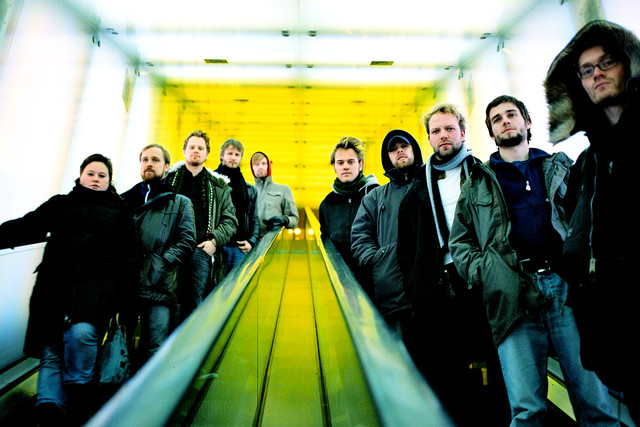 Most of it was recorded on my laptop in my studio in Los Angeles. The guys in the band came over to LA and worked with me one on one. I wanted the album to have even longer songs than before and focus on long buildups. The album is also much more electronic and synthetic than One-Armed Bandit, and I wanted it to be more dancey as well. These were my ambitions, I'm not sure if we succeeded or not!
You've just celebrated your 20th anniversary as a band (congratulations!) and what a story so far… Seven albums, six EPs, a bunch of awards, tours around the world… If you had to pick one career highlight, and the most important lesson that you've learnt, what would they be?
I don't think we've had any career highlights, it's more like a steady upwards curve. I like it that way. But playing Fuji Rock in Japan is definitely one of our best shows and most rememberable for all of us.
I think our biggest musical change came in 1999 when we started to work with producer Jørgen Træen on A Livingroom Hush. He really made us think differently on how to make music and also made us focus on the possibilities in the studio. He's our "5th Beatle".
Here at the Nordic Playlist, we're all about sharing music through recommendation, like old school mixtape swapping. Have you ever made mixtapes for anyone? 
I haven't to be honest, but I grew up with my older brother Martin and I've always had older friends that have constantly given me new artists to listen to. The way I listen to music has always been more about diving into one album at a time and really try to get as much as possible out of it. I like how albums have many layers and that you can find new things even after ten listens.
Which are your all time favourite Nordic artists and influences, and why? 
My favourite director is Tomas Alfredson. I grew up in a family who almost exclusively watched Swedish television and comedy.
Hasse & Tage, Galenskaperna and later Killinggänget have been hugely influential in my life and my humour.
When I discovered that Hasse Alfredson's son Tomas had directed one of the funniest movies ever, Torsk på Tallin, and then later did Fire Nyanser av Brunt, Let the Right One In and eventually Tinker Taylor Soldier Spy, I got obsessed with his work. I've seen his movies countless times and think he's really one of the biggest talents coming out of Scandinavia the last 10-20 years.
Are there any new and exciting Norwegian artists that you would recommend we keep a close eye on – or do you have any old favourites that we should check out?
Hypertext from Bergen is one of my favourite bands. They definitely deserve more recognition in my opinion. I'm also a big fan of Elephant 9, Apothek and Emilie Nicholas.
And finally, what are you most looking forward to in the coming year, and what Jaga Jazzist news should we be looking forward to?
I'm doing a road trip from Los Angeles to New York in September. Hope to see a lot of the South this time. Psyched about that! I'm also producing three bands at the moment. Very different musically, but really interesting to work with…
Jaga Jazzist will continue touring in November in Europe. Next year we'll tour in Norway, USA/Canada and Japan and hopefully some other countries we haven't been before. We're also working on some collaborations with other artists at the moment which I think will be very exciting.
www.jagajazzist.com
www.facebook.com/jagajazzist
www.twitter.com/jagajazzist