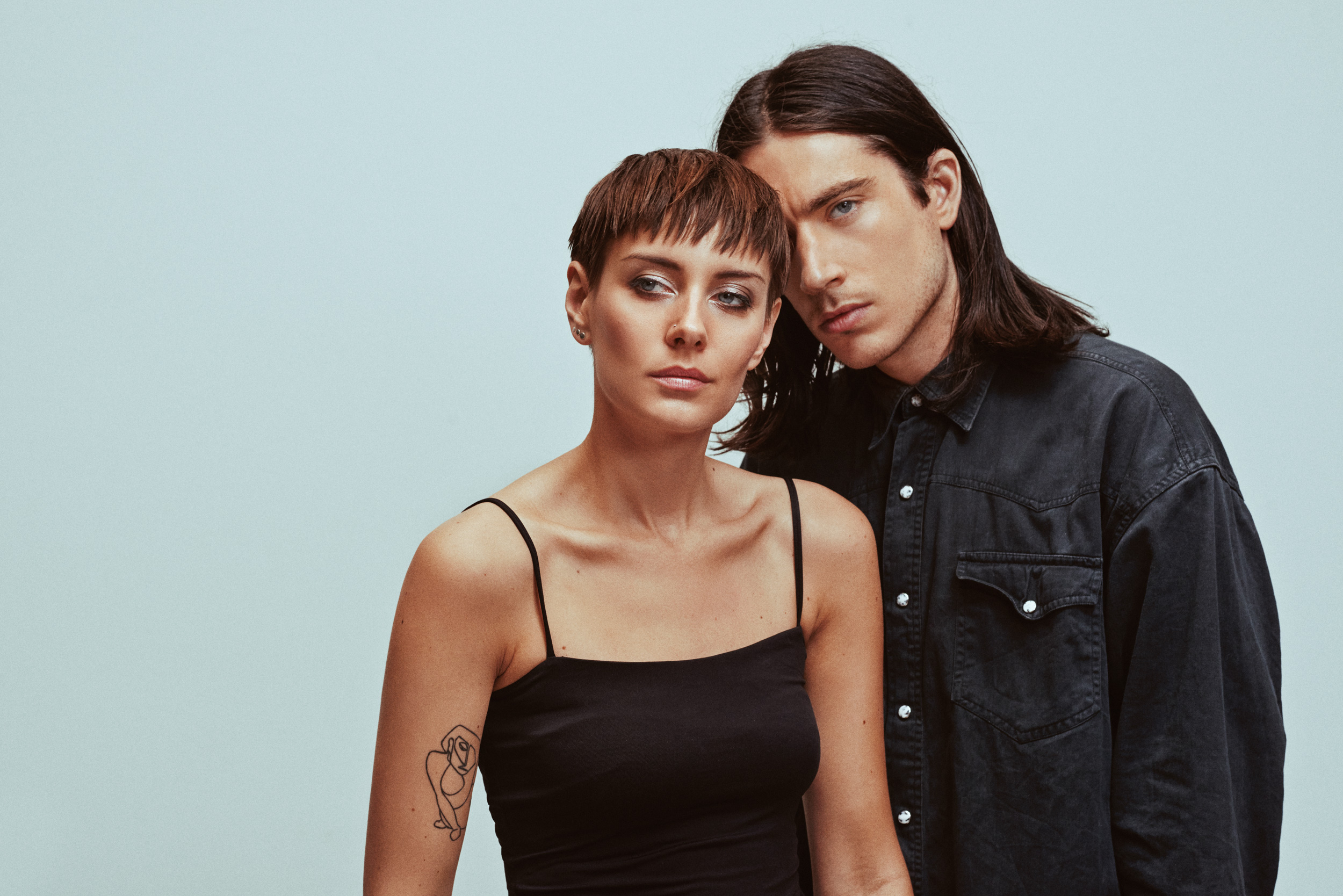 Jul 2015
The Danish duo are on a path to bring their inventive and refreshing electronica to avid ears through delectably dark creations, and to refine the way that their adopted genre of music is experienced in a live setting.
Releasing their record Straitjacket just a few weeks ago, the pair are fresh from a triumphant performance at Roskilde Festival so we asked the band's Esben Andersen and Pernille Smith-Sivertsen to let us in on the story of creating an much anticipated sophomore album which received critical acclaim as soon as it landed.
Read on to find out more about the record and the band's phenomenal live shows in our exclusive interview, and discover their favourite Nordic sounds and artists in a hand picked Nordic Playlist by clicking the 'play' button, just above…
We've been completely hypnotised by your new album Straitjacket since it was released – can you tell us a little more about the story behind the record?
It was the first record where we worked together as a full blown duo and it's the record we both dreamed of making. It's recorded, produced and mixed in our tiny studio in Copenhagen. We really felt inspired by early 90's Hip Hop, UK Rave and Industrial and we wanted to combine this with pop melodies. We decided to have a very playful approach to this record.
Second albums are often described as being the hardest albums to make, so was Straitjacket an album that appeared quite naturally for you? And how does the collaboration between the two of you typically work?
It was a long and sometimes hard process to get to the point where we started to break the code and make the songs we wanted to – but it has really defined and developed us as artists, we think. And even though it took us a long time to get there, the last 4-6 months of the album process were fantastic and we had so much fun.
In the end we allowed ourselves to really go all the way with our ideas, not worrying about dogmas and genre boundaries and the result is a record, which to us, is very intuitive and spontaneous.
Your year seems to have been filled with travelling and music so far, so what have been some of your highlights so far?
SXSW in Austin was really exiting and a very new experience to us. It was the craziest days with SO many bands and so much stuff going on, but luckily we got a good amount of attention and hopefully it'll help to take us on more adventures in the US later this year.
We also went on a European tour just before the release of the album which was amazing. Sold out shows in Copenhagen, Berlin, Vienna, etc., where we kind of tested out the new songs live.
On that very subject, you've always been known for your engaging, exciting live shows – so what's your approach to your live performances, and what's the best way to experience a Rangleklods show?
First of all we tend to make the electronic live show as LIVE as possible.
We have a great deal of controllers, synths and other electronic instruments in order to trigger sound elements live – in the actual moment – so to speak.
We want there to be a risk and a presence which is often missing in electronic concerts where some guy is just standing there with his laptop. The best way of experiencing our show is definitely in the dark, late at night with a beginning buzz going on.
We're huge fans of mixtapes and playlists here at the Nordic Playlist, so do you guys make and use them yourselves?
We're both big on making playlists as well. This is the great thing about a platform like Spotify where it's so easy to make and share playlists. We're always on the road and all the traveling hours are spent on listening to different playlists that we've built to fit different moods. We use it both as private listeners but also as part of creative processes, where we collect lists with songs that inspire us.
Can you tell us why you picked each of the songs in your Nordic Playlist? What is it that you like about them and these particular artists?
Blaue Blume has that jangling guitar quality of The Smiths combined with an angelic voice and good songs. Their full lenght debut should be pretty close and it should be worth a lot of attention.
Thomas Gaist is a Dane whose music we stumbled upon by coincidence. He's fresh off the bus as far as we know. 'Narcissus' is one of the best songs we've heard this year.
Cashmere Cat's sound has intrigued us for a while. There's something to his whole aesthetic that is pretty singular. The dryness of his sound. It's insanely well produced and totally catchy. Dude's got skills.
Our good friend Asbjørn played Ane Brun for us earlier this year. We honestly don't know any other of her songs but this one is a killer.
www.rangleklods.com
www.facebook.com/rangleklods
www.twitter.com/rangleklods