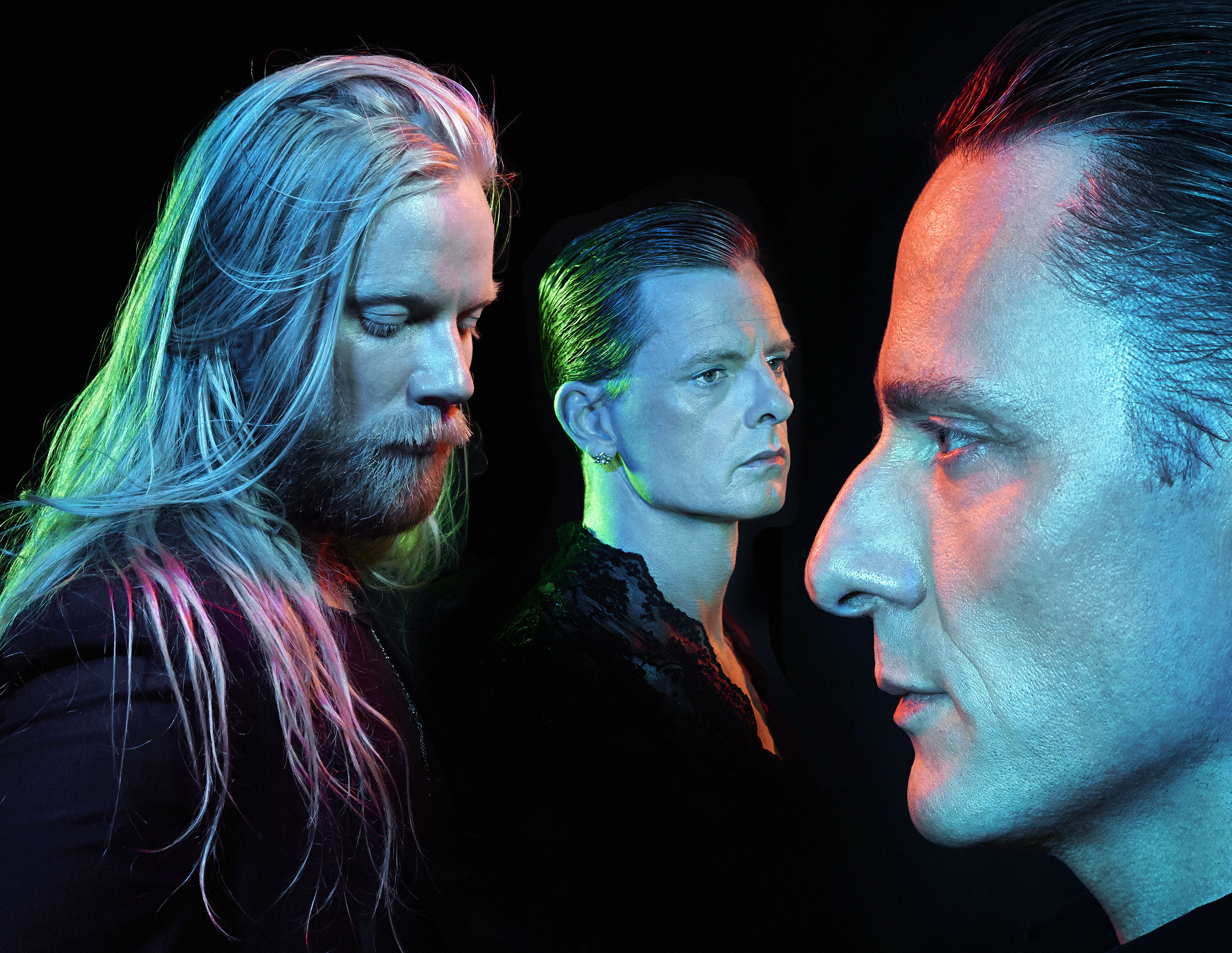 May 2015
To celebrate the infectious spirit and outstanding musical output of the band, we invited them to perform at the Nordic Playlist Radio Bar and asked the band's Daníel Ágúst Haraldsson to curate his very own Nordic Playlist!
Since releasing their phenomenally acclaimed ninth album Mexico in 2014, GusGus have spent a huge amount of time in the live setting, bringing anthemic tracks such as 'Crossfade', 'Airwaves' and 'Obnoxiously Sexual' to their avid fan base around the world.
Daníel – alongside bandmate Biggi Veira – led the band's famously invigorating show to Berlin Festival where they took over the main Arena stage on Friday 29th May at 00:15 before performing at the Nordic Playlist Radio Bar on Saturday 30th May, which was live streamed right here at the Nordic Playlist!
Find out more about GusGus's special Nordic Playlist show by clicking just here, but before you do that, get to know Daníel Ágúst Haraldsson better as he presents his favourite Nordic artists, as well as offering up tips for tour survival and hinting at upcoming new music in this week's Nordic Playlist!
We're very excited that you'll be joining us for a live show at the Nordic Playlist Radio Bar before heading to play at Berlin Festival! What can we expect from your performance at the Radio Bar?
We'll give you a bright glimpse into the state of body and mind in a GusGus show.
Since releasing Mexico last year, you guys have spent a lot of time on the road producing amazingly energetic performances, night after night – how do you guys keep on top of your game (and sane!) on tour, and what are your favourite things about life on the road?
We play a card game called Cucumber to keep us sane and excited on the road. Each show is our favourite thing and eating greasy schnitzels on the highway gives us the fuel to endure the whole thing.
You're edging ever closer to the 20th anniversary of the band [happy birthday in advance!], and throughout your career have become masters of remixing and DJing, as well as whipping crowds into a frenzy with your frenetic live shows.  So what were your main ambitions when you started the band, and what are your ambitions now?
Well thank you 
 Our main ambition has always been and remains the same, to make great music and to take it as far and wide as we possibly can.
Some incredible musicians have been involved in GusGus over the years – what are the main musical and creative characteristics that create the band?
With each participant in the playground comes a new background, a new emphasis and a different take on how to approach the music making and performance. So the main GusGus characteristics are our ever-changing qualities coming and going with each member.
You've also just revealed a new way for your fans to engage with GusGus entitled OZ, can you tell us a bit more about that?
Yes, it's a new platform for us to connect with our fans in a more concise and exclusive way. We put all our stuff there. Our entire music catalogue and videos as well as specifically made visual and audio material that is solely put on this online TV channel and nowhere else.
Jimi Tenor was an obvious choice for me as he is a good friend and a great musician. He was touring the same festivals as GusGus in Europe back in 1997 and that's where we got to know him and his lovely appetite for vodka and champagne.
I tried to make my playlist mainly electronic, but there was this one guy called Hogni from the Faroe Islands I got curious about, only because of his name. I listened through his catalogue and in walked a song called 'Soul Company' which I liked so I threw it in the mix. And then I stumbled upon another Faroese act called BYRTA which strangely enough bears the same name as my sailboat, so I plucked a nice yellow tune off their songtree.
Since I first heard The Knife in some arty party in Brussels in 2003, I have always been curious about them and when I saw the music video to one of their songs called 'Pass This On' I decided to do just that… so I'm passing this song on to you but you have to watch the video!
Björn Torske I like for his playfulness and humorous connotations to early computer games and bossanova and disco beats. Takk Björn 🙂
As I knew I didn't know much about Nordic music, I asked around and was told about The Mansisters and picked out a cheeky, rough and tough track called 'BullSchnitzel', because I am a fan of schnitzel and am a rising Taurus myself, so I decided to include them in my selection of songs…
As a favour to my friend Biggi Veira who recently mixed a whole album by this Icelandic band called Vök, I included their latest single on my playlist because a playlist is something to play with with your friends… I think?
Speaking of which, my girlfriend friend played me once a music video by Ane Brun called 'Do You Remember' and I remembered I really liked it. Not in the electronic genre, but a very interesting beat and an intense atmosphere.
And then there is the Röyksopp and Robyn collaboration. A perfect Scandinavian handshake! Enjoy, people, enjoy.
Which are your all time favourite Nordic artists and influences, and why?
Literally I must name Icelandic writer Halldor Laxness for showing me how horrific the meaninglessness of life can be.
Visually I must name Gabríela Friðriksdóttir for her unquenchable thirst for the beauty of horror.
Musically, the ode to Finlandia by Jan Sibelius was in my mother's record collection and listened to with deep respect.
If you had to recommend one new and one old(er) Icelandic act for us to check out, which would they be and why?
I recommend listening to the reggae band Hjálmar and their 2009 album IV. Good stuff they recorded in the Tuff Gong and Harry J studios in Jamaica. Why? Because it is the best Sunday living room, vinyl on turntable music.
One of Iceland's greatest songwriters is Magnus Eiriksson. His band Mannakorn released an album in 1977 called Í gegnum tíðina. I don't know, maybe it's just my childhood memories, but it was a great soundtrack to my growing up.
And finally, aside from your upcoming Nordic Playlist Radio Bar and Berlin Festival appearances, what do you have coming up and what are you most looking forward to in the coming year?
We are writing new material… I am both anxious about and looking forward to the conception and birth of the next GusGus offspring.
Love and Respect.
www.oz.com/gusgus
www.facebook.com/GusGusOfficial
www.twitter.com/GusGusOfficial