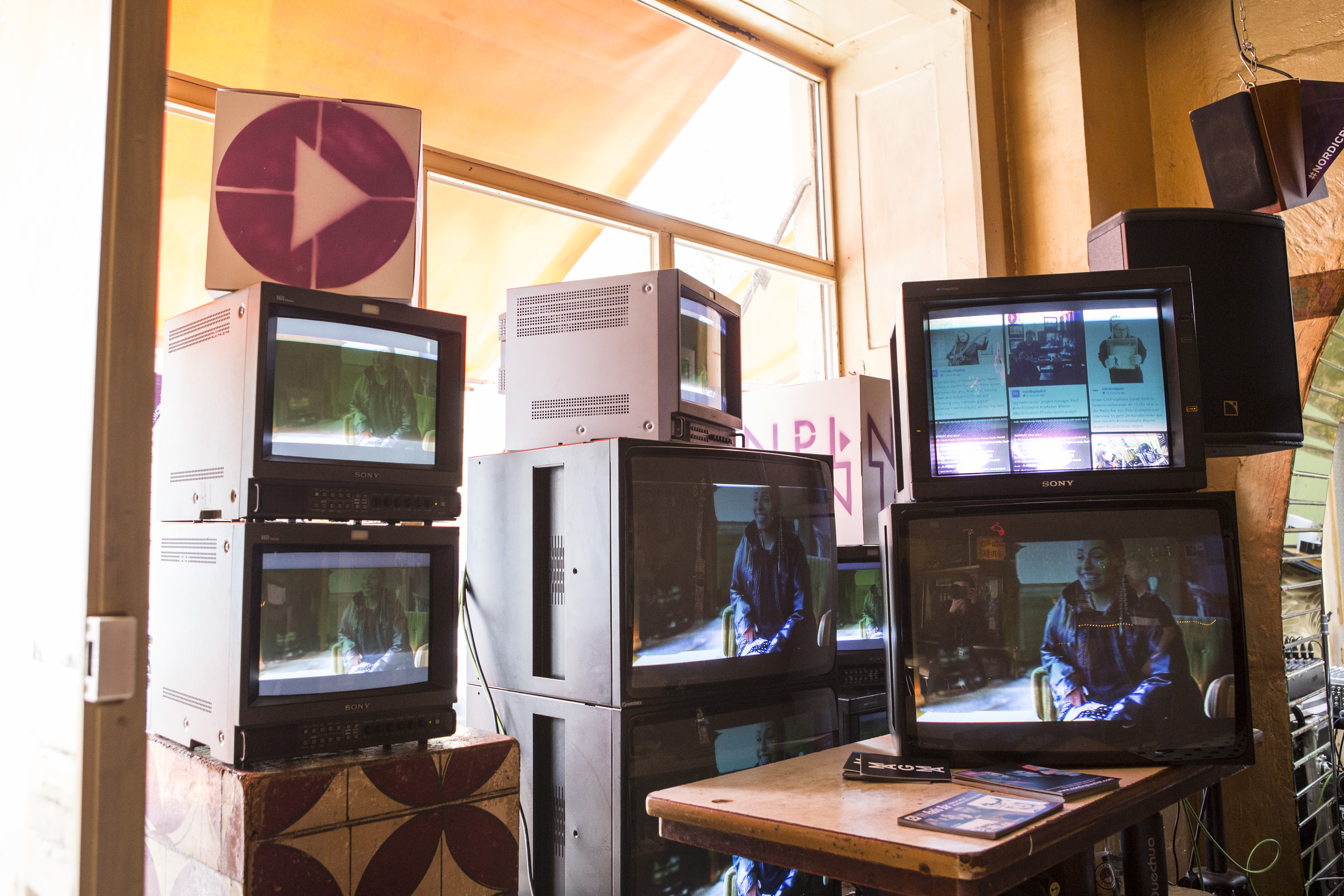 May 2015
After two fantastic editions in Reykjavík and Oslo, the Nordic Playlist Radio Bar is now set to head to Berlin Festival to offer up a two day celebration of the finest Nordic music!
On Saturday 30th and Sunday 31st May, radio presenters from throughout the Nordics and Germany will join the Nordic Playlist at Myslíwska in Kreuzberg to present tailor made shows featuring their favourite sounds from the North.
As well as live radio, the intimate setting of the Radio Bar will also play host to live performances from GusGus, Asbjørn, Adna, Noah Kin, LCMDF and Sandra Kolstad, and the best bit? The event is free and open to everyone, and if you can't join us in Berlin, then you can live stream all of the action right here at www.nordicplaylist.com/radio-bar!
Today, we're getting to know each of the artists set to play so read on to find out where and when to catch each of them live, and press the 'play' button just above to tune into a Nordic Playlist bursting with their best tunes…
GusGus [ICE]
14.15 (CET) – Saturday 30th May
All set to hit up Berlin Festival's main stage on Friday night, we're incredibly excited to have Iceland's legendary GusGus join us at the upcoming Nordic Playlist Radio Bar!
The band are edging close to their 20th anniversary, keeping the tempo flowing with the release of their exceptional latest album Mexico via German label Kompakt, from which you can hear leading tracks 'Crossfade' and 'Obnoxiously Sexual' in this week's Nordic Playlist.
The outfit will be bringing their unique performance to the Radio Bar on Saturday afternoon, so head to the venue early to watch one of Iceland's biggest bands perform live in a cosy Berlin bar!
Adna [SWE]
15.30 (CET) – Saturday 30th May
Adna's soaring, simmering vocals have resonated around her home country for the past few years, bringing the songstress to the forefront as one of the most ravishingly talented performers out there.
Since relocating to Berlin, Adna has continued to grow as an artist, performing around the city and the continent as her song collection and impressive vocals grow in size and maturity, with her tracks 'Run, Lucifer' and 'Living' being perfect examples.
Catch this fantastic musician live at the Nordic Playlist Radio Bar at 3.30pm (CET) on Saturday, before making your way along to the second day of the Berlin Festival!
LCMDF [FIN]
16.45 (CET) – Saturday 30th May
Making a very welcome return after a lengthy absence, Finnish sister duo LCMDF are gearing up for a special performance at the Nordic Playlist Radio Bar on Saturday 30th May!
The pair recently revealed a brand new single entitled 'Fooled' – an enticing hint of the new music that the duo have been working on behind the scenes, and power-pop proof that these two are set to take 2015 by storm!
Check out 'Fooled' in this week's Nordic Playlist (featuring the vocals of fellow Nordic Playlist Radio Bar performer Noah Kin) and make sure to stop by/tune in to their electrifying live set at 4.45pm (CET)!
Noah Kin [FIN]
14.15 (CET) – Sunday 31st May
One of the hottest rappers of the Helsinki hip hop scene, Noah Kin is set to bring his ferocious rhymes and killer beats to the Nordic Playlist Radio Bar!
For the past few years, Noah Kin has slowly but surely been taking charge of his home town of Helsinki's hip hop scene, sharing stages with the likes of Kendrick Lamar, Wiz Khalifa and Earl Sweatshirt and earning a reputation as an unmissable live performer.
Noah will perform at 2.15pm (CET) on Sunday 31st May, so make sure to stop by the Radio Bar or to tune in to our live stream right here to catch the show live!
Tune in to his tracks '822' and 'Do That' now, and check out Noah Kin's very own Nordic Playlist by clicking here…
Sandra Kolstad [NOR]
15.30 (CET) – Sunday 31st May
Having been described a uniquely talented and striking performer, we're thrilled to be able to present Norwegian songstress Sandra Kolstad at the Nordic Playlist Radio Bar!
In 2014, Sandra unleashed her fantastic third album Zero Gravity State of Mind into the world, and since then, has been crafting fantastical, individual videos and live performances to accompany her darkly beautiful music. The album's title track and featured song 'My Yellow Heart' both feature in this week's Nordic Playlist, so press 'play' just above to tune in now.
A resident of Berlin herself, Sandra will be joining us as part of the Berlin Festival celebrations so make sure to head down to the Radio Bar on Sunday afternoon to find out more about this intriguing performer…
Asbjørn [DEN]
16.45 (CET) – Sunday 31st May
Rounding up the live performances at the Nordic Playlist Radio Bar is a sensational musician from Denmark, the thoroughly gifted power-pop maestro, Asbjørn!
The Aarhus native has made the city of Berlin into his home, and it's from this town that he released his dazzling latest record Pseudo Visions into the world.
Asbjørn is an artist who seamlessly combines his musical creations with visual connections – creating a whole series of videos to accompany the tracks from Pseudo Visions, as well as investing his whole self into the pace and energy of his live performances.
We can't wait for Asbjørn to join us in Berlin, so tune in to the live stream right here at www. nordicplaylist.com/radio-bar to watch him live, or head down to the Nordic Playlist Radio Bar to catch the show in person, for free!