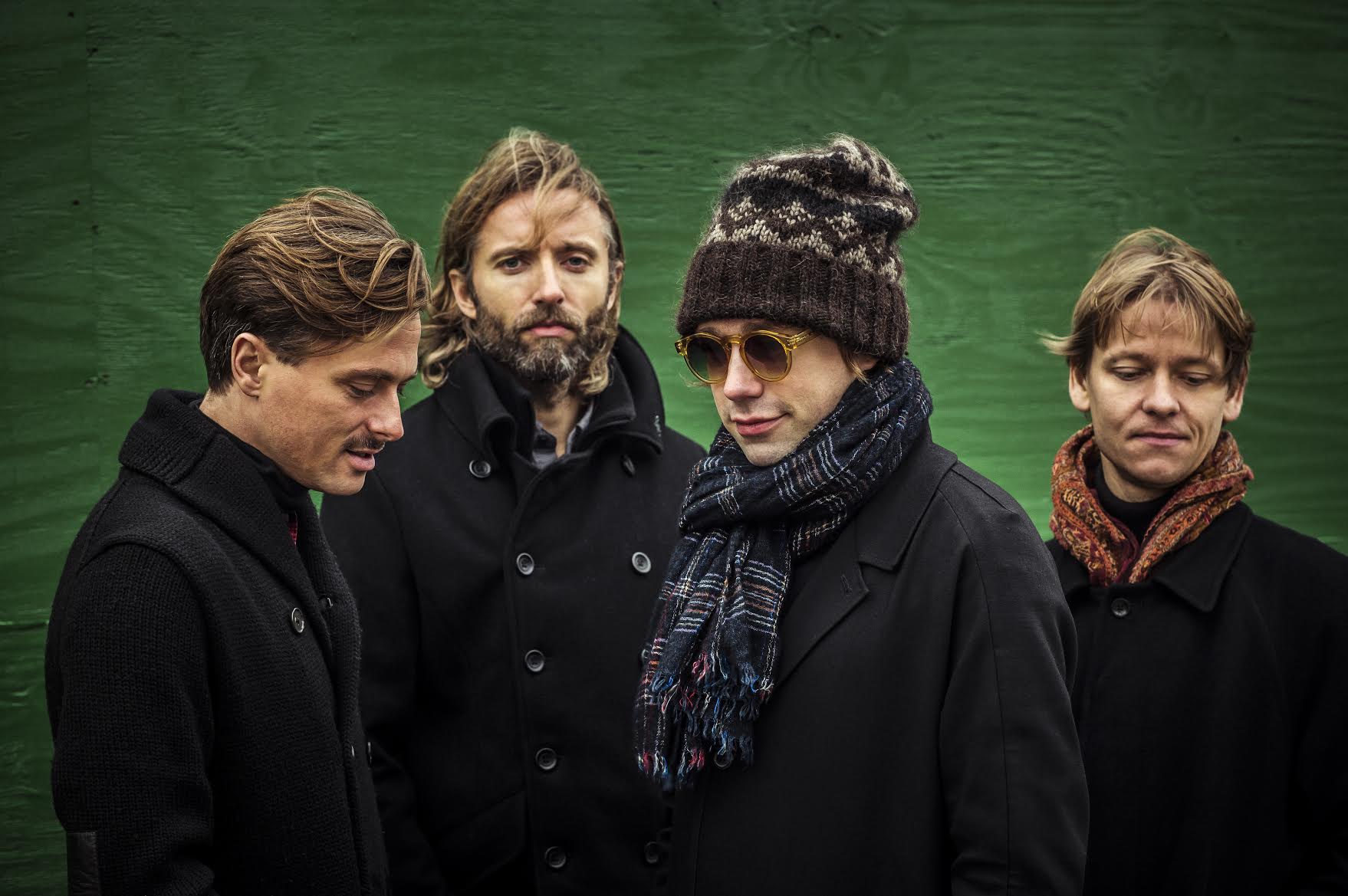 Apr 2015
The much anticipated album in question is entitled +- and is the first record to appear since the band's critically acclaimed 2009 release No More Stories…
It marks a return to form for this much endeared outfit, but importantly, also marks the return of the original line up of the band, following the departure of bassist Johan Wohlert in 2006 and his subsequent return in 2014.
It was the release of the album Frengers which propelled this Danish quartet into the global limelight back in 2003, with fans around the world seeking solace in the quivering soundscapes and fantastical imagery of this innovative and imaginative band. Throughout their career, the group have revelled in conjuring carefully woven melodies and building intricate structures into their music, while keeping listeners grounded through the soaring, unique vocals and lyrics of singer Jonas Bjerre.
After hinting at the arrival of new music throughout 2014, the band finally unveiled the first single from the new album in the shape of anthemic track 'Satellites' at the start of they year. This was closely followed by the exquisite 'Water Slides', and with new track 'Witness' now available to hear, we couldn't be more excited to hear the entire album. To find out more, we asked returning band member Johan Wohlert to share his favourite Nordic songs with us and to share some secrets about the creation of this highly anticipated album.
Click the 'speaker' button just above to tune in to Johan's Nordic Playlist, and read on for a tantalising glimpse of what to expect.
Hello Johan! So, first things first – we're absolutely thrilled that you've re-joined the ranks of Mew! What made you decide that the time was right to return? And was it easy to fit back in to life in the band?
Bo called me and asked if I would be up for doing some writing with the band for the new record? "I'm in!"
I think our producer Michael Beinhorn deserves some credit in this matter, as it was his idea to bring the four of us together to get back that "Mew sound".
It's been a few years since Mew's last album No More Stories… was released, and we're now hungry to hear what you've been preparing on + –, can you tell us about the influences and ideas that created the record?
We wanted to make a record where every song had a life of its own, a record with a more direct focus and groove. The main influence was actually Mew. Having spent a long time away from the band I revisited our older records, trying to make out what we were good at and what not so good at…
And how is the band dynamic now, with regards to songwriting and the fact that this is the band's sixth album? Do you all play the same songwriting roles as you did on your earlier records?
I think that there is some of the old dynamic back in the band being a four piece again. To some degree we still have much of the same role in the creative process. But I'd like to think that we're all better and wiser as songwriters these days.
You've already embarked on a world tour, taking the new music to fans far and wide – what should people expect from the Mew live experience?
The energy is definitely back, not that it ever went away completely but there is something really powerful about the four of us together on a stage. It's pretty intense and it seems like the music gets more and more dynamic and heavy from every show we do.
And how are you finding being back on the road?
I'm loving it, to be honest. I seem to enjoy myself a lot more this time around. I like to be really focused about it, go to bed pretty early, keep in shape and keep a clear head.
We're huge fans of mixtapes and playlists here at the Nordic Playlist, are you a fan of making mixtapes for people?
Or has anyone made one for you that was particularly memorable?
I've had some great ones in the past made by friends of mine. My dear old friend Tobias Wilner from the band Blue Foundation always made the coolest tapes and turned me on to great music.
Can you tell us why you picked each of the songs in your Nordic Playlist? What is it that you like about them and these particular artists?
That's tough! They are all just great songs I guess. There's really not that much you can say against them.
Is there a special Nordic artist or album that you feel has been influential on the music you make, or the way that you think about music?
Kent will always have a special place in my heart. I grew up with a family summer house in Sweden, my late grandmother was Swedish, so hearing these melancholy beautifully written songs sung in Swedish really moved me. It was foreign but strangely familiar at the same time. I've later become very close friends with Kent bass player Martin Sköld. Together with Martin and Swedish singer Ninsun Poli I have done a great new musical project called Closure. We'll release our first EP later this year. So I guess my Kent love affair has come full circle 🙂
Are there any new Danish artists that you would recommend we keep a close eye on – or do you have any old favourites that we should check out?
I'm pretty horrible at keeping up with the scene… But I always get a kick out of Spleen United and their "Neanderthal" record.
And finally, what are you most looking forward to in the coming year?
Without sounding like a complete cliché, I guess the main thing is getting to share the new music, travel the world again and rekindle my relationship with the Mew Frengers of the world.