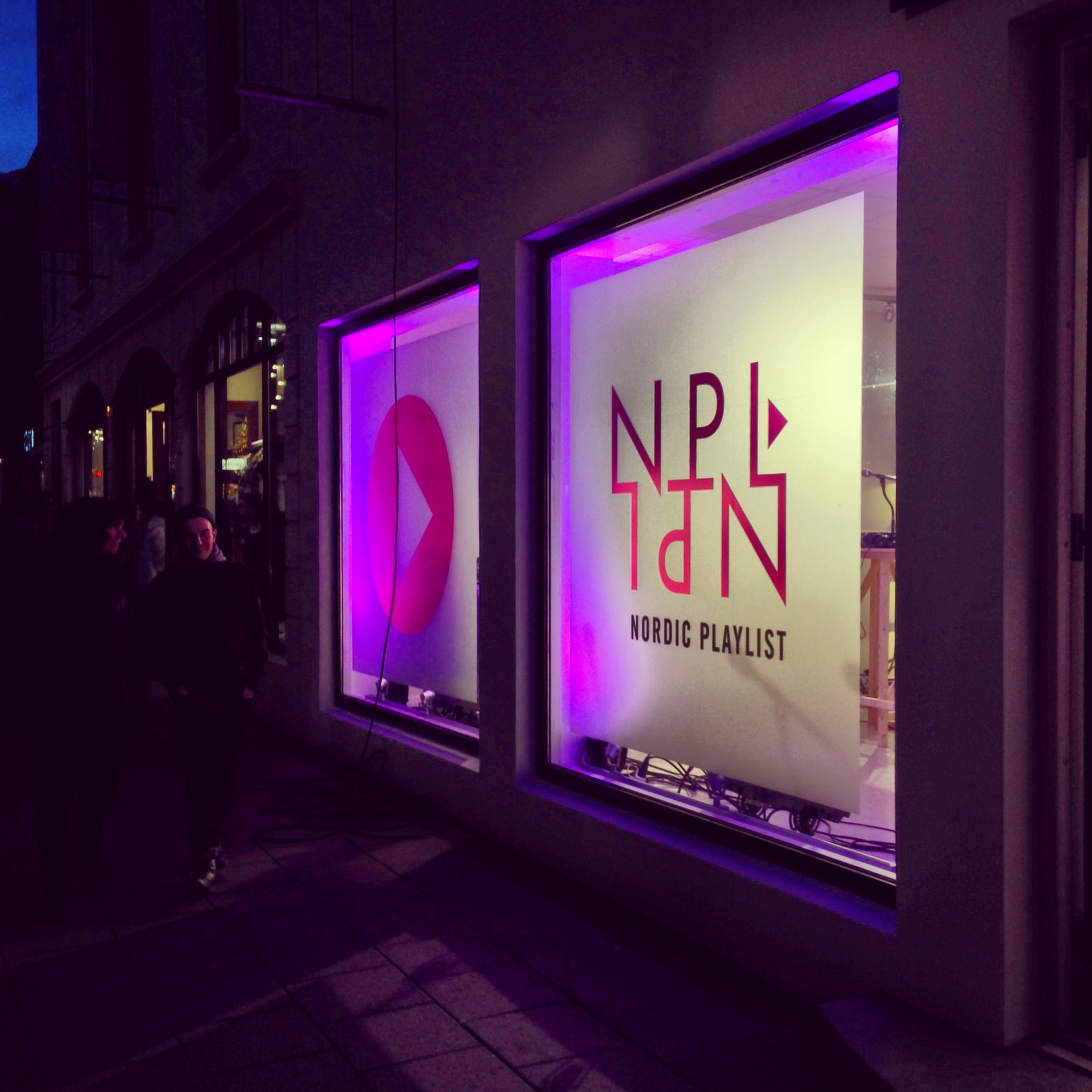 Feb 2015
The annual by:Larm event continually offers up the most exciting emerging Nordic music, so we at the Nordic Playlist are thrilled to present the second edition of our Radio Bar at the festival, and to bring some of our favourite radio DJs and artists along for the ride.
You'll be able to sit comfortably in BAR Vulkan and experience live radio shows produced by some of the world's finest broadcasters, including BBC's Vic Galloway, Sveriges Radio's Stefan Lindeberg, Anne Lainto from Finland's YLEX, Casper Bach Hegstrup from DR P6 Beat in Denmark and Salka Sól from Rás 2, RÚV in Iceland!
And if you're not at the festival? You can live stream everything from home. Find the full schedule for the event here…
In anticipation of this Nordic celebration, we're opening up this week's Nordic Playlist to YOU!
We want to know who you're looking forward to seeing and hearing at the festival, so get in touch with us on Facebook, Twitter, Instagram or by email and let us know which artists you're most excited about. Those that shout the loudest will have their track of choice and comments added to this week's Nordic Playlist! So make sure to let us know who you are, and why you love your chosen track so much.
Keep a close eye on the Nordic Playlist Radio Bar page, where you'll be able to get to know each artist and DJ a little better, and join the Facebook event to stay on top of our latest news!
Now, without further ado, tune in to the artists set to play at the Nordic Playlist Radio Bar and find some of our hottest tips for by:Larm Festival just below…
Jonas Alaska – I'm Sorry [NOR]
Fresh from releasing his third album Younger, Norwegian native Jonas Alaska kicks off the Nordic Playlist this week with his latest single 'I'm Sorry'! A clamouring ode to teenage love and heartbreak, the single offers up an energetic insight into what the new record has in store.
To celebrate not only the release of his album, but also the opening of the Nordic Playlist Radio Bar, Jonas will be performing live from BAR Vulkan at 12 noon (CET) on Thursday 5th March. If you're in Oslo, we'd love to invite you to the show – it's free to attend and everyone is welcome! But if you can't make it to the bar itself, fear not – the entire event will be live streamed right here at the Nordic Playlist so tune in from 11am.
Beatrice Eli – Trust Issues [SWE]
Just a few weeks ago, Beatrice Eli received the award for 'Best Pop' at Sweden's P3 Guld awards – more or less the highest accolade that a new artist can hope for, and she's now set to head to by:Larm to prove her pop prowess on a live setting.
After entrancing listeners with singles such as 'Moment of Clarity' and 'Girls' from her acclaimed debut album Die Another Day, Beatrice is now set to perform live at the Nordic Playlist Radio Bar on Friday 6th March at 4pm (CET). Tune in to her hit single 'Trust Issues' in this week's Nordic Playlist for a hint of what's to come…!
Vinnie Who – Seven [DEN]
Vinnie Who and band have just finished recording third album Harmony, which is due to be released on the 30th March and from which we've already been treated to the ethereally charming sounds of single 'Seven'.
We're hoping to get even more of a sneak peek of what the album has in store during Vinnie Who's set at the Nordic Playlist Radio Bar, so make sure to tune in online or to join us live at by:Larm Festival when the band perform at 1.30pm (CET) on Friday 6th March.
Redder – Border/Lines [FIN]
Helsinki based outfit Redder are an intriguing proposition, offering up textured and intensely layered melodies covered with soul laden vocals. Redder are now signed to Cocoa Music in Finland, and we're thrilled that they'll be performing live at the Radio Bar at 12noon (CET) on Friday 6th March where they're all set to bring tunes from their 2014 album release, Walk Long Play. 
Make sure to stream the action live via the Nordic Playlist website, but in the meantime, remind yourself of their intricate style by listening to their early track 'Border/Lines' in this week's Nordic Playlist!
Apothek – Waiting For The Thunder [NOR]
Apothek's debut single 'Family' not only caught our attention upon its release, but also led to this intriguing pair being invited out on tour alongside acclaimed Norwegian songstress Susanne Sundfør. Since then, the duo – comprising the talents of Nils Martin Larsen and Morten Myklebust – have released another single entitled 'Waiting For The Thunder', which you can hear right now by pressing the 'play' button just above.
Apothek will perform at the Nordic Playlist Radio Bar at 2pm (CET) on Thursday 5th March – a show that's certainly not to be missed.
Vök – Before [ICE]
Following on from hugely acclaimed appearances at Iceland Airwaves Festival and Eurosonic earlier this year, Icelandic trio Vök are without a doubt one of the most hotly tipped acts to catch at the upcoming by:Larm Festival. Their sets fuse fire and passion with some seriously sensual saxophone lines, so we're thrilled that Vök will be performing live at the Nordic Playlist Radio Bar at 4pm (CET) on Thursday 5th March.
Fancy a taste of what the band will be bringing to the stage? Then tune in to their single 'Before' right now by pressing 'play' just above.
Fura – Poems of the Past [ICE/FO]
Fusing sumptuous, silky vocals with carefully woven, electronically tinged backdrops, Iceland's Fura is a passionate and inspiring new collaborative project, bringing some of Iceland's most diverse and exciting talents into the same arena. The group consists of vocalist Björt Sigfinnsdóttir, as well as Bloodgroup's Hallur Jónsson and Janus Rasmussen, the latter being no stranger to collaborations, as he also appears as part of Kiasmos alongside Ólafur Arnalds.
Fura were the talk of the town at 2014's Iceland Airwaves set, so we highly recommend that you catch one of their by:Larm performances – find out where and when they're playing by clicking here!
AV AV AV – All Good [DEN]
AV AV AV are one of the most talked about names on the Danish scene at the minute, and also happen to be the brainchild of ELOQ – who provided us with this excellent Nordic DJ Mix last month! ELOQ collaborates with UNKWON and DJ E.D.D.E.H in this outfit, and judging by the hype around their debut track 'All Good', are certainly ones to watch this year.
Check out 'All Good' in this week's Nordic Playlist, and find AV AV AV's show times right here.
Gidge – I Fell In Love [SWE]
Gidge are Swedish duo Ludvig Stolterman and Jonatan Nilsson, who poetically released their debut album Autumn Bells back in the Autumn of 2014. Their songs take inspiration from their Nordic surroundings, and their singles 'You', 'I Fell In Love' and 'Norrland' have collectively amassed hundreds of thousands of listens.
So do you fancy sampling a slice of Nordic nature during this year's by:Larm festival? Then make sure to catch the band live at these times and venues.
André Bratten – Be A Man You Ant [NOR]
What better way to round up a playlist and your by:Larm experience than with a set from local boy André Bratten?
André Bratten is a class Norwegian act who took last year's event by storm, producing masterfully crafted melodies and intuitive tunes as he stirs his avid audiences into a frenzy. He released his debut album Be A Man you Ant in 2013, so we've got high hopes for some new music soon. Maybe we'll hear some hints at by:Larm? Let's hope so. Catch him live on the Red Bull Music Academy Stage at 1.30am on Thursday.
www.nordicplaylist.com/radio-bar
www.facebook.com/nordicplaylist
www.twitter.com/nordicplaylist