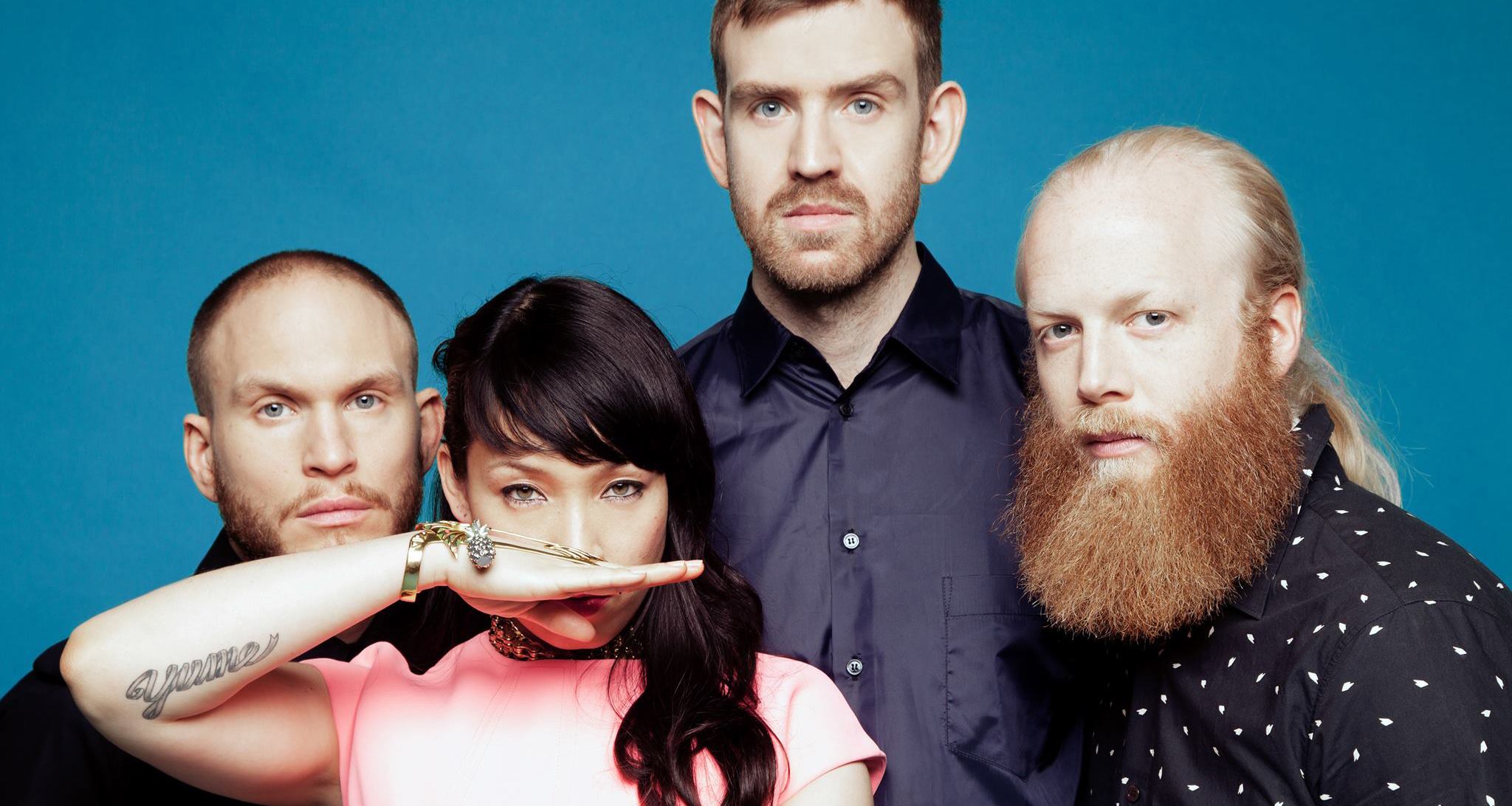 Nov 2014
The Gothenburg natives dropped their fourth album Nabuma Rubberband back in the summer – the long awaited follow up to their previous record, 2011's exceptional Ritual Union.
With each album, Little Dragon have unfailingly produced a record of evolution and Nabuma Rubberband is no exception, presenting the group in a more sophisticated and adventurous mood than ever before. It's a seamless progression from their previous albums and, most importantly, is a record which provides the band with all of the space and inspiration that they need to fuel their exceptional live performances.
Since releasing the album back in May, the group – comprised of members Yukimi Nagano, Erik Bodin, Fredrik Källgren Wallin and Håkan Wirenstrand – have made their way around a worldwide festival circuit, and fresh from returning from a US tour, are on the road once again bringing their invigorating and unmissable live show to cities around Europe. Check out all of their tour dates and how to get tickets by clicking just here.
Little Dragon – who formed the band as teenagers back in 1996 – are one of the most selected artists on the Nordic Playlist so far, with previous curators such as Neneh Cherry, Oh Land and Jenny Wilson and many others all highlighting the outfit as one of their favourite Swedish acts. In honour of this, and to celebrate the music of this inspired collective, we caught up with the band to talk mixtapes for first loves, keeping healthy on the road and to find out about their very own favourite Nordic artists! So without further ado, let us introduce this week's Nordic Playlist curators, the inimitable Little Dragon.
Your track 'Klapp Klapp' is one of the most selected on the Nordic Playlist so far! Can you tell us a bit about the song? Where did you write it, and what is the idea behind it?
First of all thank you! Well, it was conceived in our "home studio" 2.0. It started with the raw groove of drums & bass. Then Yukimi jammed out and wrote the lyrics.
Then we tried out different arrangements, moving parts around. It's about being under a spell and letting go.
We read that the intention behind your latest record Nabuma Rubberband was to embrace some of the elements of slow jams (we love a good slow jam!) – can you tell us a bit more about this idea, and other ideas you wanted to represent in the album?
The intention was to make music that felt raw & genuine. Its a good mix of up & down tempo songs, hopefully the listener will experience the journey. Think we needed some slow jams to vibe out after a hectic year.
Since the album landed, it feels like you've been constantly on the road – can you tell us about some of your favourite live experiences this year? And do you have any good tips for surviving on tour?!
One of the highlights was to play in our hometown Göteborg during Way Out West Festival. The energy was electric, goosebumps all over! And we all have different regiments to stay fit, but sweating and moving is key.
Do Little Dragon have a 'mantra', or a creative philosophy that you all agree on, and try to stick to when you are making and performing music?
This could be our last show, lets max it. Other then that, making music that we haven't heard before.
We love mixtapes here at the Nordic Playlist, so do you remember the first playlist or mixtape you ever made?! What was on it and who was it for?
Made lots of  "I'm in love with you" mixtapes for different crushes in the teens.
Erik made a hip hop mixtape with wicked bass lines when we met in high school.
Has anyone ever made a mixtape or a playlist for you? If so, can you remember what your favourite track on it was?
DJ Shadow made us a mixtape on cassette after we met the first time. The favourite track was 'If Six Was Nine' with Jimi Hendrix.
Here at the Nordic Playlist, we're all about helping people to discover excellent music from the Nordic countries through recommendation – so can you tell us about a Nordic artist or album that you love a lot, or that has been really influential on you? 
Well there are a lot. We saw Wildbirds & Peacedrums in Amsterdam the other day, was blown away. Really good. Influential Nordic artists are Jan Johansson with the Jazz på Svenska album, Stina Nordenstam was played a lot during high school. Peps Persson for sure. Ralph Lundsten, Bo Hansson… the list can go on forever…
Can you tell us about the tracks that you've selected for your mix today and why you selected them/ what you like about them?
I thought I'd make a selection of new and rare stuff that people might not have heard. Apart from the obvious classics, though.
Which artists/DJs/excellent creative folks from Sweden would you highly recommend we check out?
El Perro del Mar, Henrik Bergqvist, Axel Boman & the Studio Barnhus crew, Dan Lissvik, Mapei, Genius of Time, Mountain Range on Aniara,
The Knife, if you haven't heard them already. José Gonzalez.
And finally, what does the rest of the year hold for you? What are you most looking forward to, and what can you reveal of your upcoming plans?
We are currently on a European tour, then we do a show in Thailand in December, none of us have been there so that's exciting.
www.little-dragon.net
www.facebook.com/littledragonpage
www.twitter.com/LittleDragon