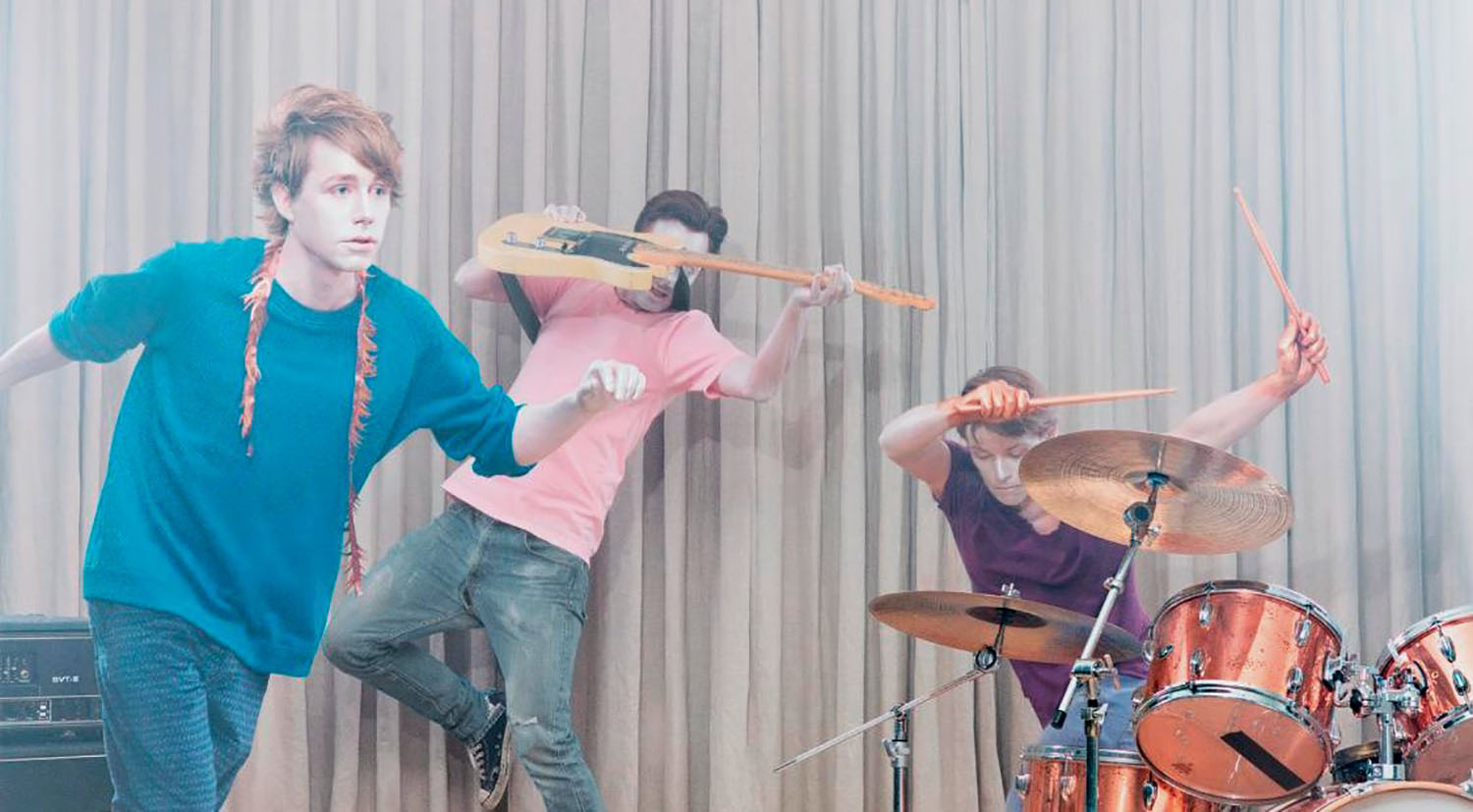 Jan 2014
Jones' playlist combines brand new, emerging sounds from throughout the region with some of his all time loves and highest recommendations.
So tune in to hear what Jonas has selected, and scroll down to read an exclusive interview discussing his personal sonic tastes and to find out what Mew have in store on their forthcoming sixth album.
Do you remember the first playlist you ever made? What was on it and who was it for?
I think the first one I made was for a school mate who was going to Italy, and I put some Sonic Youth, My Bloody Valentine, Afghan Whigs and possibly some Art Of Noise on one side. The other side I just filled with Erika Eigens 'I Want To Marry A Lighthouse Keeper' from the A Clockwork Orange soundtrack, playing it over and over and over again. Partly as a joke, and partly because I was kinda fascinated with repetition and boredom. And partly because I wanted to seem mysterious.
Mew rounded off 2013 in great fashion, playing shows all over the place – how did it feel to be back in a live setting around the world?
It felt really good. This is the first time we've gone on tour in the middle of recording an album, and it was a good decision, because at some point when you're writing and recording you just feel like you're in this cave, tugged away from the real world, and you can start second-guessing everything you do, because it's like you have no point of reference.
So travelling, playing shows, seeing people experience your music and reacting to it, these are wonderful things.
How much new material did you let your fans hear at the shows?
Not a huge amount. About 2 and a half songs. But these were – and still are – in development, so they will be a bit different when we finally finish the album. Our songs are always changing and growing until the last minute.
We've seen that you guys have been in the studio for a while, working on new music – can you reveal any secrets from the studio, and what we should expect from the new material?
We keep outdoing ourselves when it comes to spending crazy amounts of time on the albums. This one is taking longer than any other we've done, and I hope it shall be a standing record. We're deeply excited to get this out there, but we are still finishing everything, wanting to get it just right. The album sounds very much like us. But there are a bunch of new ideas and directions flowing around too. There will be some moments on this that will surprise people, but it's all weaved together in this sort of ordered chaos that we really enjoy. It's a very precise record, even if it has a lot of unexpected sounds.
Can you tell us about some of the tracks that you've picked today and why you selected them?
When it comes to Sweden I just have to mention Stina Nordenstam. A truly unique artist. And I chose 'Little Star' from the album 'and she closed her eyes' because that was the album that I first discovered, and to this day it is still my favourite.
That whole album is a masterpiece in my opinion. And I know it's not new, but I allowed myself to pick it anyway, because if people haven't experienced this album they really need to.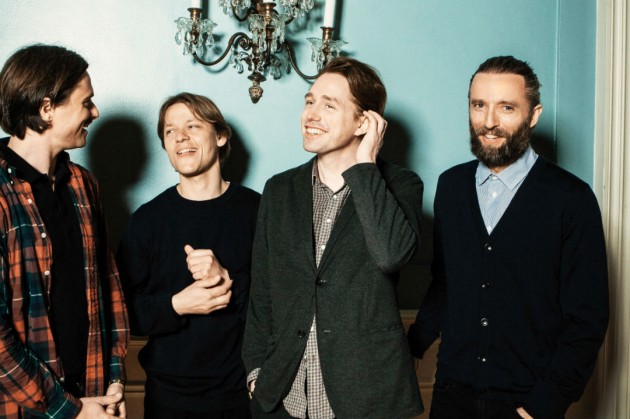 Her voice is extremely intimate and close-mic'ed and it might not be for everyone, but for me she is the brightest star in Scandinavia.
Denmark was a tough choice, because I know so many bands here, and there are some really great new artists coming out.
Kala-Ok – I think is a really interesting and artful band, they are really two people, a Danish guy and a Chinese girl, and they make this otherworldly thing. I am looking very much forward to their next release.
My first experience with Thulebasen was a live show, and they were excellent. I really like their songs, because it has this raw and really well recorded rock kinda sound, but at the same time they don't seem to be catering to anyone, they just let their wild ideas lead them and it's truly inspiring and just awesome. I also love the video for this track, directed by my friend Malthe Fischer, who used to be in Oh No Ono. He is now spending most his time either making music videos or in his new studio recording lots of new exciting artists, like Lust for Youth, I am looking forward to their new stuff.
I also have to mention Ice Cream Cathedral, who made a wonderful album, and The Felines, a really cool girl group who play a kind of edgy 60's surf pop, really raw and a great live band.
And lastly there's Pre-BE-uN, who came out with a really strange pop album last year, awesome stuff. As you can tell, it was hard to choose.
Admittedly, and I am a bit shameful to admit this, I actually had to go investigating quite a bit, as it occurred to me I don't know all that many Nordic bands, in particular I don't know that many newer ones, partly because I spend large amounts of time just living under a rock, writing music. I need to get out more!
The Nordic Playlist is all about discovering music from the Nordic countries, so can you tell us about a Nordic artist/album that is particularly special? Or has been particularly influential on you?
Well as I've already stated, Stina Nordenstam would be that artist. As I was growing up, Anne Linnet, Danish singer was someone I listened to a lot. She has this really earnest thing about the way she sings, even though she was really a pop artist.
I still really like her older stuff. Some of it is pretty weird. The song 'Nattog' is a favourite of mine.
I really like the band Blue Foundation, they are (mostly) Danish people, although mainly based out of Brooklyn now. We grew up together, even played in bands together, and I think we inspire each other quite a bit, kind of following each other's work and sometimes collaborating on stuff. It's a bit like we're still growing up together.
Talking of discovering new music, you guys have worked on developing the Sensory Spaces app to help fans discover music in a new way – can you tell us a little more about that?
We were looking for ways to present a song to the world in a different way than the "usual" finished single, and got to talking to these tech guys at Beoplay, and we decided to collaborate on a project that would allow people to kind of delve into the idea of a song, maybe stretch it in different ways, manipulate it.
And are there any new artists in Copenhagen that you recommend we keep a close eye on?
Silo, The Felines, Pre-BE-un, Kala-Ok, Ice Cream Cathedral, Death Has No Dominion.
We have a feeling that 2014's going to hold big and busy things for Mew – what are you most looking forward to, and what can you reveal for your new year plans?
We are working very hard on finishing this true beast of an album! Can't wait to get out and play it to people, and to go on tour with new material. This is pretty much all we think about right now, we live and breathe this music, and it's kinda crazy and exciting at the same time. Next month we are playing a really cool festival in Norway called Blåfrost.
www.mewsite.com
www.facebook.com/mew
www.sensoryspaces.com
Join the Nordic Playlist on Facebook and Twitter to keep on top of all of the site's news:
www.facebook.com/NordicPlaylist
www.twitter.com/NordicPlaylist