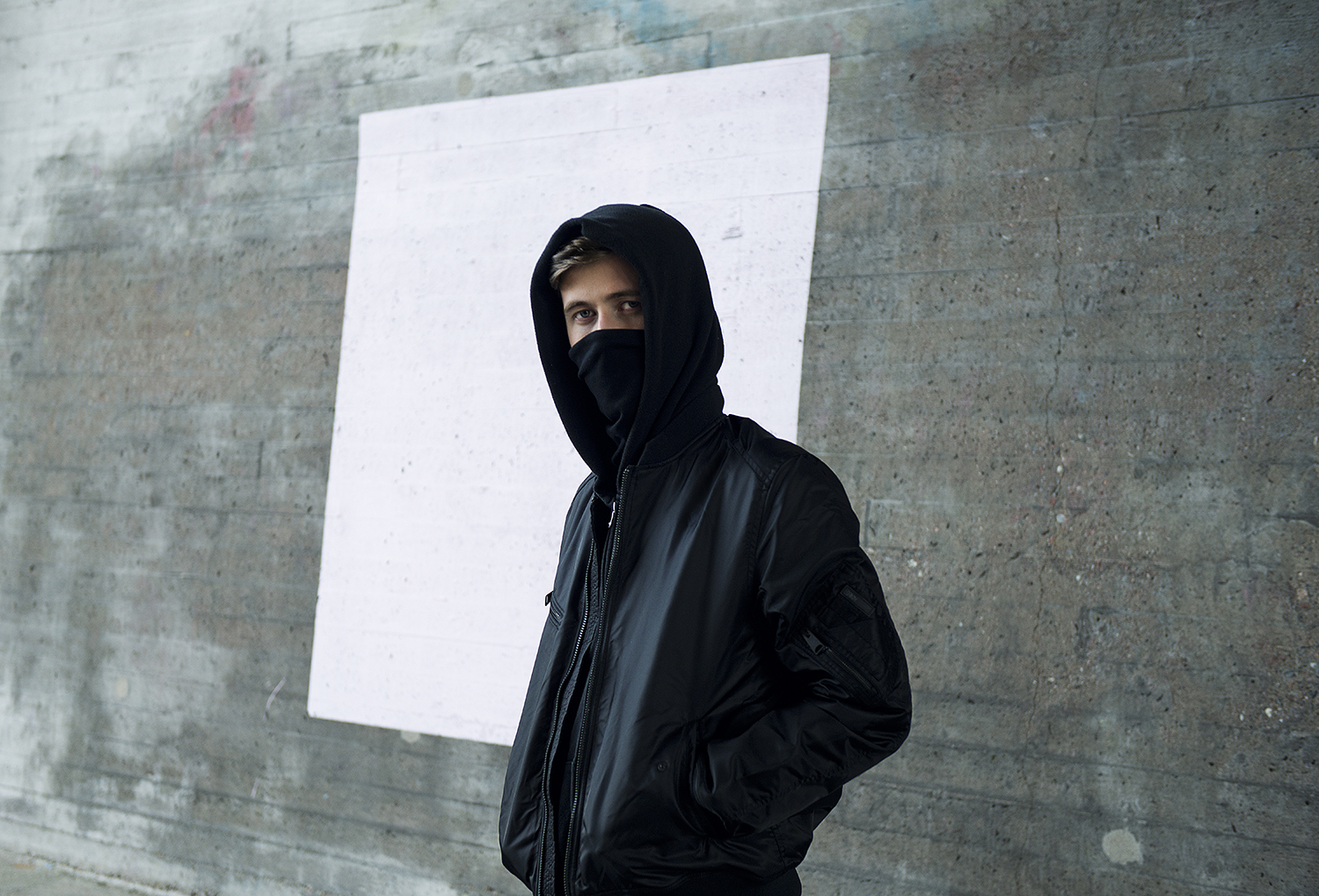 Dec 2016
There's no doubt about it – Norwegian wunderkind Alan Walker has well and truly taken 2016 by storm.
He's currently sitting pretty within Spotify's top 100 most streamed artists in the world, boasting over half a billion streams of his debut hit 'Faded' on that service alone, with the song's accompanying video fast approaching a full billion streams on YouTube! The past 12 months have seen the producer and DJ release two new – and equally as successful – songs, in the form of the hit single 'Sing Me To Sleep' and his brand new release, 'Alone'.
The Bergen-based artist is otherwise known for holding his cards pretty close to his chest, wearing a scarf to cover his face on stage and in photos, and retaining a mysterious aura within his music videos and live appearances. So, intrigued, we caught up with Alan to find out more about the man behind the scarf, to dig into his favourite Nordic songs and to check out his brand new single, 'Alone'!
Tune in to Alan Walker's Nordic Playlist by clicking the speaker button above and selecting your favourite streaming service!
Thank you very much for joining us at the Nordic Playlist Alan! How are you doing, and where in the world are you at the moment?
Of course, anytime! I'm currently in Taiwan, getting ready to perform here later tonight. The Asian leg of my Walker Tour has been incredible so far!
We've been talking about you a lot here at the Nordic Playlist over the past few years, as your singles 'Faded' and 'Sing Me To Sleep' have been tearing up the Nordic Charts! So, can you tell us what your ambition is for the music that you make, and why you decided that making music was something that you wanted to pursue in the first place?
Amazing! I really appreciate it. My ambition with music is to go as far as possible, and be able to provide people with music that they can enjoy in any setting. My career in music production was originally not something that I had planned on. I just found a song that I liked and decided that I could start to try making music myself. I have spent a lot of time watching YouTube tutorials on production and mastering. From that, I just kept on learning the basics and new things. It has been a process that required a really huge amount of time, but with the result being able to produce my own, original tracks – it's totally worth it!
We're especially keen to find out more about the track 'Sing Me To Sleep' – can you tell us a bit more about the story behind that song please?
Yeah, the track 'Sing Me to Sleep' was my second single after 'Faded', and with the success of having Iselin Solheim on the latter – it was a simple choice as we wanted to create some of the same emotions in 'Sing Me To Sleep'. I think the outcome was great!
You've stated in other interviews that you're a big fan of movie soundtracks – so what are some of your favourites, and what kind of inspiration do you draw from them when making your own music?
Steve Jablonsky's Arrival To Earth and Hans Zimmer's Time are both personal favourites. I have a strong affection for melancholic melodies.
We LOVED the remix that you did of Sia's track 'Move Your Body' too – what do you enjoy about remixing, and who are some artists that you'd like to remix in the future?
Thank you! I'm really thankful that I got the opportunity to remix a track for an amazing artist like Sia. It's always fun to explore new sounds and in this case I felt like I got to show that I can work with other genres and tempos, not just slower stuff. Regarding artists I'd like to remix in the future, it simply depends on the original song; I'm always up for exciting projects as long as I like it myself.
And you've just announced that you'll be heading out on tour in February 2017! What can we expect of your live shows?
Two things are certain: I will go on stage with the desire to have fun and enjoy the moment, and I know my amazing fans will make sure that the atmosphere is incredible.
Thank you very much for putting together your Nordic Playlist! Can you please tell us about each of the tracks that you selected, and why you picked them?
– SEEB, Jacob Banks – 'What Do You Love' & Kygo – 'Firestone': I simply love the emotions in both of these tracks, and both (Seeb is a trio, of course) are inspirational artists from Norway that I admire.
– Zara Larsson – 'Ain't My Fault' & Avicii – 'Waiting For Love': Zara Larsson has so much passion in her voice and she is a superstar, for sure. Impressive to see a young artist at my age climbing the charts the way she does! Avicii is a legend and has created a lot of opportunities for EDM artists, such as myself, from Scandinavia.
– Martin Jensen – 'All I Wanna Do' & MØ – 'Drum': Both tracks are just great, actually. And it is cool to see MØ making several hits after 'Lean On'.
– Alma – 'Dye My Hair' & Darude – 'Sandstorm': Alma is cool. She seems like a girl that wants to do her own thing and I admire that. Regarding Darude – 'Sandstorm': that one's a bit classic – everyone has heard this track, ha!
– Blissful – 'Elevate' & Retro Stefson – 'Skin': I must admit that I had little knowledge about music from Iceland, but these two stood out as exciting tracks!
What are some of your biggest Nordic inspirations? 
The mountains in my hometown of Bergen! Magnificent nature.
Who are some up and coming Norwegian artists that we should be keeping an eye out for?
I think there's more exciting things coming from SEEB and I recommend everyone to keep their ears open! The same goes for K-391, who is one of my inspirations.
And finally, what's next for you – and should we be getting excited about new music from you soon?!
Right now I'm out travelling a lot. And of course – my new single 'Alone' is out now! I hope you enjoy it, it's a song dedicated to all my incredible fans.
www.alanwalker.no
www.facebook.com/alanwalkermusic
www.twitter.com/IAmAlanWalker