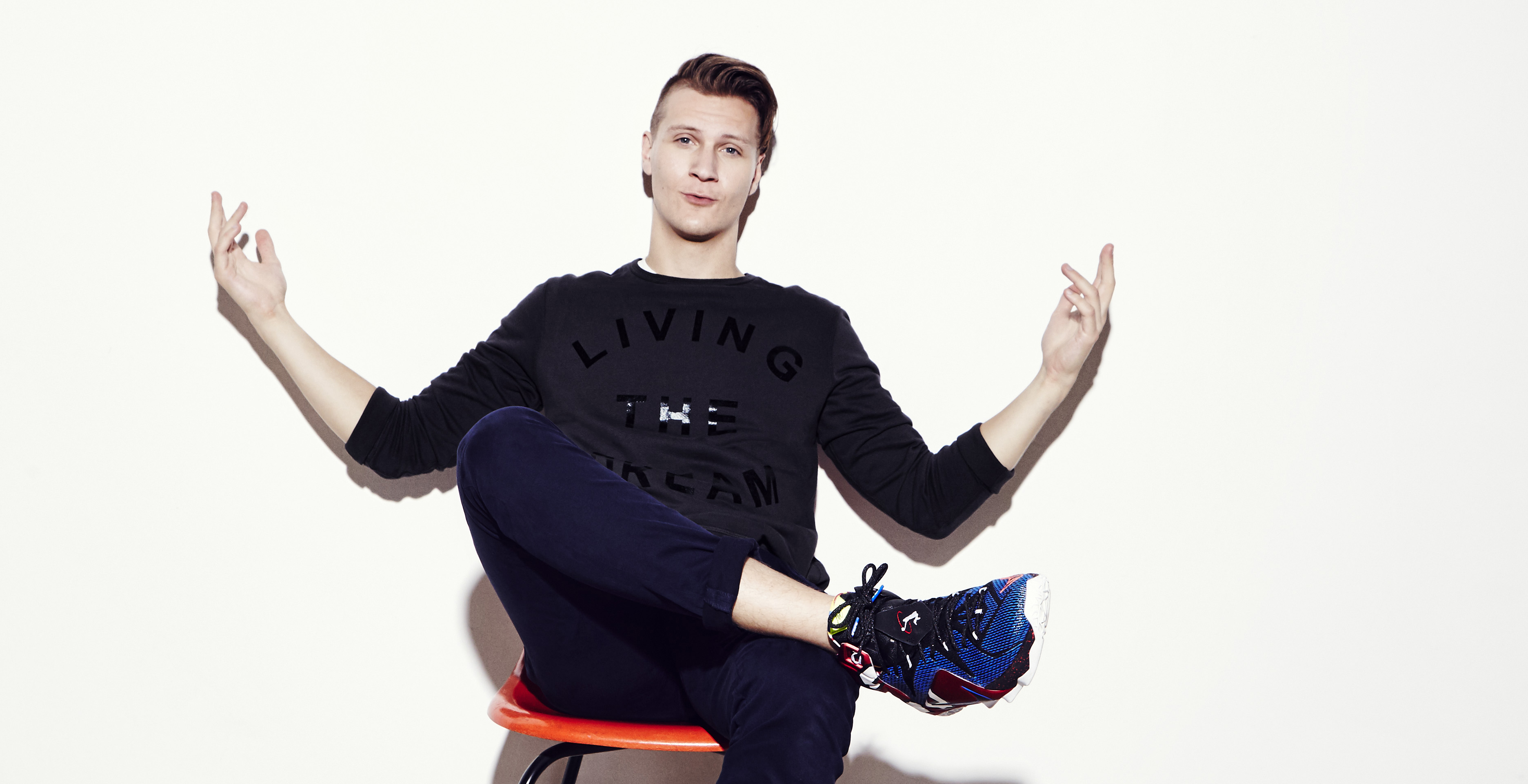 Aug 2016
Having been a staple feature in the Trenda: New Nordic Pop playlist for… well, for as long as we can remember!… Norwegian producer Matoma joins us to curate his own edition of the Nordic Playlist!
Matoma – or Tom Stræte Lagergren – has been making a serious musical mark over the past couple of years, releasing a series of remixes and edits that have captivated fans and racked up hundreds of millions of streams!
A tropical house producer with a finely tuned ear and knack for tracking down the perfect voices to match his soundscapes, Matoma is busily carving out a space for himself among the elite of his genre, working with and reworking the likes of fellow Norwegians Nico & Vinz, Madcon and Astrid S as well as international megastars such as Coldplay and Jason Derulo along the way. We've now been gifted some new music from the artist, who has teamed up with Danish pop sensation Christopher to reveal one of the Summer's biggest smash hits, 'Take Me Back'. And with that track freshly landed in our headphones, Matoma is now preparing to embark upon a huge tour that will take him and his energy-packed live show all around North America!
We caught up with Matoma in the midst of his busy schedule to find out more about his story, his epic collaborations and of course, his most hotly tipped Nordic music recommendations! So tune in to a Nordic Playlist from Matoma by clicking on the speaker button just above and selecting your favourite streaming service. Then settle in, read on, and let yourself discover the vibrant and exciting world of Matoma!
Thank you so much for joining us at the Nordic Playlist! Where are you chatting to us from today, and how are you doing?
Thanks for having me, it's an honour! I just got to Oslo where I'm playing a gig tomorrow at a huge pool party. I've got some friends in town, we're bringing the good vibes, it's going to be fun!
You're fresh from releasing an excellent, brand new track with Danish singer Christopher! Can you tell us a bit about the story behind 'Take Me Back', and your collaboration with Christopher?
I have always been a big fan and when I was in Denmark we arranged a studio session together. We clicked immediately, the idea ended up being pretty much finished in just one day, and here it is just in time for summer! Christopher is a super talented guy and such great fun to hang out with. I was in the middle of my Scandinavian tour at the time and invited him out to perform at one of my shows, the vibe was insane!
And throughout your career so far, you've collaborated with some truly phenomenal artists – what do you look for in a collaborator?
I'm inspired by so many different things with a collaborator but I think the big thing for me is just the vibe you get from someone's voice, the way it reaches you in your heart when you listen. There are some small acts that no one knows about that have that vibe, and then there are big famous artists that have that vibe probably because they connected with so many people in that way!
So for me there's no rules, I just want to find the vibe! I've got such amazing memories of all of my collaborations because we just made beautiful things together that we love, that has our passions in it.
The last 12 months have been huge for you, with your track with Astrid S 'Running Out' having recently smashed past the 100,000,000 streams mark on Spotify (congrats!) and 'False Alarm' with Becky Hill is getting bigger and bigger too – so what have been some of your personal highlights from the past year?
There have been so many! To see the music getting such a great reaction is just so inspiring, there would be no Matoma without all that love. And then feeding off the energy at the shows is also just so amazing. That's why I'd probably say one of my biggest shows would be a highlight, the time I played at Coachella. The crowd was just insane, the whole festival was incredible, and I had my Norwegian friends Nico & Vinz and Madcon with me, plus also was just amazing to have Ja Rule, Akon and Sean Paul performing with me. Seriously I still have to pinch myself thinking that it happened.
And you've spoken out about the importance of experimenting with songs, mixing and remixing vocals and parts to help find a sound that inspires you – so can you walk us through the process of making a Matoma track?
There's no one exact way that I always make a track, but I find the perfect inspiration mode for me is in my home studio in Trondheim, with a cup of coffee and looking out the window at the scenery. If I start with a vocal from a remix or an acapella then I just play the vocal and feel the vibe, then play around with beats and melodies on my keyboard until it feels like it clicks. I really love spending time on making the sonics perfect too, so once the idea is locked I keep working on the finer details and love that almost as much as the early idea.
You've played a whole bunch of shows this year, from Coachella in California through to the beautiful Træna festival in northern Norway – and you've just revealed a whole bunch of tour dates for the Autumn! So what should crowds expect from your live shows?!
Oh this is going to be insane. Last year I was lucky enough to go on a bus tour with the Chainsmokers guys, who are now like family to me. We played some amazing crowds and cities across America, so now I'm so excited to go back out there with my own show, and bring some of my own new friends. I've got a lot of new music I've been working on and we're building a sick live production which is really next level. And guys like Cheat Codes, Steve James, Steve Void and BAYNK that are coming with me have an incredible sound so we're all just going to bring the party! That's why it's called "Party At Your Place" tour, we wanted to make it feel personal.
So, on to your playlist! Can you please tell us about each of the tracks in your Nordic Playlist, and why you picked them?
NORWAY:
Dreamon – 'Homies'
Hip hop guy from Norway that is doing his own thing and is proud of it! Really like his productions, flow and style in the genre.
Seeb – 'Breathe'
A producer duo with their own style in the electronica genre. Love their productions, sound and dynamic. If you haven't heard this song you need to check it out!
SWEDEN:
Laleh – 'Bara Få Va Mig Själv'
Laleh has done an amazing job on this beauty of a song. Love the vocals, lyrics and production. If you listen closely you can hear all the emotions from her voice to the complexity of the beautiful harmonies in the production.
Timbuktu – 'Spring'
Timbuktu has been a big inspiration for me since I discovered him in my early years of middle school. 'Spring' is a really good example of classic Swedish hip hop combined with a globally sounded beat. The production combined with Timbuktu's flow makes this a really interesting, uplifting and fresh song to experience. I love it from first second to last.
DENMARK:
MØ – 'Final Song'
MØ has such a unique and different voice than others in the pop industry these days and Final Song is a really good example of going over the edge both with sonics and production. The chorus for me sounds like she got inspiration from the 80s and Swedish band Roxette, and since I love Roxette this went as one of my favourites! The production is simple but clever with use of all sounds in the right way, lifting MØ's amazing voice to higher grounds.
Snavs – 'Exhale'
Snavs has been a favourite producer from Denmark since I heard his production and song called 'Twerknado' during Easter of 2014. Me, my brother and a Danish friend were road-tripping to a ski paradise in Norway while we where listening to this and I fell in love with his production. When I heard his new song called 'Exhale' I felt the same as I did with 'Twerknado' and that's why I have it on this list because it sonically and production wise deserves to be on this list. Well done!
FINLAND:
Arttu Lindeman – 'Läikkyy'
Anna Abreu – Räjäytä mun mieli
ICELAND:
Emmsjé Gauti, Aron Can – Silfurskotta
Emmsjé Gauti – Fila big
I don't know what to write about these songs but I loved the productions and sonics of them. Even though I couldn't understand what they were singing about, these ones connected with me. It's the same way as when I heard Biggie when I was growing up – I didn't understand the words but the vibe was just so good! Really nice music.
And finally, what does the rest of the year hold for you? What are you most excited about?
I'm really excited about the reaction to 'False Alarm' already and watching that grow. I've got some new music that I can't wait to get out there after that, some big surprises that I'm going to keep putting out! This tour in the US should be insane, like 40 days straight with maybe 3 days off, and then I'm going to take a short break and go traveling in Asia to find some more inspiration from nature and the people, then come back refreshed for a big 2017!