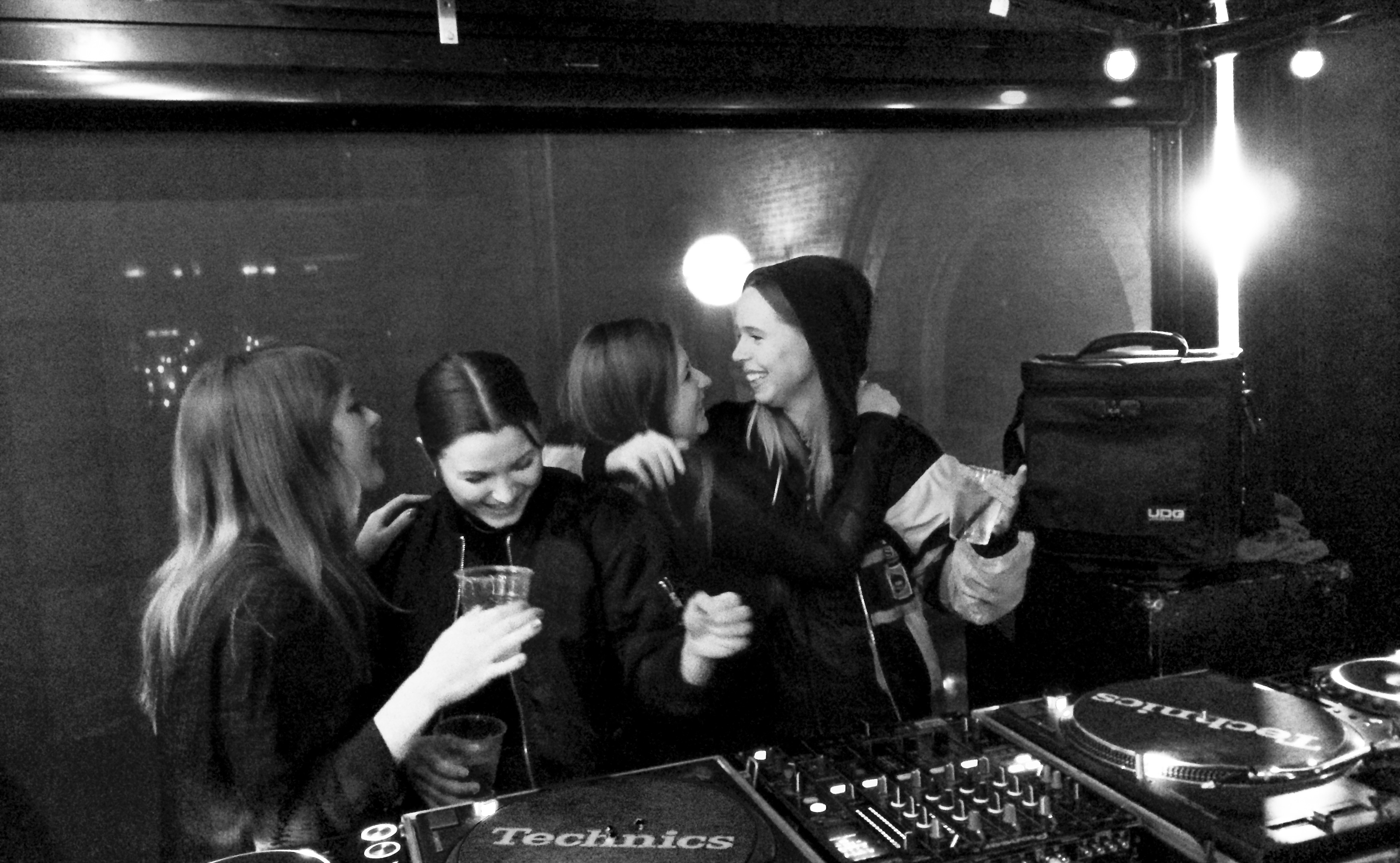 Apr 2014
Following on from mixes from the likes of Denmark's Kasper Bjørke, Icelandic DJs Sexy Lazer and Yamaho, Norway's Skatebård and Finnish duo JESSE, we have four creators behind this exclusive mix, a collaboration that goes by the name of Apeiron Crew.
Tune in to their specially crafted mix and read on to find out more about this emerging crew, and where you can catch them in a live setting.
Can you tell us more about Apeiron Crew – who are you, and how did you all start working together?
We're a bunch of people with a serious passion for electronic music, who all love to party. We met individually out and about at a variety of music events, and when we finally decided that we wanted our own crew, it was pretty obvious who should be involved from the offset. That was just at the beginning of 2014, so we suppose things are getting serious pretty fast.
And what are you all currently working on, both as a crew and individually?
Najaaraq Vestbirk: Emma and I have been producing music together the last couple of months, the last track in the mix is actually the first thing we finished. Besides that, I study modern culture and journalism, I work as a freelance writer for the music magazine Soundvenue and AIAIAI.
Sara Svanholm: I study medicine, but at the moment I must admit that playing and doing things with the crew feels like my primary occupation – in a very good way! I got into DJing a year ago so this is still quite new to me, but it feels like I'm finally in the right spot and I'm very excited about our future plans.
Simone Øster: Besides spending a lot of time with these cool ladies playing music and discussing our aesthetic identity, I work for Strøm, a Copenhagen electronic music festival and manage a design concept store.
Emma Blake: I'm slowly making my way through my Masters in philosophy. I started my education pretty young in comparison to most of my Danish friends, so I'm really glad I can take my time to work on everything else that's happening just now; the Apeiron stuff, producing music with Najaaraq, working as editor for the Dunkel Radio website, and I've just started a part-time marketing job at a concert venue called Pumpehuset. It's a busy time for all of us. As Apeiron Crew we are hosting a couple of regular nights together, and we all work together at Dunkel Radio, working on the website, doing radio, and writing about electronic music.
Do you remember the first mixes you ever made? What were they for, and what was on it?
Simone Øster: I've never gone public with a mix before, but the first ones I recorded most likely contained some Ramadanman mixed with some old uptempo techno.
Sara Svanholm: I actually made my first ever mix for Dunkel Radio a couple of months ago – it had a lot of my favorite dub techno records in it and some other tracks I'm into at the moment.
Najaaraq Vestbirk: I started DJing 7 years ago, so I actually don't remember, but it would be something I recorded with my friend Johanne Schwensen, who I used to DJ with back in the day.
Emma Blake: This one! I've made a lot of radio and have been imagining for years what would go in my ideal mix, but I never got around to actually doing it. Now that this first one is finished, and I've had the Apeiron crew to help me get over the laziness fear that was holding me back, I'm looking forward to recording one on my own (and of course a bunch more with the girls).
Has anyone ever made a mixtape or a playlist for you? If so, can you remember what your favourite track on it was?
Najaaraq Vestbirk: A couple of years ago a friend gave me a 'grownup music' tape as a birthday present that I still love to listen to, with stuff like Fleetwood Mac's 'Dreams'.
Sara Svanholm: Hmm… I don't think anyone has ever made a mix especially for me (not that I know of anyways, but one can always hope, hah!). I've been listening to a lot of mixes by this guy Kaelan recently and with my friend Jonas Frandsen's help I found a great track by Mike Huckaby and Deepchord that I really love!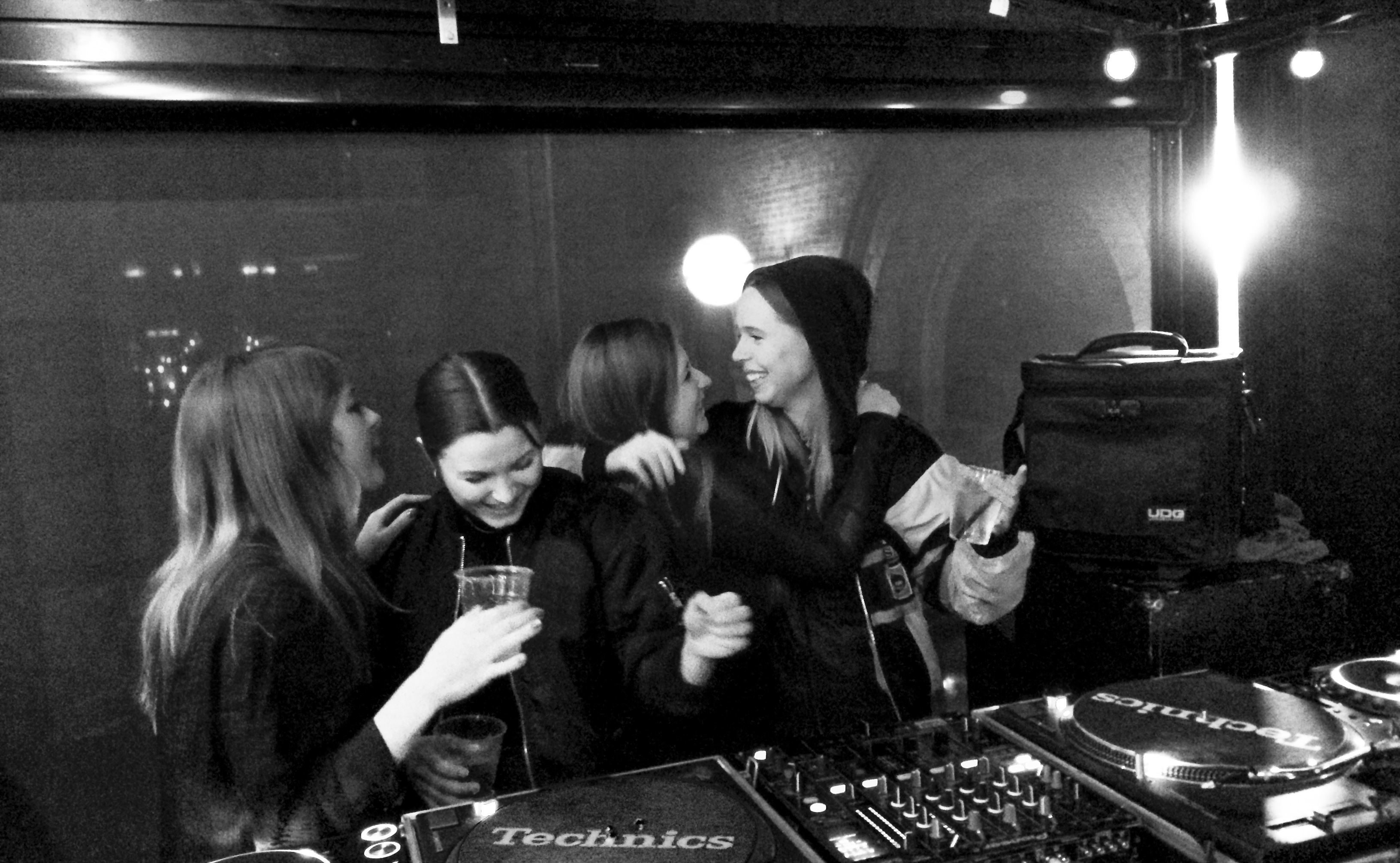 Emma Blake: Recently someone made me a mixtape that started with a song by Explosions In The Sky. It was like he looked back in time and straight into my little 15-year-old soul.
Simone Øster: Actually, I have a friend who has created a playlist on YouTube with songs that remind him of me and my boyfriend. Note: Not in a creepy or sinister way, just a nice tribute to our taste in music.
What are the best things about being involved in the music scene in Copenhagen? Do you think it's a particularly inspiring place to be?
Najaaraq Vestbirk: A lot of cool young people are starting new exciting parties and labels, but working together across genres.
Sara Svanholm: I honestly feel really happy to be a part of the electronic music scene in Copenhagen at the moment – it's full of great people with inspiring knowledge about music, so I feel like I'm constantly learning. Another thing I really like is the way all the different crews and promoters work together on making things happen by communicating and trying to push each others' events further than just "the inner circle" of the scene – it's a very welcoming atmosphere!
Simone Øster: Yes to all of the above! But also, I find it very inspiring to talk to all the old(er) techno guys. Hearing all their stories and tracks from back in the day.
Emma Blake: As a foreigner who moved here to study, I've been completely overwhelmed by how welcoming everyone has been. When I first got here I just started going out to clubs alone and talking to people about music. Two years later, I feel as much a part of the scene in Copenhagen as in Glasgow, which makes me feel so lucky to have found such a great bunch of people to work and play with.
Can you tell us about some of the tracks that you've used in your mix today and why you selected them?
Simone Øster: The tracks are a good blend of our taste in music, a mixture of old favourites and newer stuff. And of course Emma and Najaaraq's track '27' at the end. Such a belter!
Emma Blake: Because we know each others' tastes so well now, it's really nice to listen back to this mix and think 'this is a Sara section' and 'these tunes will always remind me of Simone'. Our sets feel like this when we play out too, us all getting involved, but each of us having some room to play around with our own styles.
Sara Svanholm: Yeah, Emma that is so true! Najaaraq Vestbirk: Ditto!
The Nordic Playlist is all about discovering music from the Nordic countries through recommendation – so can you tell us about a Nordic artist/album that is particularly special, or has been particularly influential on you?
Sara Svanholm: There are a lot of Swedish artists that I really like, especially the duo Skudge, who runs a label under the same name and also this guy called Bleak – I think I have almost all of their releases. Both make these funky techno tracks with a housey twist that are really bangin'!
Najaaraq Vestbirk: I have had the pleasure of playing a couple of times with Sweden's Adam Lundberg, who runs Geography Records, and Jonas Asp, the man behind Virgo Rising Recordings, and they are both super lovely and amazing house DJs.
Emma Blake: A couple of years ago I got really into a lot of the Skweee stuff that's mostly been coming out of Sweden and Finland. Big props to guys like Joxaren and Daniel Savio for making stuff that's musically really interesting while never taking itself too seriously.
Which artists/DJs from Denmark would you recommend we tune into? Any old and new favourites?
Emma Blake: Kasper Marrot and Erosion Flow are two young producers with a lot of good things going on. It's been really nice to watch their progression recently, they're both very talented and deserve everything that's coming to them.
Najaaraq Vestbirk: Tine Valentin is an amazing techno and house DJ who we play with every chance we get, and Daniel Bruhn aka Dee Brown is just about the best young mixer there is. Also the boys from the club night Rare Nights are super!
Sara Svanholm: My friend Dan M is in many ways my 'mentor' even though he's more of a house guy than me. He's one of the old guys in the game and a very talented DJ and producer – and he's also the one who pushed me into playing, which I'm truly grateful for.
Simone Øster: I have to mention Simon Olsson, our cool and nerdy friend who established TEAL Recordings. He was the one introducing that 'dubstep-that-turned-into-house-and-back-to-garage' kind of music to Copenhagen with his Hest/Pony parties at Dunkel a couple of years back. He has been a great influence on me.
And finally, what does the rest of the year hold for you? What are you most looking forward to, and what can you reveal of your plans for 2014?
We are starting a new series of nights, where each event is based on an imaginary galaxy with its own present but subtle theme. It's in this great club called Harvey in Copenhagen, and we've got Xosar coming to do a live set for the first one on the 23rd of May. Also this summer we going on a German mini tour, Farbfernseher in Berlin July 11 and Golem in Hamburg July 19. We've also been talking for a while about going on a field trip (read: raver holiday) to Glasgow, Scotland, where Emma is from originally. She's been talking about it like a Mecca for electronic music fans so we're going to go and judge for ourselves at some point at the end of summer.