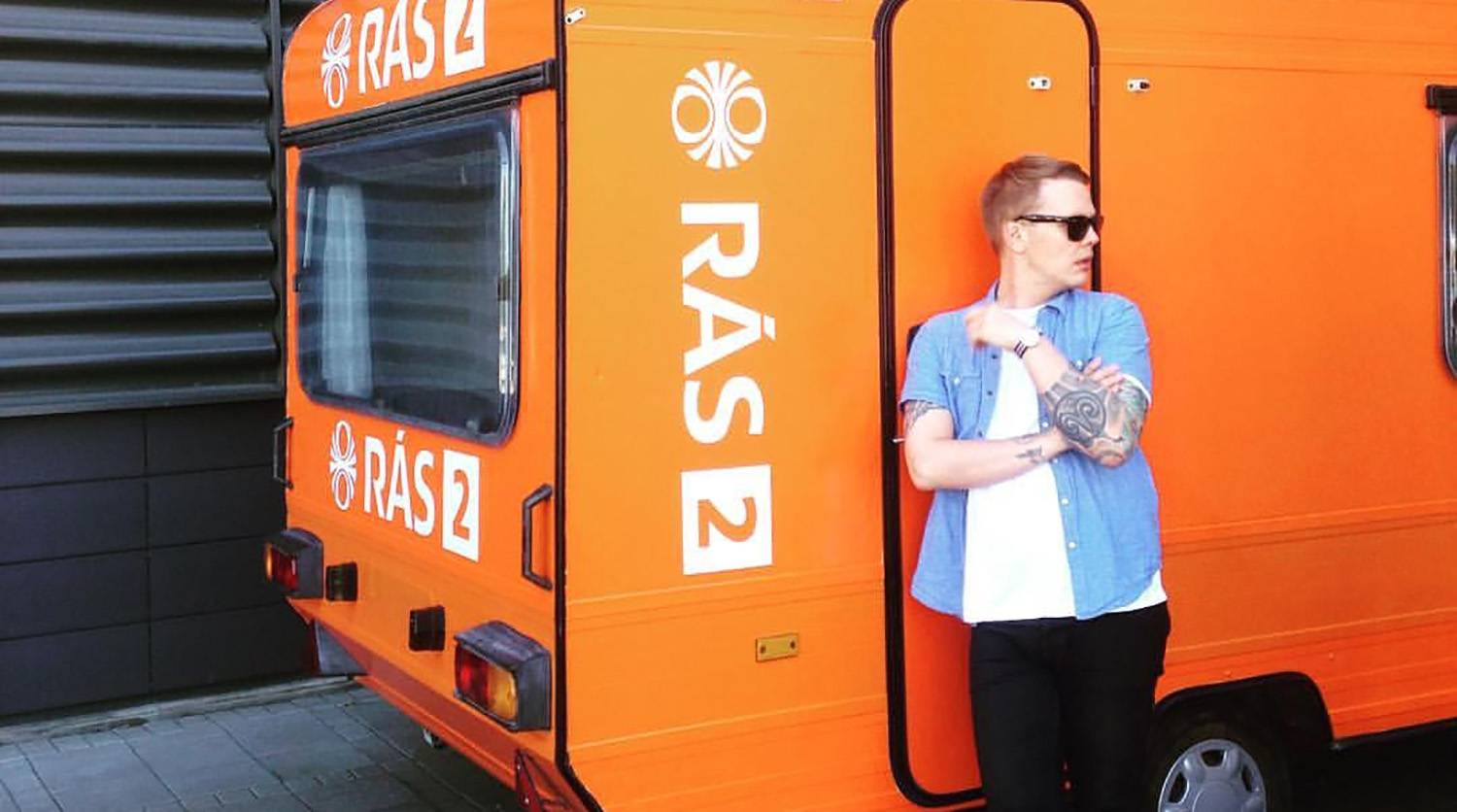 Aug 2016
It's been said before, but we'll say it again – for a small nation, Iceland are one of the world's most exciting, inventive and inspiring music-making countries…
From the rattling sounds of urban rap, right through to glittering electronica and shimmering indie, Iceland is relentless in its ambition to produce more fantastic music than any other nation – so we're going to be taking a closer listen to some of the newcomers!
In the latest in our series of national Nordic Playlists (check out Finland, Denmark, Greenland and the Faroe Islands too!), we've invited new music aficionado Matthías Már Magnússon of Rás 2 radio to create a hand-picked playlist of his favourite emerging Icelandic hits! As the presenter of a daily programme which specifically focusses on up and coming talent, Matti is the perfect guy to help us find the newest sounds from the streets of Iceland.
Hello Matti, and thanks for joining us at the Nordic Playlist! We'd like to get to know you better first of all, so could you please introduce yourself to our friends and followers?
Hey, yes I host on radio show on the Icelandic National Broadcasting Service (RUV) on Rás 2. My show runs every weekday from 1pm until 4pm and focuses on new Icelandic music, with live sessions and a new Icelandic 'Album of the Week' each week. I've been doing this show for about 8 years now and have been in radio since 2002, and I also DJ in down town Reykjavík.
You're well and truly plugged into the music scene in Iceland, so who would you name as some of your all time favourite Icelandic artists?
That's a tough one… well the obvious ones are Sigur Rós and the Sugarcubes, back in my teens there was a great indie scene in Iceland with bands like Botnleðja, Maus, Ensími and alike, then later Mínus (please come back guys). But the best band in Icelandic history is HAM, plain and simple.
And a lot of people around the world talk about how lively the music scene in Iceland is – but why do you think this is? What do you think it is that makes the country so prolific when it comes to making music?
Great music schools, the long winter does help also. I mean we have to do something during the long winter nights, so why not practice and play music live onstage? Also the support from festivals such as Iceland Airwaves and more help a lot. We also have this early contest called Músíktilraunir (Battle of the Bands) that's been going on for over 30 years now, where the winning bands get free studio hours and they have used that well over the years, bands like Of Monsters & Men, Agent Fresco and Samaris have all began in Músíktilraunir, even Jónsi from Sigur Rós played in Músíktilraunir – he didn't win.
How do you find the new music that you feature on your radio shows? And are there any new artists that you're really excited about?
Well your Nordic Playlist has giving me some great tunes over the years 😉 But mostly the Icelandic bands just send me their stuff right away, and just going out an see new bands live – that's always the best way to discover new music, in my opinion. I like Emmsjé Gauti's new album a lot Vagg&Velta, also the song I have in the playlist from SXSXSX is great, I'm a sucker for big pop songs. Hormónar are a fantastic band also – remember that name!
And how about different scenes around the country? Where are some other interesting places to visit around Iceland (other than Reykjavík) if we're on the hunt for good music?
For Easter go up West for a festival called 'I Never Went South' (Aldrei fór ég suður) – it's a free festival founded by Mugison and his Dad Papa Mugg, where they convert a huge storage space into a 2 day music festival where you get all kinds of Icelandic music over 2 nights.
For the a great Summer festival I would recommend Bræðslan, it in this tiny village where around 100 people live. The festival venue is a 40 year old fish factory that at this one time of year is turned in to a wonder world of music. An absolutely beautiful place to visit.
One of my favourite music venues in the world is up north in Akureyri, it's place called Græni hatturinn – a 'must go' if you are traveling up North… also if you do give my best to Haukur, an absolute legend.
Can you please tell us about the tracks that you've selected for your Nordic Playlist today? Why did you pick these songs in particular?
Well I kinda wanted to pick some of the Icelandic pop and hip hop tunes, songs that feature heavily on my show for example, and brand new tunes that I know I will play a lot, like the SXSXSX tune. I'm a big fan of 'Candyland' the new Sin Fang song and I can't wait to hear his new album.
Iceland also plays host to some world class events and concerts, so what would you list as some of the musical highlights in the Icelandic calendar?
Iceland Airwaves definitely, Eistnaflug up east is a great metal festival, Bræðslan up east which I mentioned earlier is a must for me every year. And every time HAM play.
And finally, who would you pick as your favourite Nordic artists of all time, and why?
I'm gonna stick to home and say Sigur Rós and why you ask? Come on, it's Sigur Rós, no no… well for the simple reason that all their albums (bar maybe one) are classics, and they are also one of the best live acts you will ever see. They also like to challenge themselves live with changes to their set up, I've seen them countless of times live and it's never the same twice.