Simon Steen-Andersen is one of the most performed Danish composers of his generation, not only in Denmark but also internationally.
His proliferating performance success has been followed by several honours, e.g. The Carl Nielsen Prize and Kunstpreis Musik from Akademie der Künste in Berlin (both in 2013), the prize for the best orchestral work at the recently held Donaueschinger Musiktage and The Nordic Council Music Prize in 2014.
The music of Simon Steen-Andersen is characterised by tensions between expressions that are seemingly opposite: the banal and the intellectual; the immediate and the historical; the playful and the thoughtful; the quiet and the noisy.
The Danish online music magazine Seismograf/DMT's has compiled the most comprehensive introduction to Simon Steen-Andersen and his music available online under its Focus series. There, you can read about reflections on Simon Steen-Andersen's visuals.
Black Box Music
A few excerpts from a performance of Black Box Music by Simon Steen-Andersen with Håkon Stene (box) and Oslo Sinfoniettaat at the Bates Mill during the Huddersfield Contemporary Music Festival 2012, for which Steen-Andersen was awarded the 2014 Nordic Council Music Prize.
The projection is live-video from inside the sound-insulated box on stage. The 15 musicians are placed in three groups around the audience alternating with four loudspeakers projecting the sound from the microphones inside the box.
The total duration of the piece is around 32 minutes.
*Program note:
Black Box Music is scored for percussion solo, amplified box, 15 instruments and video.
The starting point is the classical soloist-conductor, only in this case, the conducting and the solo part are one and the same.
The setting is a traditional theatre stage with curtains, props and light; only in this case, the stage is also an instrument. Black Box Music could be said to be a deconstruction of conducting and puppet theatre as well as an exploration and exploitation of the audio/visual relations inherent in conducting and staging.
The "grand show" is in three movements, starting with 'Ouverture' and 'Slow Second Movement' and then finishing off with the festive, pompous, self-imploding 'Finale'.
Run Time Error
Simon Steen-Andersen's Run Time Error (2010) is a highly original experimental video work created during a residency at HOTELbich in Brussels.
Strictly constructed in the form of a two part invention (with theme, retrogrades, augmentations etc.) it at the same time involves and presents the composer himself as an energetic performer and embraces the entire building in which it was created as a musical instrument.
Text and video published by Edition·S. All rights reserved. View more videos from Simon Steen-Andersen at Edition.S.
INSPIRATION: Mathias Spahlinger: Adieu m'amour (Hommage à Guillaume Dufay)
"I didn't realise before years after I first heard this piece, that it has a lot of those things that I was looking for at the time: The piece is for spatially separated violin and cello, both playing on detuned gut-strings. Already this makes intonation and timbre very difficult, but on top of that, the simple material (all derived from a piece by the renaissance composer Dufay) is played with extremely difficult, unstable and partly uncontrollable techniques.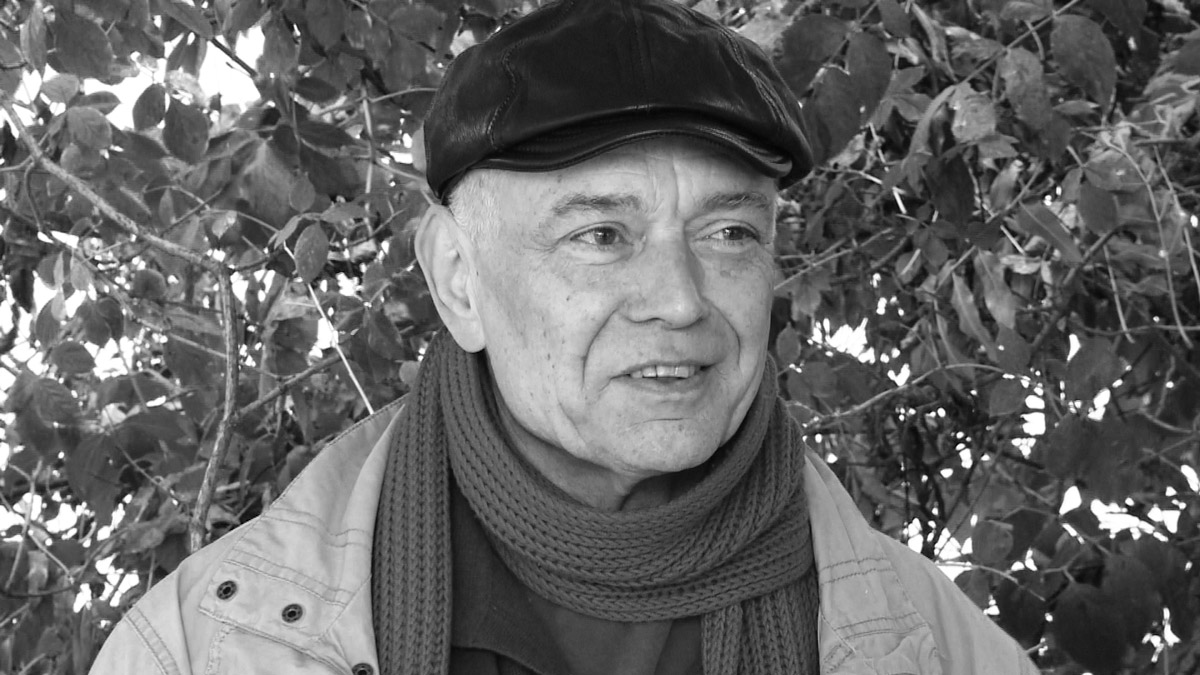 The piece is doomed to fail, so to speak, but in the attempt, a unique intensity, intimacy, fragility and beauty arises. And a sense of something "real" – not just a "re-presentation". A tangible distance and a "speaking about", not a "speaking with" tonal music. In the program note he wrote something like "love as a farewell to the love that believes to possess the other"." -SSA
"NEGATIVE INSPIRATION": Bent Sørensen: Angels Music
"I think one of the reasons I find this piece so beautiful and fascinating is something similar as in the Spahlinger piece. But here the resistance is not in the performance, but in the textures or the "veil", mostly covering a tonal music heard from far away, as if vaguely sensed through a veil. Sørensen's music had an interesting effect on me during my studies:
I found it to be so beautiful and fascinating that I decided to move my own music away from this sound world and keep my distance. I don't believe in inspiration, really, but I do believe in "negative inspiration", and this is an example of it." -SSA
"NEGATIVE INSPIRATION": Xavier le Roy: Self-Unfinished
"I experienced this piece during a workshop/festival called "Disturbances" in Copenhagen in 2003. It still stands out to me as one of the best art-experiences ever. It's barely documented and I never had the chance to see another performance of it since.
At the workshop I had another very important "negative inspiration":
A multi-artistic attempt at collaborating that did not meet my own ambitions on integrating the different art forms, but rather ended up merely stashing layers and ideas on top of each other. As a reaction I pulled out of the workshop and decided I would need to do everything myself. And that's how I got the idea to start working with video…" – SSA
RECOMMENDED VIEWING: Christoph Schlingensief Mea Culpa
"I never got to see any of Christoph Schlingensief's works live.
Mea Culpa is documented on a DVD that I can highly recommend.
It's mixing theatre and reality, music and visuals on a number of levels." – SSA
RECOMMENDED READING: Georges Perec: LIFE a user's manual
"Rigid and systematic, yet poetic and full of life. Full of self-reference and background plot that ends up cancelling it self. Full of meaning and meaningless at the same time. A kind of zen, I guess.
A phenomenon that fascinates me a lot these days; self-reference to the point of self-cancellation; concrete and abstract at the same time…"  – SSA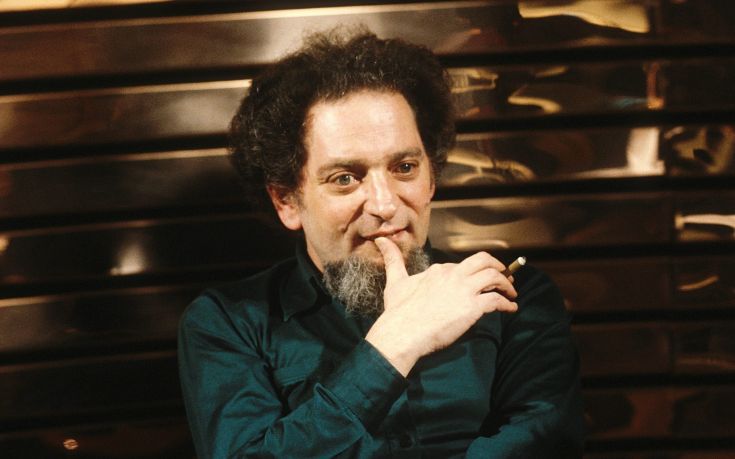 RECOMMENDED VIEWING: David Lynch: Mulholland Drive 
"I love the way Lynch works with clichés, twisting them uncanny as well as his way of using a (seemingly) familiar language for radical formal ideas" – SSA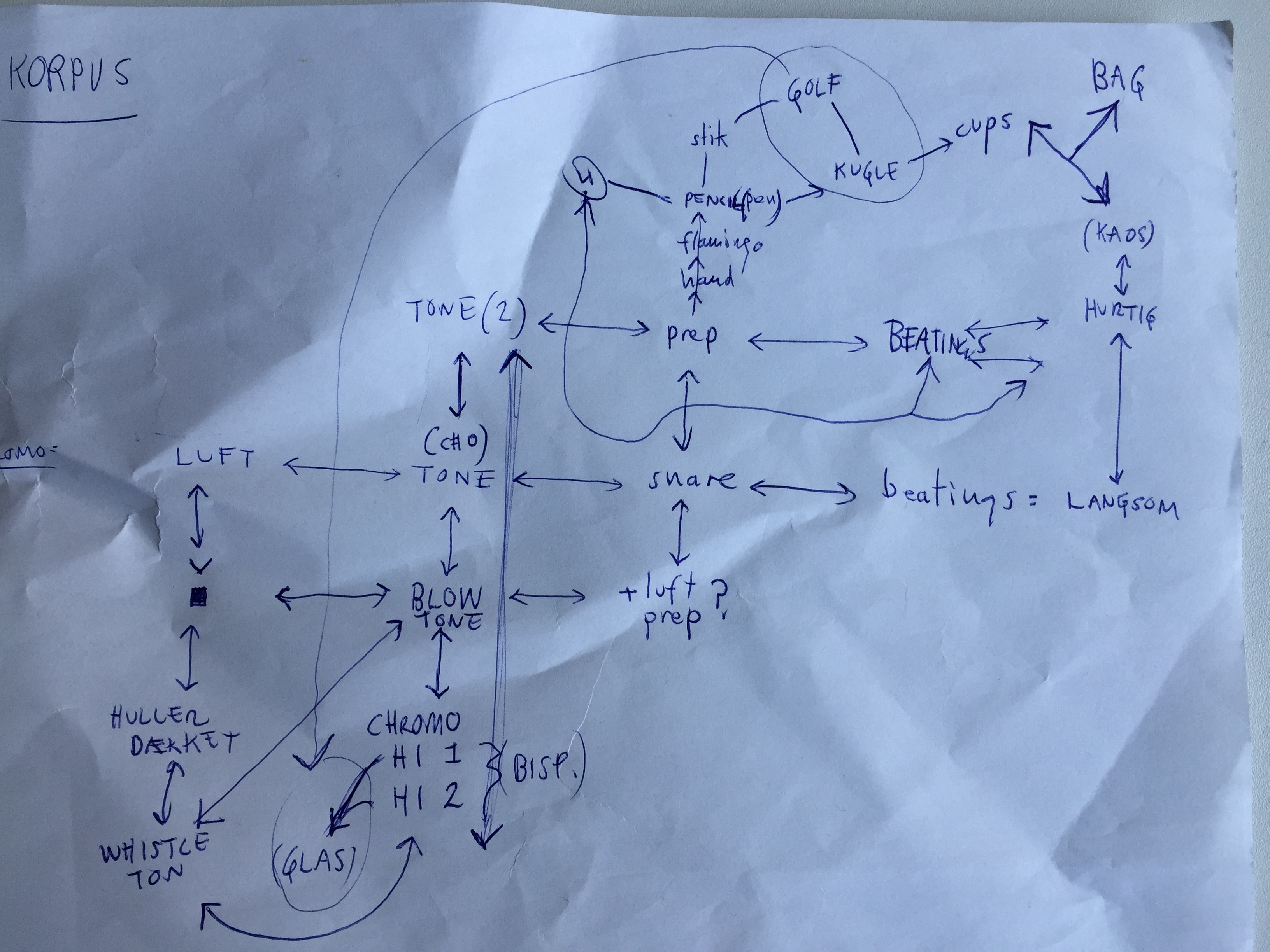 Work Sketch for KORPUS
"I often make a map of connections between the different parts of the material.
And I always look for multiple connections (equally "natural") so that, ideally, going further and further in one direction (focusing on one parameter) and further and further in another direction, will end up in a place where those two points connect through a third parameter." – SSA
KORPUS is a work for three Harry Partch-instruments and 7-8 players (12′) (2015)
Work Sketch for PIANO CONCERTO
"This is often what a sketch looks like just before it's entered in the computer notated score. It contains quite a lot of information – each sign refers to a specific situation in the orchestra or sound made by the soloist.
What can be seen here is the resulting line, between soloist and orchestra, slowly expanding the "shadow material" of the broken piano – the notes barely working, the broken hammers and detuned, bell-like, strings" – SSA
Piano Concerto (for piano solo, sampler, video and orchestra, 2014)
SWR Sinfonieorchester Baden-Baden und Freiburg
Francois-Xavier Roth
Nicolas Hodges (piano)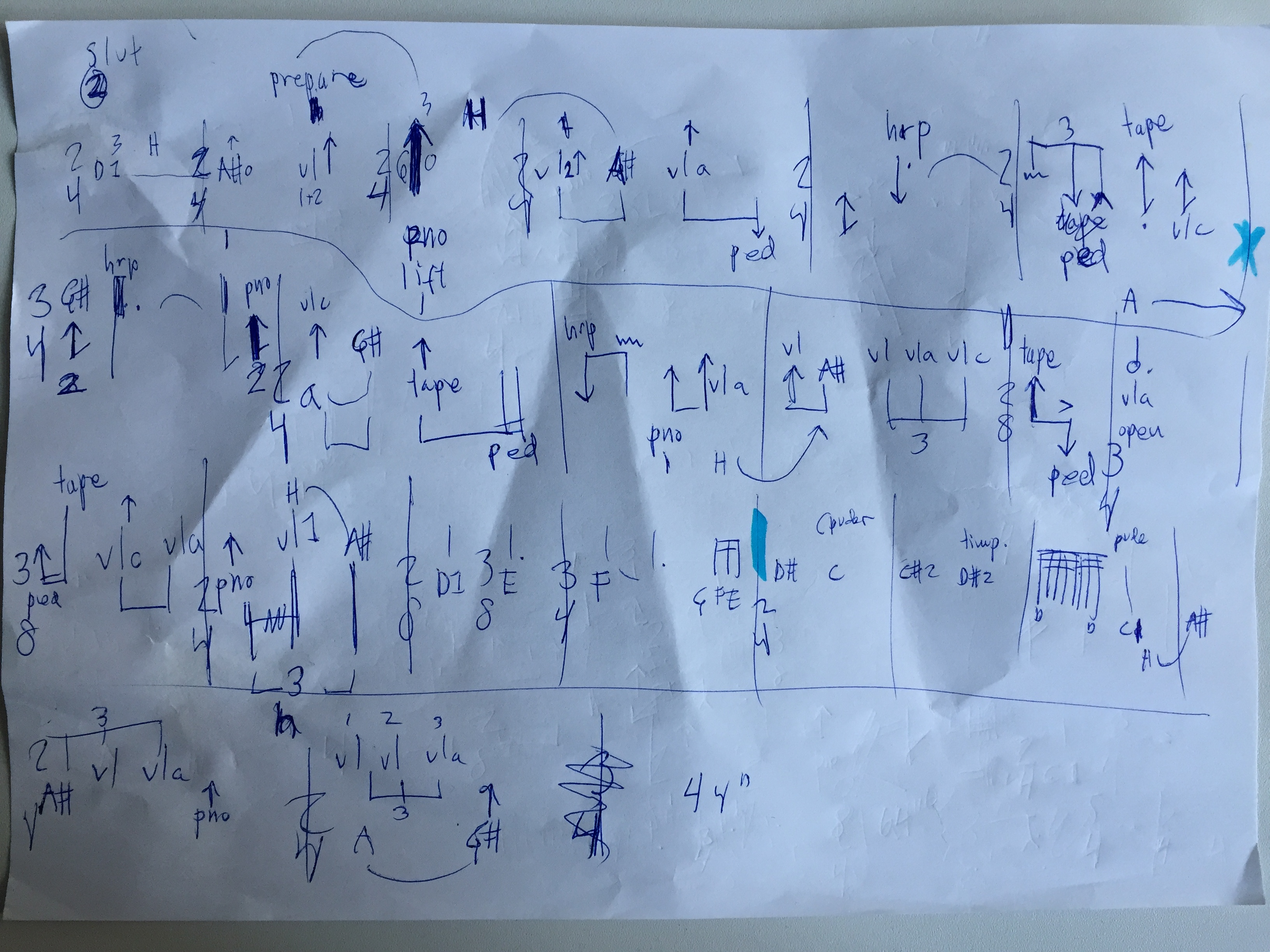 Simon Steen-Andersen's Piano Concerto received widespread recognition winning the special orchestra prize when it was premiered at the music festival Donaueschinger Musiktage in the fall of 2014. The work takes as its starting point the sound- and video recording of a grand piano falling onto a concrete floor from a height of 8 meters. From this Steen-Andersen composes an intricate dialogue between prerecorded audiovisual material and real-time musicians. The result is a spectacular genre-bending multimedia experience.
"When I compose within a classical frame I wish to show the tradition in a radically new light. By sacrificing a concert grand I thematise the beauty of the destroyed and the unpolished. I bring the listener inside the ruined instrument to experience sounds which we normally don't come close to." – SSA
The piece received the prestigious Danish Carl Nielsen Prize in April 2015.
© Edition S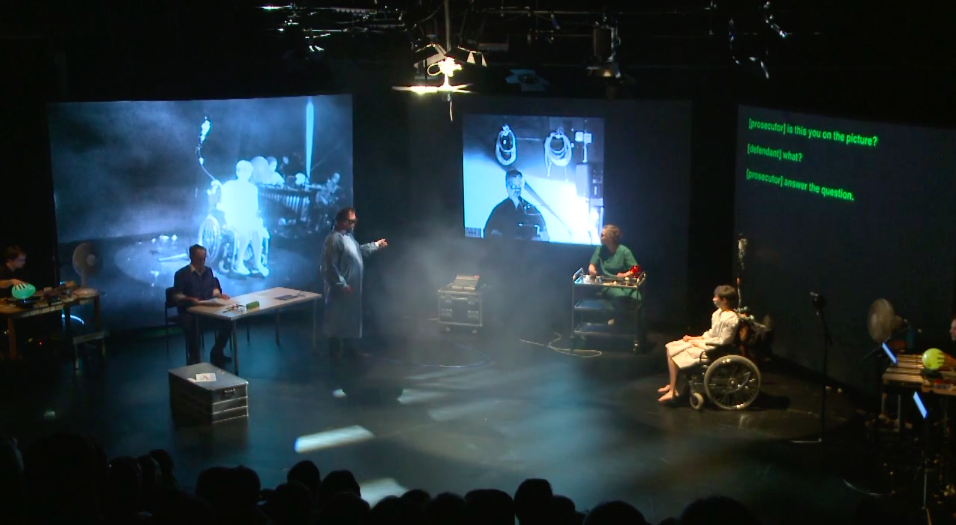 OPERA: BUENOS AIRES – Music theatre in five scenes
For some people – maybe slightly more prevalent among Scandinavians – bodily and expressive restraint is a part of the inner dictatorship.
The diagnosis is best confirmed in confrontation with cultures known to be more direct, as for example the Argentinian – even if Argentina is sometimes referred to as the "Scandinavia of Latin America".
In the most serious cases of obsessive indirectness the condition may develop into a serious disability, forcing the patient on ever longer detours. On the other hand many direct cultures have their own history of dictatorships – the brutal and even fatal outer kind – that have also forced its people to avoid direct ways of expression.
In both cases – without equating the two in any way – reports describe possible positive side effects paradoxically occurring, in rare cases leading to sublime expression, intimacy and beauty. This phenomenon still remains to be confirmed by independent studies.
As the title indicates, Buenos Aires is about good air. As well as bad air and censorship in inner and outer forms. Or maybe it's all about the voice, opera and the absurdity of communicating through singing, as expressed by one of the characters in the first scene, who suggests three "solutions" to the obvious problems of opera: 1) Only let the characters sing when they actually sing in the story, 2) set the story in another reality, where singing is an accepted way of communication or 3) don't use the voice at all, find alternative means of communication with other musical biproducts …
Simon Steen Andersen discusses Buenos Aires with Esteban Buch at Ultima Academy 2014.
OPERA: BUENOS AIRES
Music Theatre in Five Scenes (2014)
by Simon Steen-Andersen
Neue Vocalsolisten Stuttgart ensemble asamisimasa Oslo
ECLAT Festival Neue Musik Stuttgart 6.2.2015
1h 15min, HD, stereo
Sucher-Film, Stuttgart Wagenhallen