Ja Ja Ja Festival Programme : Film Screenings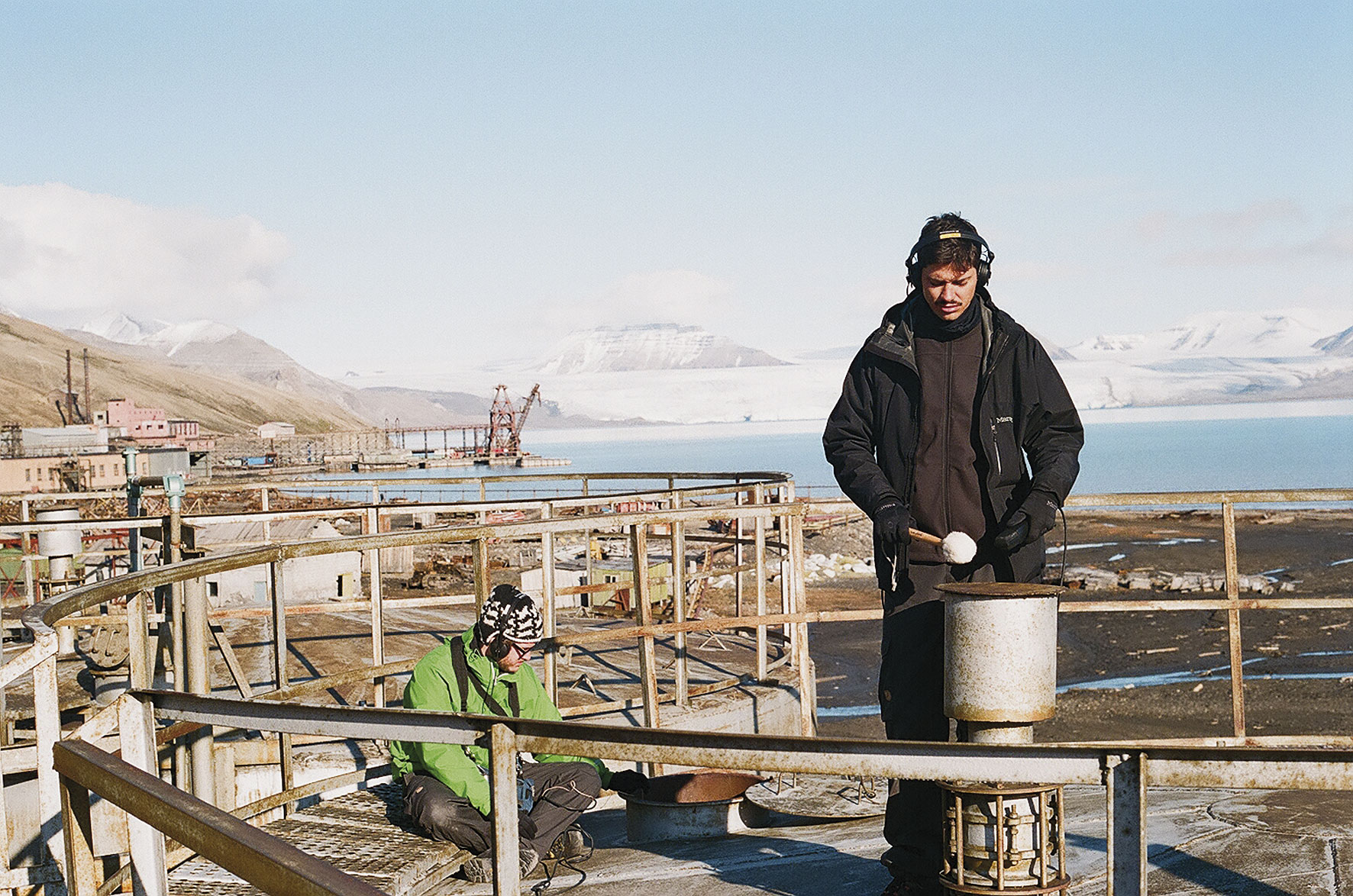 Still from 'The Ghost of Piramida'.
1pm – Backyard (2010) 70 min – [Iceland]
There is little money, and the studio is 10 square metres big and lies in a small backyard in Reykjavik. But the heart is big in this film about one day in the independent Icelandic music scene. Árni and Árni have decided to improvise their own mini-festival, while the rest of the city is celebrating the annual Reykjavik cultural night. The lineup includes bands like múm, Hjaltalín, Borkó, Sin Fang Bous, Reykjavik!, Retro Stefson and FM Belfast, all playing for local passers-by, tourists and backyard cats. Árni Sveinsson's "Backyard" captures the characteristic do-it-yourself attitude which has made Reykjavik's underground scene so artistically strong and successful. Genres are completely secondary for the young musicians, and the only thing that can shut them up is heavy rain. But late summer has plenty of nuances, and the sun returns to the small enclosure, which develops into a party that is larger than anyone expected. A film that confirms that there is a way for Iceland out of the crisis. And that 101 is still the coolest zip code of the North.
2.15pm – The Ghost of Piramida (2012) 65 min – [Denmark]
One is in equal measures amazed and fascinated upon visiting Piramida, the Russian mining town on the Norwegian island of Svalbard, which remains deserted as if it was a fictional setting of the time after World War III. The human beings are gone, but the minimalist concrete apartment blocks remain and bear witness to the life that was. Here, the Danish band Efterklang goes ashore to collect the site's melancholia and soul in the form of small soundbites, which form the framework for their latest album, 'Piramida'. Accompanied by their taciturn and not visibly impressed Russian guide, the group goes on a treasure hunt in the empty building, while the narrator, the Piramida-citizen Alexander, takes us back to a bygone era, when Piramida flourished and the immigrant Russian miners and their families lived in a Soviet parallel society far from the horrors of their homeland. In old-style Russian, the social pleasures of the community in this communist mini utopia are praised while Efterklang's collected sounds take shape and beautifully accompany the enchanting tale about the place's rise and fall. The story of this lost place is adventurous and melancholy, and leaves a deep impression long after the credits have stopped rolling. Enchanting.
Join us after the screening for a Q&A session with Andreas Koefoed, the director of The Ghost of Piramida.
3.45pm – The Punk Syndrome (2012) 85 min – [Finland/Norway/Sweden]
The Punk Syndrome is a film about Finland's most kick-ass punk rock band, Pertti Kurikan Nimipäivät. The band members, Pertti, Kari, Toni and Sami, are mentally handicapped and they play their music with a lot of attitude and pride. We follow these professional musicians on their journey from obscurity to popularity. We watch them fight, fall in love and experience strong emotions. We witness long days in the recording studio and on tour. They laugh, cry, drink and fight over who gets to sit in the front on the tour bus. Then it's time to make up and go talk to people in the audience and tell them how great their band is.
Their songs are about the problems in society as well as about things that they face in their everyday life: how going to the pedicurist sucks and the misery of living in a group home. The guys give piece of their mind to both politicians and people whose attitudes towards people with intellectual disabilities need improvement. The Punk Syndrome is a film about the essence of punk. Its a story of handicapped people rebelling against the mainstream. This time you're allowed to stare and wonder why they act the way they do. And you'll fall in love with them as you watch how the most kick-ass punk band in Finland conquers the world.
5.30pm – Midsummer Night's Tango (2012) 90/50 minutes, long/short version – [Finland/Germany]
A Finnish saying goes: "Rather a man with a runny nose than a man with a hollow laugh." Finns have a quirky sense of humour – and they are also a bit shyer than other people. They only become talkative after the third beer or so, sometimes not even then. Finns weigh their words carefully; when they speak it is for a purpose, which is why they speak as little as possible and avoid small talk. Tango is THE folk music of the Finnish people. In cold, northern Finland, tango has found a new home. Although it may be unexpected of the quiet Finns, they have dance floors everywhere – something that reveals their hidden passion. Tango is as Finnish as sauna and skiing. The famous Finnish Director Aki Kaurismäki sees tango as the only chance for asocial Finns to meet one another, and thus reproduce. He even goes so far as to say that the Finns invented tango. This statement might be charming and proof of a great passion, but it remains to be proven.
The documentary film "Midsummer Night's Tango" follows the traces of Finnish tango from the viewpoint of the singer Chino Laborde, the guitarist Diego "DIPI" Kvitko und the bandoneonist Pablo Greco. The three Argentine musicians travel to Finland to find out whether Kaurismäki was telling the truth. It might be a slightly absurd endeavour, but it's certainly worth it. They encounter great Finnish tango singers and composers such as Reijo Taipale, Markus Allan and M. A. Numminen, who gained fame in their country in the 60s, and the Finnish director Aki Kaurismäki, the creator of films that paint a resilient picture of the melancholic and humorous Finns. The whimsical and comic moments of these encounters are the basis of the charming, humorous and music-laden documentary.
6.30pm -The Extraordinary Ordinary Life of José Gonzalez (2010) 74 mins – [Sweden]
The Swedish/Argentinian musician José Gonzales became known worldwide when his version of "Heartbeats" was used in a Sony commercial, where it accompanied thousands of bouncing rubber balls down a San Francisco road. It was the start of a career, which with its melancholy sound of the debut album "Veneer" left all the sensitive music-lovers around the world breathless. González has since sung his way into folk-people's hearts with a voice that melts like honey on a baguette, both as a solo artist and as the lead singer of the indie band Junip. As the film's title indicates, Gonzáles is not your typical musical flâneur who lives his life in the fast lane, in spite of his star status. The bearded singer / songwriter is quite modest and somewhat reserved by nature, but nonetheless an extraordinary personality on the Swedish music scene. His two fellow countrymen Mikel Cee Karlsson and Fredrik Engstrand have followed Gonzáles during three years of his life, while he worked on his second album "In our nature". The film portrays the bearded singer on the road, and during the often winding trajectory of the creative process. It's as if Gonzáles was filmed from the inside: the film is an exclusive look at the thoughts of a sensitive soul about everything from the movement of photons in the universe to the human being's development and his own existence  beautifully and captivatingly executed by Karlsson and Engstrand.
7.45pm – 2 Steg fra Håkan (2011) 90 min – [Sweden]
With his hat worn aslant, his boyish charm and his fantastically catchy pop tunes, the Swedish popular hero Håkan Hellström has played his way into the hearts of both young and old. But we also get to discover an utterly likeable and highly musical person behind the hysterical "Håkon-mania" in "2 steg från Håkan", which follows two parallel tracks. 18-year-old Amanda is a devoted fan, who is happy to spend 27 hours queueing to get to the very front at the concerts with her idol, when she isn"t spending time looking after her grandfather. On the other side, we have Håkan himself, who knows the phenomenon of idolatry perfectly well, both from his own teenage years and as a successful charmer. Now, the roles have been reversed, and modest as he is, he tries simply to be the person he is: a mediocre idiot, as he himself puts it. But no matter if he wants to admit it or not: he has gone on to become quite a popular idiot. It isn"t exactly a secret that the Swedes are experts in good style, and with the film's beautiful and poetic images we are witnesses from when the songs are being written at the home of his friend Björn until they are performed in energetic live shows. But we are also there when children need to be fed, old days are being talked about or ice hockey matches are being played.
9.30pm – The Rocka (2012) (mockumentary) 97 min – [Norway]
Who says that it's too late to be a rock star, just because you're in your 40s, heavily overweight, and apart from that don't have much musical talent. This is exactly what Hans Bastian 'Basse' Borg seems to be thinking, when he quits his job and with his rock alias Big B. Thunder creates the band Bang Bang with a former drummer and a random neighbour on the bass. 'The Rocka' is a mockumentary of the best kind, and sends a loving nod to 'the mother of all mock-docks', 'This is Spinal Tap' from 1984. The tragicomic story about the unintelligent, beer-drinking, buttcrack-revealing and always inappropriate 'Basse' – who constantly has trouble with his finances, women, children and the band's somewhat dubious tour manager – is both funny and sad, and incredibly Norwegian. In spite of Basse being an utterly hopeless creature and having a quixotic view of his own and the band's musical abilities, it is difficult not to raise a compassionate rock'n'roll hand sign into the skies, when our poor Norwegian neighbour fires up his Gibson and goes full-out in half-empty assembly halls in provincial Norway.4. Iceland/Denmark: Grandma Lo-fi  (2011) – the story of Siggridur Nielsdottir, who at the tender age of 70 started recording and releasing her own music straight from the living room.
 Tickets for the Ja Ja Ja Festival are on sale now and can be purchased here!