Photo: Elisabet Davidsdottir
It's on a sun-soaked afternoon that we find ourselves in the gallery of the Barbican, a room that's mid-installation, preparing for a very special exhibition to adorn the walls and corners of this striking space.
We're here today to catch up with Ragnar Kjartansson, an artist, musician and unique creator, whose work will be featured in a dedicated exhibition in the gallery throughout July and August. And sliding down a bannister in a striped linen suit, Ragnar makes quite an entrance – introducing himself cheerfully before inspecting a small boat that has been specially made for a new piece entitled Second Movement, set to be performed over the weekends during the Summer, where two women in Edwardian dress will row a boat across the lake and take part in a "never-ending kiss".
Ragnar has appeared in multiple guises throughout his career, known to many as the frontman of much loved Icelandic band Trabant, but also performing alongside some of his closest collaborators in The Funerals. And away from bands, he's been found lying in a water filled bath tub, playing an acoustic guitar while reciting the same heart-breaking line over and over again, and having his own mother spit in his face as part of his internationally renowned works. Whatever his role, Ragnar pours his whole self into each of his creations and the Reykjavík native has become recognised around the world as an exhilarating and unique performance artist as a result.
The Barbican's exhibition of Ragnar's work will kick off with a special performance on the 19th July, where one of his latest projects – the newly founded label Bel Air Glamour Records – will take centre stage as an evening full of collaboration and varied art forms resonates around the room.
"We started a record company, me and Ingibjörg Sigurjónsdóttir," he explains of the label's creation. "The Vinyl Factory asked if they could release some of the stuff from my works, and then we had a meeting and we were talking about all of these friends of ours that are making glorious projects that seem to make no sense in a regular record company. So they suggested that we start a sub-label on Vinyl Factory – then we came up with Bel Air Glamour Records," he says with a wry smile, as we compliment the choice of name. "We're really proud of the name," he responds. "It's really quirky and unglamorous music, but it all becomes fabulous with that name!"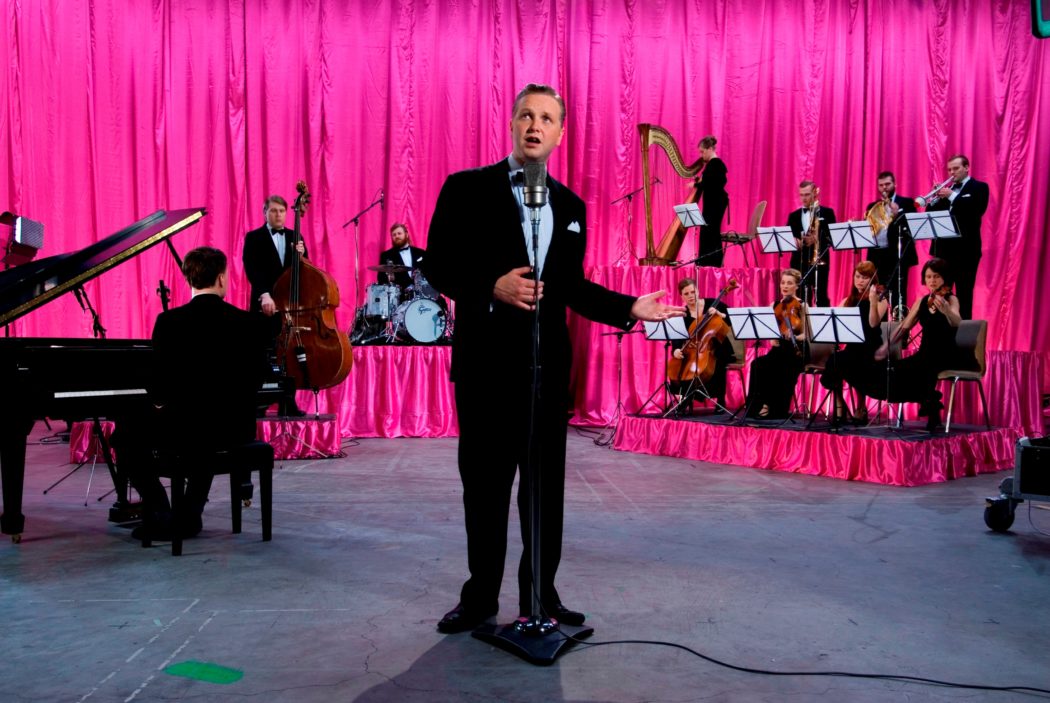 Photo: Rafael Pinho
An Evening with the Bel Air Glamour Records Gang will present a night full of entertainment from the founders and friends of the label, designed to inject some live performance art into the opening days of the exhibition.
"It's sort of like a soirée, basically all friends who are musicians. There's also a poet there and one performance artist/dancer, Margrét Bjarnadóttir, creating a dynamic evening to gather the people that we're working with and totally admire, here in London, to do a show of their music and artistry. And it combines itself, I think, quite naturally. Then me and Davið Þór Jónsson are going to be like the MCs of the night, with a little bit of German lieder in between."
"What's fun about this record company is that it doesn't have any ambition to make sense, sincerely."
The record label at the heart of this "soirée" creates a glorious space in which Ragnar can combine music with the art forms that he favours nowadays, and he goes on to explain what excites him about the opportunities that the label presents.
"[The label] just has the ambition to make good stuff, no matter what it is. That's so much about why, when I was in music, I went into visual art, to avoid the – not the sterileness – but just to try to make something that's not dull and in the box. That was why I didn't like making music anymore, it was just this total routine. But with visual art, it opens up everything and you can do whatever you want to. Total freedom. And it's so much fun to work with that attitude and do music, it's total freedom. It just has to be like an artwork, it has to be interesting, it doesn't matter what the format is – it just has to have this tension and layers, so that it's not just completely useless."
Following the Bel Air Glamour Records evening on the 19th July, the Barbican will open an exhibition gathering together art of varying formats, allowing visitors to delve deeply and profoundly into the work of this fascinating creator – paintings will line the walls, and video screens will air selected visual works from throughout Ragnar's career so far. One piece that will be on display is a video entitled The Visitors, a poignant and hypnotic music-based film created in upstate New York in 2012, featuring many of the participants that will appear at the Bel Air Glamour Records concert.
"Some of the people that were involved I'd been in bands with before, and other people I'd collaborated with and loved their music," Ragnar explains of the film's participants. "So a guy I've always been in bands with is Doddi, the drummer, we were together in this band called Trabant. We were in that electro-clash mess together, then in a country band called The Funerals, then in a psychedelic metal band… so we've been in lots of bands together…"
Ragnar goes on to explain how further collaborators such as Gyða and Kristίn Anna Valtýsdóttir, Davið Þór Jónsson and more came to take part in the performance, which featured a number of different musicians sitting in the rooms of an ornate residence in New York, listening to each other through headphones and performing a melancholic mantra as the sun set around the house.
The piece highlights something that is frequently explored when Ragnar brings musical elements into his work, and that's the art of repetition – another example of which is a collaboration with US band The National called A Lot of Sorrow, where the artist invited the band to perform their track 'Sorrow' over and over again for 6 hours straight at MOMA in New York.
"My motto is always the Rolling Stones song, 'No Expectations'…"
"People have no problem with it, that's my experience – people are cool with it," Ragnar responds when asked if it's hard to keep people's attention at such performances. "Our media lives have such a short attention span, so I think that when there's a live performance, people like the change of scenery."
"My motto is always the Rolling Stones song, 'No Expectations'," he goes on to explain. "Especially when all the people are performing, I don't hope that they'll have an emotional discovery or anything, we'll just go there and see what happens. But often it really happens – when you take a thing and stretch it in time, it somehow becomes a world outside the world. It's about repetition and somehow calming yourself from the outside world. And I think it's a very natural state of mind for us to feel good."
As well as The Visitors, Ragnar highlights another piece that will be central to the exhibition – a performance created in collaboration with ex-Sigur Rós member Kjartan Sveinsson.
"This piece I made with Kjartan Sveinsson, which is called Take Me Here By The Dishwasher – it's a piece for 10 troubadours, creating a cacophony chorale out of 10 songs that Kjartan wrote, that are based on stuff that my parents say in this erotic clip. Kjartan has such an ability to write gorgeous, emotional stuff, and it was so much fun to get songs from him about people having sex by the dishwasher," he laughs. "And he wrote these really emotional songs for it, then these troubadours from London are going to perform that."
Our conversation draws to a close as Ragnar continues to speak fondly of his collaborators, highlighting the "feminist, satan ambient" music of Kristín Anna Valtýsdóttir's record Howl, the first album to be released on Bel Air Glamour Records, as a source that he's pulling particular inspiration from at the moment, before turning his attention back to the preparation of the upcoming exhibition.
The Barbican Centre's presentation of Ragnar Kjartansson will be the first to take place in the UK, and a series of talks, tours and events have been lined up to mark this very special occasion. Tickets to the exhibition and concert are already on sale, and Nordic Playlist readers have the chance to enter an exclusive competition to be in with a chance of winning tickets to 'An Evening With Bel Air Glamour Records' on the 19th July, as well as tickets to the exhibition at the Barbican – click here to find out more!