Bringing the best of the Danish jazz scene to a historic London stage, the Sounds of Denmark festival is about to get underway in Soho…
Denmark is renowned worldwide for its thriving and innovative jazz culture, producing world class musicians with ambitions to nurture and expand the genre to its outermost limits. One musician who sits centrally in the scene is Mikkel Hess, a multi-talented Danish percussionist, musician, composer, producer (we could go on…!) whose projects Hess Is More and Hess / AC / Hess Spacelab have made a profound impression upon the jazz scene in his native Denmark, incorporating electronic elements and more in a mission to distort, bend and challenge the boundaries of the genre as much as possible.
With a career spanning numerous projects and albums, and various cities and countries, Mikkel has become a prominent and influential player in this intriguing scene, so we caught up with him ahead of his forthcoming performances at the Sounds of Denmark festival to delve deeper into his ideas, methods and his hand-picked recommendations of Danish jazz artists to explore…
The Sounds of Denmark festival will take place at the Pizza Express Jazz Club in London between the 16th – 22nd September 2016. Find out more here. 
Hi Mikkel, and thanks for joining us at the Nordic Playlist! The first edition of the Sounds of Denmark Festival is about to take place in London, bringing over a host of great Jazz musicians from Denmark. Can you tell us a bit about your involvement, and the performance(s!) that you'll be presenting as part of the festival?
Please excuse all grammar and spelling issues in the following, but the excitement I feel around this project has a debilitating effect on my brain function. It's a dream come true to present my two dearest and longest running projects Hess / AC / Hess Spacelab and Hess Is More – in the same club, on the same day – and then to add to that, not just any club, but the legendary Pizza Express Jazz Club. Well… suffice it to say, I am psyched!
Your career so far could be described as having fully embraced two distinctive genres of music – Jazz and Electronic – so could you tell us what attracted you to each style of music in the first place, and what it is about each of these worlds that you hold close to your heart now?
As my two older brothers Emil & Nikolaj started playing early on, I was brought up a jazz lover by default – a little copy cat… Also, I was lucky to have great friends to play with – at age 8 I found myself being in a band for the first time – a jazzy duo with myself on drums and Anders AC Christensen on piano. (AC now plays bass as his main instrument, and we still play together literally all the time).
For many years I believed jazz to be a superior genre of music, but as it is often the case, the bubble started to collapse during adolescence and I slowly started to discover a musical world outside of jazz. A few colleagues started to create music on Personal Computers – it seemed strange, but also somehow attractive. Where jazz music for me was always a collaborative endeavour, the world of electronic music made it possible for me to create a "whole world of music" on my own – and having this personal "Narnia" of electronic music offered a great escape / adventure.
Now, many years (and albums) later, one might say I'm trying to bridge the gap between the genres ( if there ever was one ) – playing jazz with more of an electronic producer's approach to sound and structure – and performing electronic music in a collaborative ensemble formation that clearly borrows from the approach of jazz bands.
And your mastery of these two genres is perfectly represented through the two projects that you'll be bringing to the Sounds of Denmark Festival, Hess/AC/Hess Spacelab and Hess Is More! Two very different projects, but both embracing the art of close, creative collaboration. Can you tell us about the set up of each of these groups, what your ambition for each one is, and what you appreciate about the collaborative relationships with your co-performers in each instance?
Hess / AC / Hess Spacelab is our attempt at the classic trio format with piano, bass and drums. We jokingly celebrate our 25th anniversary every year – but the fact is, we have played together for as long as we can remember. Working with my brother Nikolaj and "brother from another mother" AC is family business. We have an enormous shared frame of reference – both in music and in life – and as far as I can tell this is part of what keeps us curious for musical exploration in a strange longterm way. We all three contribute as writers to repertoire, and our differences seem fit for synthesis.
Hess Is More started as an electronic solo project for me, and has over various collaborations and tours developed into a full blown circular ensemble. I write most of the music, and the incredible musicians generously offer ideas and sounds to the concoction – pollinating the initial ideas to something much greater than what I could even imagine.
It literally blows my mind that I get to work with these two groups – pinch my arm, will you…
You've mentioned in a few interviews that there could be a link between the egalitarian values held in Danish society, and how this affects the attitude of performing musicians in the country too. Could we get you to elaborate on this thought, and perhaps tell us if you think that this is unique to the music scene in Denmark, or if you've noticed similar qualities in other countries that you've worked in?
Living in New York for 7 years was a great learning course for me on many levels. One of the things that it took me a minute to get used to: In America it's actually OK for a bandleader to ask a musician to try a specific musical role or idea – without first saying "Of course I am sure that you could have written a much better part than this and I am sure you will do that in a split second once you hear the crap I have created, so I'm really just suggesting this melody as a little starting point until you feel inspired to fully unleash your personal taste and musicality and teach me about composition"…. Ok, maybe that came out wrong… I mean, I love both sides of the ocean, and only do I breathe fully in Transatlantic formations… But yes, even if we are all so global and the world grows smaller and smaller every day, there are some underlying differences that are also expressed in the way we play music and collaborate.
Denmark is famous for it's flat landscape – and flat social hierarchy. America has mountains and deserts – and a social hierarchy to match.
Do you think that this atmosphere allows you more freedom when it comes to being creative in your performance and composition methods, than perhaps musicians that have grown up in other scenes or places might have experienced?
Like I nonsensically suggested above, the "Danish Model" comes with a great amount of freedom and equality, yet also with limitations. For me it has created freedom to carry my Danish heritage in my heart while traveling abroad to learn alternative ways. Now I just need to figure out how to make sense of it all and find some structure – I almost got it – please check in around this time next year and I will reveal…
We're all about discovering the Nordic region here at the Nordic Playlist, and encouraging our friends and followers to find new favourites by listening to the recommendations of others. So if you had to mention one Nordic source of inspiration – this could be a piece of music, a person, an author, a place… anything you like! – which would you select and why?
Only one??? Ok, I'll go with… Ahhhh…. the famed jack of all trades: Hans-Christian-Hamsun-Gynth-Grieg-Johansson-Bjørk-Munch-Trier-Jorn-Bergmann.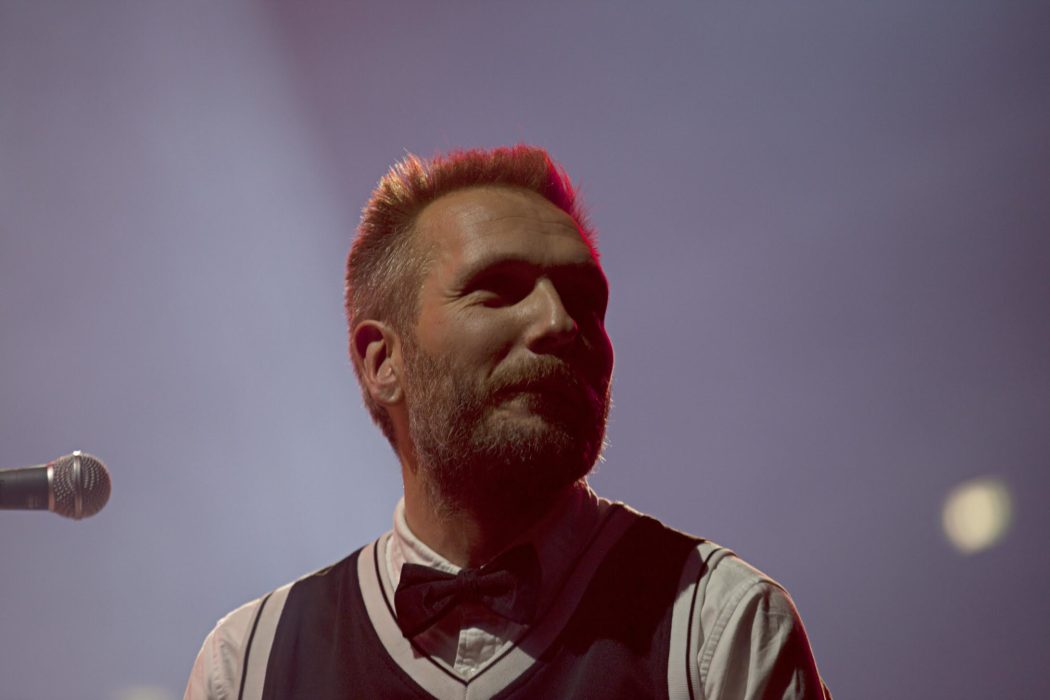 Could you please tell us about the tracks that you selected for your playlist, and why you decided to include them?
At some point I kind of had to give up the idea of making a really fluent great sounding playlist that would be easy to like – I mean I think all the tracks are great separately, but I got in trouble with the integration part…
There are tracks by some of the contemporary artists who can also be heard during the Sounds of Denmark festival (Simon Toldam Trio, Phronesis, Girls in airports) – there are Danish Jazz classics from the good old days (Svend Asmussen, Bent Jædig) – a track from the great youngsters (Horse Orchestra) – tracks from bands I saw live many times in my youth (Once around the park, When granny sleeps, Jens Winther Quintet) – and finally a few home made pieces (Hess / AC / Hess Spacelab, Hess Is More) – oh and of course 'Little One' from AC's trio record with Aron Parks and the great Paul Motian.
All of these might form some of idea of what Danish Jazz means to me.
And which other performances from the line up would you highly recommend that we head along to? Is there anything that you're excited to see yourself?
Obviously impossible to highlight events among my friends and colleagues. I'll be there for every single one!!
Do you think that 'right now' is a particularly interesting time for Danish jazz? If so, could you perhaps tell us more about what it is that's exciting you?
I found it extremely interesting to go to hear Danish jazz bands when i was 10 years old – and boy, was it exciting in my early twenties to live in Copenhagen and hear all the great groups?! And now I find myself psyched yet again about the great music that comes spilling out of the walls – yes, I think "Right Now" is particularly exciting and I hope it will continue to be for many years to come!
Photos by: Per Lange