Words by Francine Gorman. Portrait by Mikael Jansson.
The creator of some of the most iconic music videos of recent years, the Nordic Playlist speaks to Swedish Director Johan Renck about his Nordic Music Video Award nominated works, 'Blackstar' and 'Lazarus'.
The past year is one that will surely stay in the mind of Johan Renck for a long time, strongly marked by a unique partnership with David Bowie that resulted in the creation of two of the most coveted music videos of recent years.
The videos in question, 'Blackstar' and 'Lazarus' have received much acclaim as well as multiple nominations for the Nordic Music Video Awards 2016, including the categories of Best Director for Johan Renck, Best Cinematography and Music Video of the Year. And rightly so, as these films have proved to be two of the most discussed, considered and beloved videos not only of the past year, but arguably of Bowie's entire career.
The duo's close collaboration lies at the heart of the success of these videos – an experience which made a profound and lasting impression on Renck, and which we discussed with him in the run up to this year's NMVAs.
"Quintessentially Swedish dark melancholy"
A native of Uppsala, Sweden, Johan Renck spent many of his formative years moving and travelling around, before channeling his love and admiration of the music craft into a career in Stockholm in the early nineties. Reaching international success with his single 'Here We Go' under the moniker Stakka Bo in 1993, Johan would find his an opportunity to cut his teeth in the music video direction world, steering him down a path which would eventually see him directing a variety of drama series, fashion commercials and feature films.
"The first film thing I ever directed was the video for 'Here We Go', which actually became one of the most played videos on MTV Europe in 1994," Renck stated of his early works in an interview conducted by Swedish pop maestro Robyn for Interview Magazine back in 2013. "It was so weird and small and cheap and simple. I did it, though, because nobody else wanted to do it for the money, so I said, 'I'd better do this myself'. Then I became kind of interested."
Following this initial foray into music video direction, Renck found himself in the driving seat of his own visual representation, and eventually took on that role for other musicians too, creating videos for Swedish artists such as The Knife and Robyn, and international superstars from Madonna to Beyoncé and Robbie Williams. More recent creations have accompanied songs by Beach House and Lana Del Rey – as well as two of the most widely discussed music videos of years past, as Johan emerged as the Director of David Bowie's final films ahead of the artist's death in January 2016.
Each of Johan's videos is punctuated with originality, creating a unique platform and visual world for every artist that he works with. That said, there are a few telling signs that a piece of work belongs to Johan Renck – striking and often provocative imagery, tantalising light palettes and a quality which he's accurately described in previous interviews as "quintessentially Swedish dark melancholy".
Departing from the craft of creating music videos, Johan's focus has shifted to the medium of drama in recent years, having directed episodes of Breaking Bad and The Walking Dead, and most recently, turning his hand to a French-English mini series entitled The Last Panthers – a project which would open doors to unimaginable creative places, and would ultimately lead us to hold the conversation that we're having today.
"Can you imagine getting a Skype call from David Bowie and Tony Visconti in the studio?"
Having completed filming of the initial episodes of The Last Panthers in early 2015, Johan began to take steps to create the series' title track, and in a bold move, reached out to one of music's most iconic creators to float the idea of him scoring the show's opening sequence.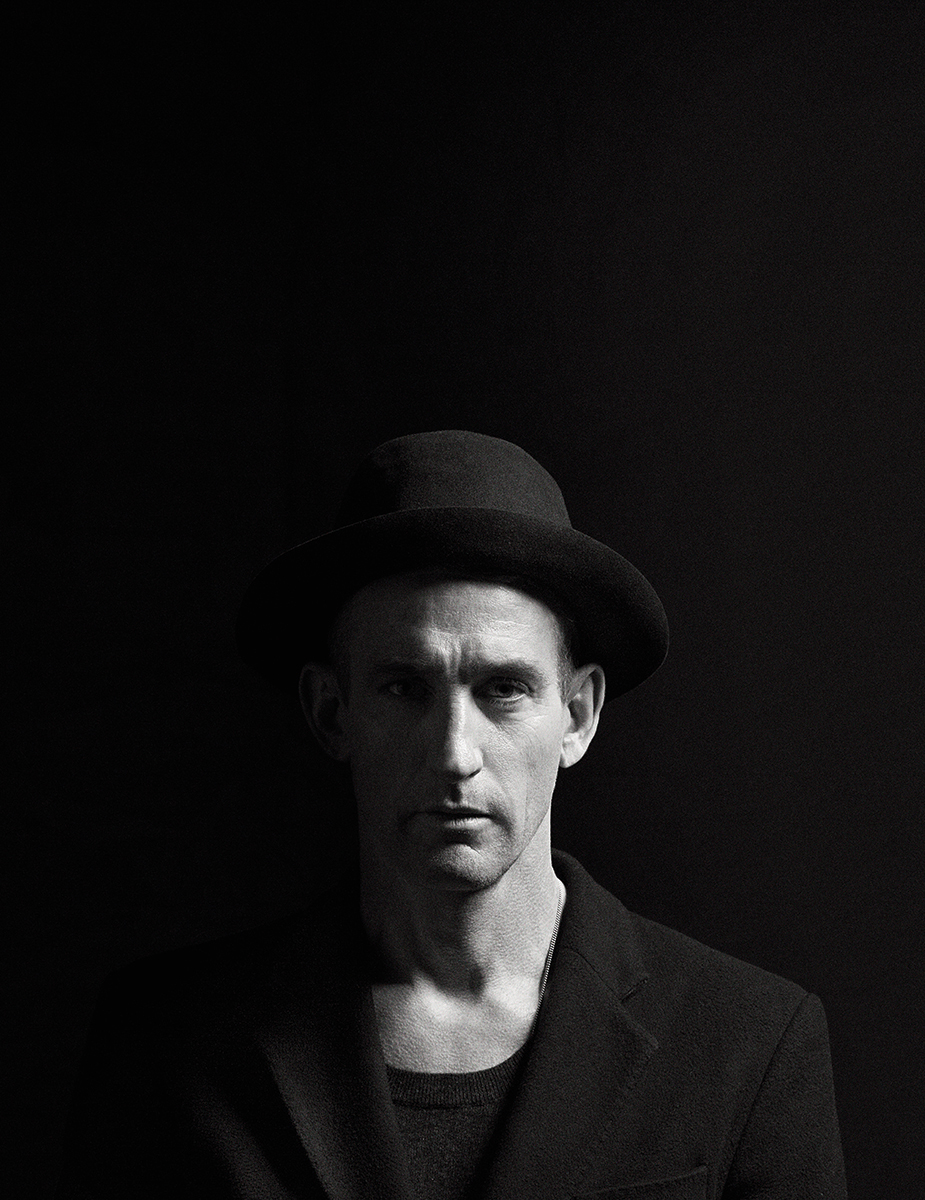 "I was directing all of the episodes for a French-English mini-series and I approached him in a completely audacious move – I had no expectations of him even returning our approach," Johan explains of his initial idea of reaching out to David Bowie. "But I did it, because I thought I might as well ask."
"He came back and said he'd love to do the title score for this. So I went over to New York and met with him, and we chatted more – this is a week or two later – and he presented me with the first idea of a track, which was great. And then we spent the next couple of weeks Skyping and discussing from the studio. Can you imagine getting a Skype call from David Bowie and Tony Visconti in the studio?" he says with a laugh.
"They would play me the stuff and ask me what I think, and I'd find myself going 'I'm not really keen on the guitar here', and they'd go 'OK, hold on – we'll call you back in two hours with something else,' and they would literally do that! Call back with something else, and I would go 'Oh that's perfect!' I felt like a horrible person for sitting there and placing judgment on the creations of David Bowie… But at the same time, he invited it because he was very generous and very collaborative and wanted it to be something that we would all feel happy about, you know? So that happened, and we had a lot of fun with that."
With the title track in place, the series was finished and the piece of music known as 'Blackstar' was widely reported as being Bowie's first TV soundtrack work in 20 years – and one of his most dark and brooding sonic creations to date. But as Johan would soon discover, the finalising of the opening soundtrack would by no means be the end of the pair's close collaboration, as Bowie would reach out to Renck just a few weeks later with another seed of an idea to sow.
"David called me later and said, 'Hey, I have this track which is now 10 minutes long that I made out of that title track. I want you to hear it and see if you'd be interested in making a video for it.' I hadn't made music videos for a long time, I'd completely lost interest in music videos… but at the same time you just can't say no to something like that, for a lot of reasons."
"I met him in New York, he played me the track and I instantaneously loved it, and I said yeah, let's give it a go and see what happens. So we started sharing some ideas, he would send me drawings, I'd send him notes, we found images and slowly, it started to evolve into something, a fundamental idea. We had a lot of very similar thoughts on where this video should go, which was very good, and then somewhere around there, when we were in the process of that, he wanted to Skype with me."
"I was somewhere in Europe at the time and he was in New York, so we Skyped and he said 'Look, I have to tell you this – I'm very ill and I'll probably die.' On Skype. And I'm obviously completely shocked, I didn't know what to say, or do, or anything…" explains Johan of hearing this weighty revelation. "And then he said 'I want to tell you this because I don't know how much I can participate in this video, because I might not be able to be in the video for all I know…" – we were in July and talking about shooting this video in September or maybe October. And I'm like… completely gutted. But at the same time, I honestly think he told me because he wanted this to be an aspect of the creation to some extent, he wanted me to know that there was an end within sight here, and that the video would have a slightly different trajectory, I suppose."
The video was created with the participation of Bowie however, who played an essential role in bringing the vivid and striking imagery of the 10 minute film's concept to life.
"He saw this album as his 'swan song', and I think he wanted this to somehow permeate the video," Johan goes on to explain. "I don't know, I'm second guessing. But after getting to know him, I know that things were never banal with him, and never simple – there were many layers, in an only positive way. He was a very complex, amazing, beautiful and actually brilliant person, so I just felt that to some extent he wanted this to be a part of the whole thing. We continued working and obviously my mind went slightly other ways with it because of the fact that this was not a video any more that had an onwards, forwards looking trajectory. It became more reflective for me because I started thinking about aftermaths, life, what you leave behind, all those kinds of things and this weird idea of this evil disease was in the discussion as well, because there was this threat – death."
The video for 'Blackstar' instantly became a talking point among the media and within circles of music fans, raising questions about the position of the film within Bowie's life's work, and the deeper significance of some of the video's more distinctive visual triggers – be that the buttoned bandage taking the place Bowie's eyes, or the tail of the woman who discovers the fallen spaceman.
"You know what, somebody once told me a long time ago when I was young, 'I'm too old for certainties…'"
"I think he's like any curious person who's interested in the process rather than the result, so to speak, and he's very open to trying stuff out – he wants input, he wants to be put into situations," Johan responds when asked if it's possible to direct the creative process of an artist such as David Bowie. "Any creation is about framework… if you give him an idea and say 'hey, I'm thinking of this', or 'we should go here with it', he would absorb that and make that into his own thing. That's not something that's always applicable, but I do honestly think – and this is not me putting myself in any position – but I do think that he and I shared a lot of sensibilities, we laughed at a lot of the same things, I think we liked the same things in the processes we were dealing with, and that made it fun."
'Blackstar' would be succeeded by one further music video from this unique collaboration, a dramatic film released to accompany the song 'Lazarus', which depicted Bowie in a hospital bed – buttoned bandage once again replacing his eyes. The video for 'Lazarus' was released on Bowie's 69th birthday, just three days before his death on the 10th January 2016.
"You know what, somebody once told me a long time ago when I was young, 'I'm too old for certainties,'" says Johan. "…And I had no fucking idea what he was talking about, because I was certain about everything when I was young. But the older you get, you realise, 'you know what? I'm not certain.'"
"I'm too old for certainties… There's always another view, another interesting approach to things or something else to be curious about, and I think David really had that in his mind. Because he was like, 'yeah, let's fucking try that' whereas a lot of young artists that you worked with back in the day thought that just because they had a couple of hit songs, they'd be prodigies in all creation surrounding themselves, and they'd be certain that their ideas were the best ideas – and they never were, obviously. But you know, [David] was 68 years old when we were working together, I'm sure he somehow had that sort of sense – I'm too old for certainties, I'm not certain about anything."
The timing of the release of the 'Lazarus' video was speculated as having been carefully orchestrated, as was each element included in this pair of memorable films, created through a collaborative process that clearly resonated strongly with Johan.
"I learnt a lot of things from him, because he is truly brilliant – he's a very humble man, he was a very humble man," he corrects himself. "He had a beautiful mind, a good sense of humour, a huge warm smile all the time. I think this positivity in the outlook of things and this constant curiosity that he had is something I relate to, and that I would always think about when going back to these things. Because even with death staring you right in the eyes, he would be working – and you can imagine with an illness like this, there was a lot of pain and a lot of suffering. But he would just uninterruptedly carry on with what he had in front of himself. So I think that's something that I will always remember."