The scent of snow lingers in the air, there are twinkling lights in windows, and trees are looking resplendent in homes and shops wherever you cast your eye. Of course with the Internet and pop culture many Christmas traditions are now spread right across the globe, but we thought we'd look into some of the most Nordic ways of celebrating the season and share them with you!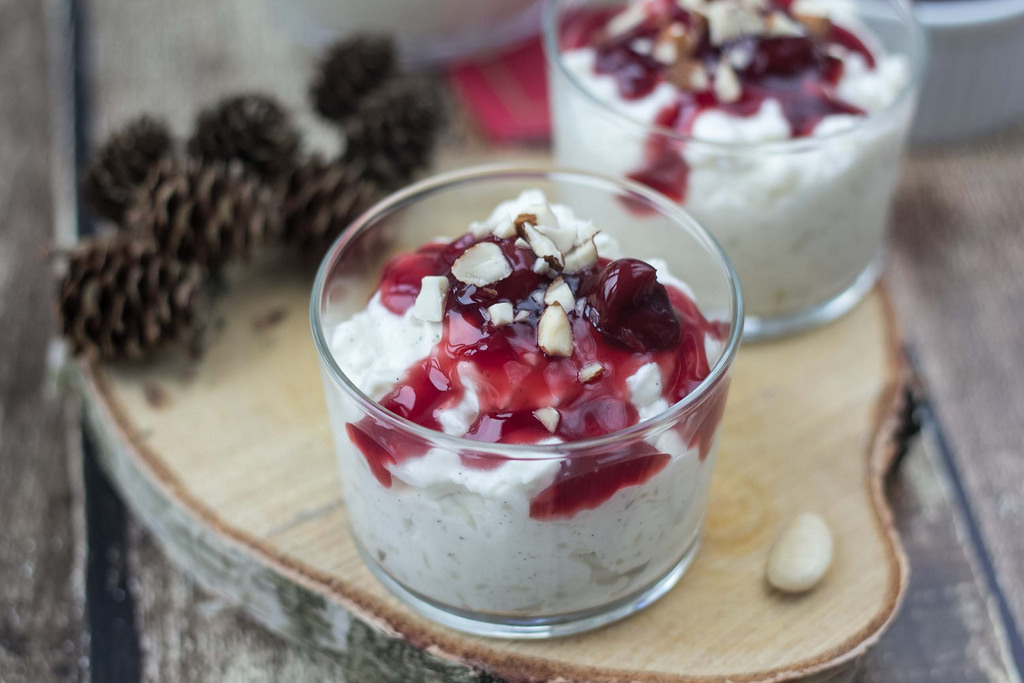 Christmas is for eating!
Food is, of course, a huge part of the festive season in the Nordic countries. Celebrating on the 24th, each country has their own twist on a festive spread, but suffice to say meat, fish, veggie casseroles and potatoes are usually featured! In Norway pork ribs and pinnekjøtt (lamb ribs) are common to feast upon, while in Finland and Sweden you're likely to get a ham. Served cold in Sweden as julskinka, you might even try to seek out a super old-fashioned sauna-smoked ham in Finland – though perhaps sauna-cooked sausages are more likely!
If you're over in Greenland, you'll find whale on the menu – mattak is whale skin with blubber – and kiviak, which has been described as 'the turducken from hell'. If you're not familiar with the concept of a 'turducken', it's a meat matryoshka doll of turkey stuffed with a duck, and then also a chicken. Yes, really. Back to kiviak, it is technically poultry – whole auks are put inside the hollowed out body of a seal, preserved in seal fat, and then left to ferment until tasty. Now there's a festive surprise for your Christmas table!
Sweet treats are also a big part of the Nordic Christmas. Norwegian lussekatt and Swedish lussebullar are saffron buns stuffed with raisins, and are an advent treat eaten around December 13th, or St Lucy's Day, but the Nordic festive dessert of choice at Christmas has to be rice pudding or porridge served with a fruit sauce. A single almond is hidden amongst the bowls, and the lucky family member who finds it will be blessed with good fortune for the coming year, or if you're in Norway, you might get an extra sweet little present in the form of a marzipan pig!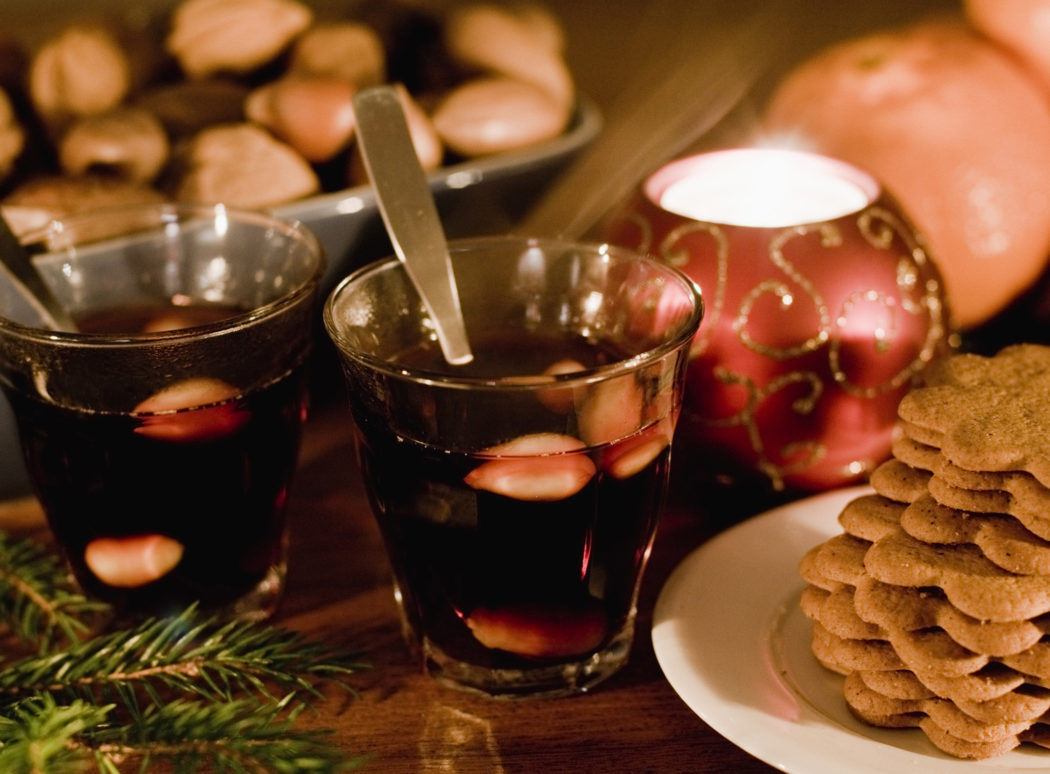 Christmas is for drinking!
Glögg, glorious gløgg! A sweet and sticky mulled wine, this is popular across the Nordic region alongside locally produced Christmas beers, and of course plenty of schnapps, akvavit and more! The festive season of drinking in the Nordics is arguably the oldest of Christmas traditions – around the year 900, the word 'jul' pops up in a tribute to Norway's first king, Harald Fairhair, in which someone is said to "Dricka Jul" or 'Drink Jul'! This was taken to heart so much that the old Norwegian Gulaþing made it a law – according to written sources of legislation, it was mandatory for farmers to have a beer drinking party with at least three farmers attending.
If a farmer was so far away from his neighbours that this was difficult, he still had to brew as much beer as if he had been taking part of such a party. The beer should be ready by November 1st and finished by January 13th – plenty of time for festive fun!
Christmas is for candles!
The lighting of Advent candles is common in all Christian countries, but candles pop up all over the place in the Nordic Christmas. Of course in windows and as decorations for the tree, but if you're in Finland, it's common to take a festive trip to the local graveyard to light some candles for missed relatives and take a stroll.
Warm candlelight in such peaceful surroundings sounds like a heartwarming way to get festive and appreciate your loved ones!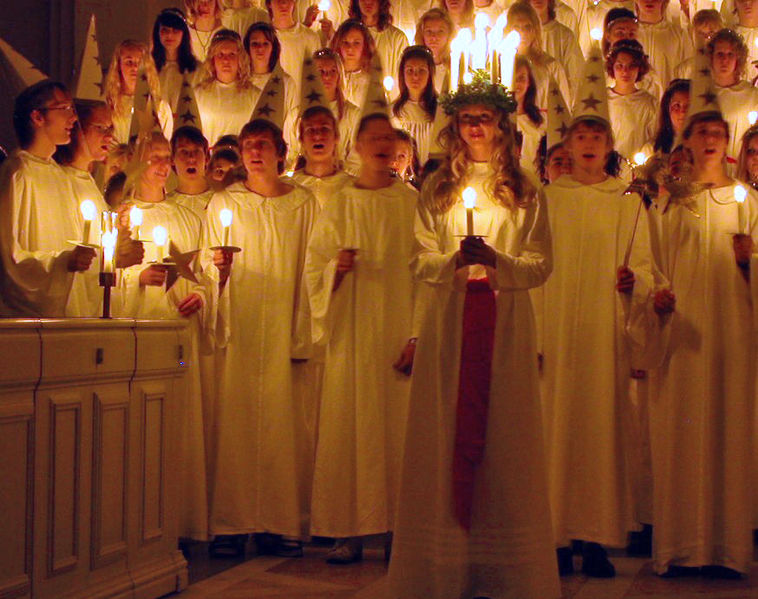 You can also find lit candles tied into a crown on the head of the Lucia, or the lucky Swedish gal in white who's leading the local procession in celebration of Sankta Lucia, St Lucy's Day. Lucia was a Christian martyr, and her modern representative wears candles as her name is derived from the Latin word for light. She is joined by a procession of maidens carrying candles, tomtar and stjärngossar (boys carrying stars) as she carries a tray of coffee, lussebullar and pepparkakor. Sankta Lucia celebrations happen across Sweden, with a national Lucia being chosen, and usually one for each school!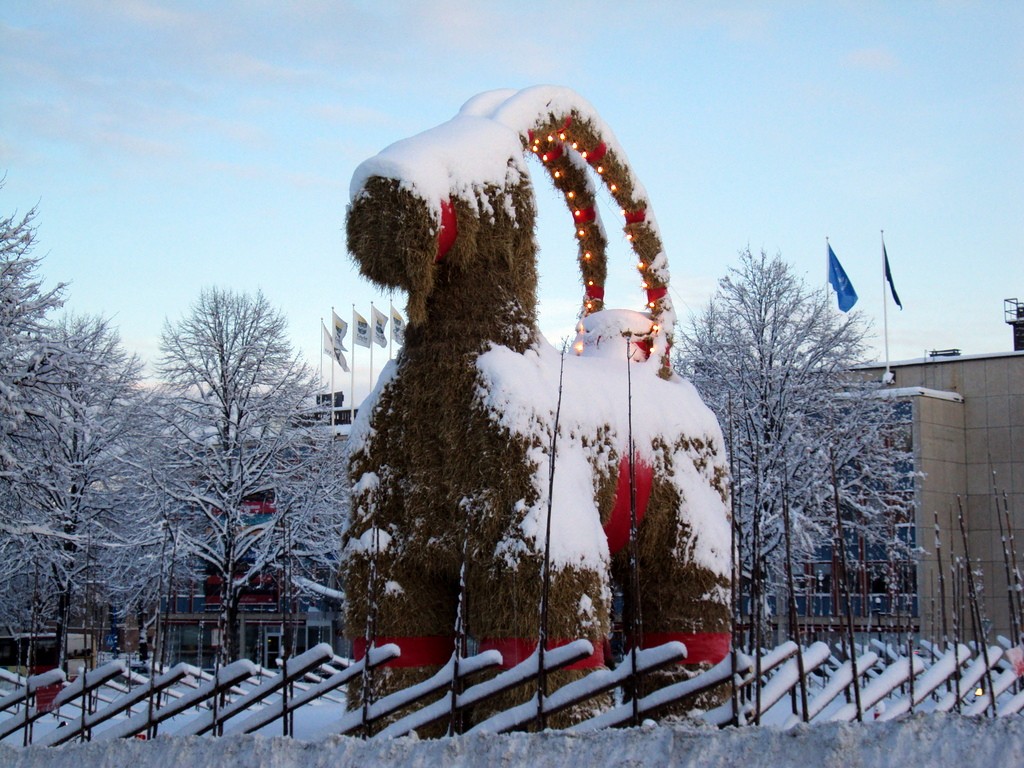 There is one more Swedish fire-related tradition – the annual vandalism of the famous Gävle goat. Straw goats are common decorations in the Nordics, and the huge one which is erected every year in the Swedish town of Gävle on the first day of Advent.
Though it probably happens elsewhere too, the Gävle goat is infamous for falling victim to arsonists – unfortunately it seems like it gets burned down pretty much every year!
Christmas is for gnomes!
You thought we were going to say Santa, didn't you? Well, the festive nisse, tomtar, tonttu and jólasveinn do bear a passing resemblance in that they're both beardy guys in hats bearing gifts. Traditionally they're just as likely to play tricks as well, though, and you're supposed to leave porridge out for them. Together with the yule goat, tomte or nisse carries presents door to door on his back to good kids across the Nordic region.
In Iceland, the jólasveinar – or Yule Lads – take things a step further: from December 12th, Icelandic houses are visited by a new merry prankster every day, and they hang out until Christmas Eve, when they then leave one by one. Traditionally children put a shoe in their window, and if they've been good then they'll find a gift from that day's jólasveinn, but if they've been bad they'll find a potato! Each Yule Lad has their own name and mischievous character trait – so be good, or you'll have Pot-Scraper, Sausage-Swiper, and Doorway-Sniffer to contend with!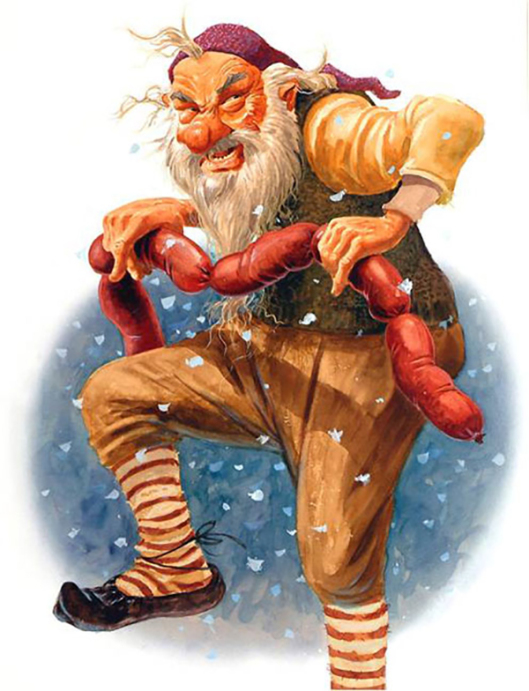 Christmas is for TV!
While they might sit down and watch the Queen's Speech in the UK, and many TV networks in the USA will run a channel dedicated to showing A Christmas Story all day long, the Nordics have their own TV-related festive traditions! From All of Us to All of You is the name of a Disney animated Christmas special, first presented in 1958. Though it's not broadcast as often in America anymore, it's a big part of the Nordic family Christmas, where it has been broadcast in all the Nordic countries every year since 1959, and remains a much beloved part of modern festive celebrations. In 1997, half the Swedish population tuned in!
We're all familiar with the concept of Advent Calendars, right? Well if you're in the Nordics, local TV stations have taken this concept to heart, by airing TV shows which are 24 episodes long, a new one each day up until Christmas. In Denmark the first such calendar series was Historier fra hele verden in 1962, and the tradition has spread across the Nordic region since, with most countries having a traditional favourite broadcast each year.
A slightly more offbeat festive favourite is the old British music hall sketch Dinner For One, which broadcasts in Norway on December 23rd, but on New Year's Eve for most of the Nordics. Filmed in 1963, this 18-minute sketch was made for German TV, but in its original English is timeless slapstick comedy and a cult favourite. In 1985, the Danish television network, DR, decided not to broadcast the sketch, but then received so many complaints that they had to show it the next New Year's Eve. With this single exception, Dinner for One has been shown on DR every 31 December since 1980!
Christmas is for music!
What is Christmas if not the season of carolling? If a sing-song with the family doesn't tickle your fancy, you can also find some cosy winter festive treats in our festive winter playlist right here, or if you want to really impress someone with your Nordic Christmas music knowledge, why not check out the Faroe Islands' answer to Dean Martin, Alex Bærendsen? His album Jólagleðin was made in 1990 but was recently re-issued by the fantastic Faroese label Tutl – you can buy a copy for your mum right here and or stream it right now!