When Rich Thane, founder of The Line of Best Fit (aka Ja Ja Ja's trusted media partner and one of the UK's most respected music sites) asked to curate a Ja Ja Ja evening it was a EURIKA! moment. A check list of amazing musical taste, an obsession with all things Nordic and a dedication …
Continued
When Rich Thane, founder of The Line of Best Fit (aka Ja Ja Ja's trusted media partner and one of the UK's most respected music sites) asked to curate a Ja Ja Ja evening it was a EURIKA! moment. A check list of amazing musical taste, an obsession with all things Nordic and a dedication to the good cause Ja Ja Ja makes me think, why did we not ask him YEARS ago?!
Rich Thane has picked a line-up of very Noridc bands with not so Nordic names. Team Me have had a dream career, within less than a year they've become the band to watch in 2011, not just hailed as such by their national Norwegian press, but by those in-the-musical-know across the blogs and press worldwide, with NME saying of the band's last single: "'Weathervanes and Chemicals', which is really, really rather wonderful. Pitched somewhere in-between Jonsi and Arcade Fire, it's about as heart-warmingly lush as it gets."
Adding a refreshingly feminine touch to the line-up is fellow Norwegian Lucy Swann, who likewise is getting a lot of glowing attention, hailed by national press as "among the most refreshing and catchy Norwegian pop acts in a long time" (Aftenposten), while P3Urørt have raved that "Lucy Swann has it all. Beautiful vocals, a soaring electronic soundscape, a dark mysticism and momentum." It's classy, intelligent pop for the sophisticated music fan.
Last but in no way least is When Saints Go Machine who make the kind of dance music TV On The Radio would make if let out of the studio and let on loose in the local disco. Drowned in Sound called the bands recent mini alum 'Fail Forever' an"ambitious post-club fare that slithers effortlessly between dancefloor-cradling wooze and the heavy trance of a 7am comedown".
When Saints Go Machine [DEN]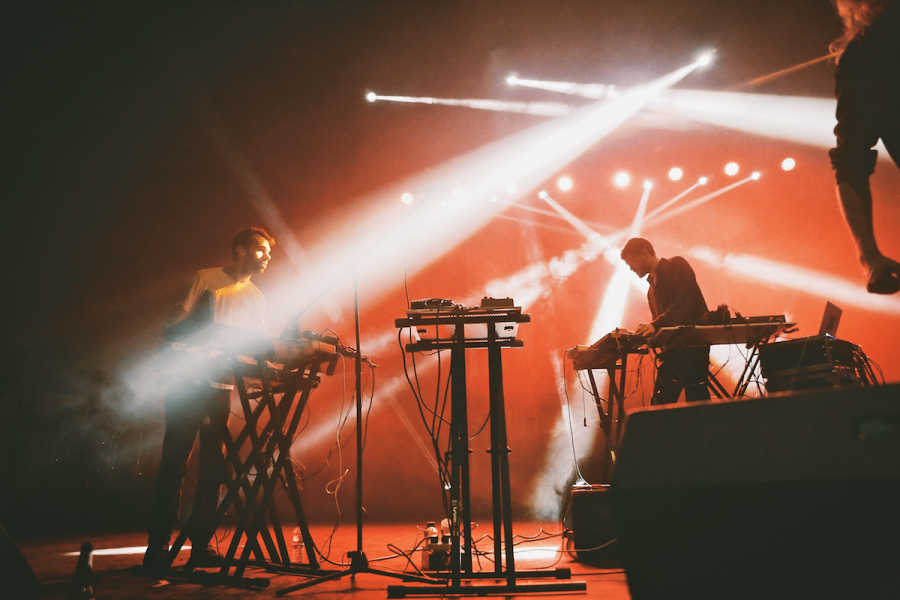 Photo by Sara Amroussi-Gilissen
Copenhagen's When Saints Go Machine were not only returning to London for the festival, but they also returned to a Ja Ja Ja stage having performed at one of our earliest shows back in 2011!
Since then, the band have released two magnificent albums – 2011's Konkylie, and 2013's Infinity Pool and performed at some of the world's most prestigious festivals and events. Their unmistakable blend of intricately woven electronic backdrops and vocalist Nikolaj Manuel Vonslid's charismatic vocals are perfectly showcased in a live setting, which they proved to us in the Great Hall in a spectacular performance.
When Saints Go Machine performed at the Ja Ja Ja Festival on Saturday 15th November, The Great Hall – Mile End, London