Ja Ja Ja returns to FluxBau on Thursday 12th October, bringing three thrilling new Nordic artists to Berlin! 
We were thrilled to bits to jump back into action at September's Ja Ja Ja show with Tuvaband, The Holy and Wangel – and now we're all set to present another Ja Ja Ja show on Thursday 12th October!
Joining us at FluxBau will be Danish electronic pop starlet Soleima, Norwegian punk / power-pop outfit Death By Unga Bunga, and Swedish slick pop pioneer Frida Sundemo! We'll also be joined by Icelander Mr. Silla who'll be offering up a stellar inter-band soundtrack with a rare DJ appearance. So what are you waiting for?! Come on down to join us!
Tickets are on sale now, just €5 in advance for Ja Ja Ja members. Not a member yet? Then sign up (for free) to access exclusive ticket discounts, competitions, and to get your hands on free Ja Ja Ja goodies!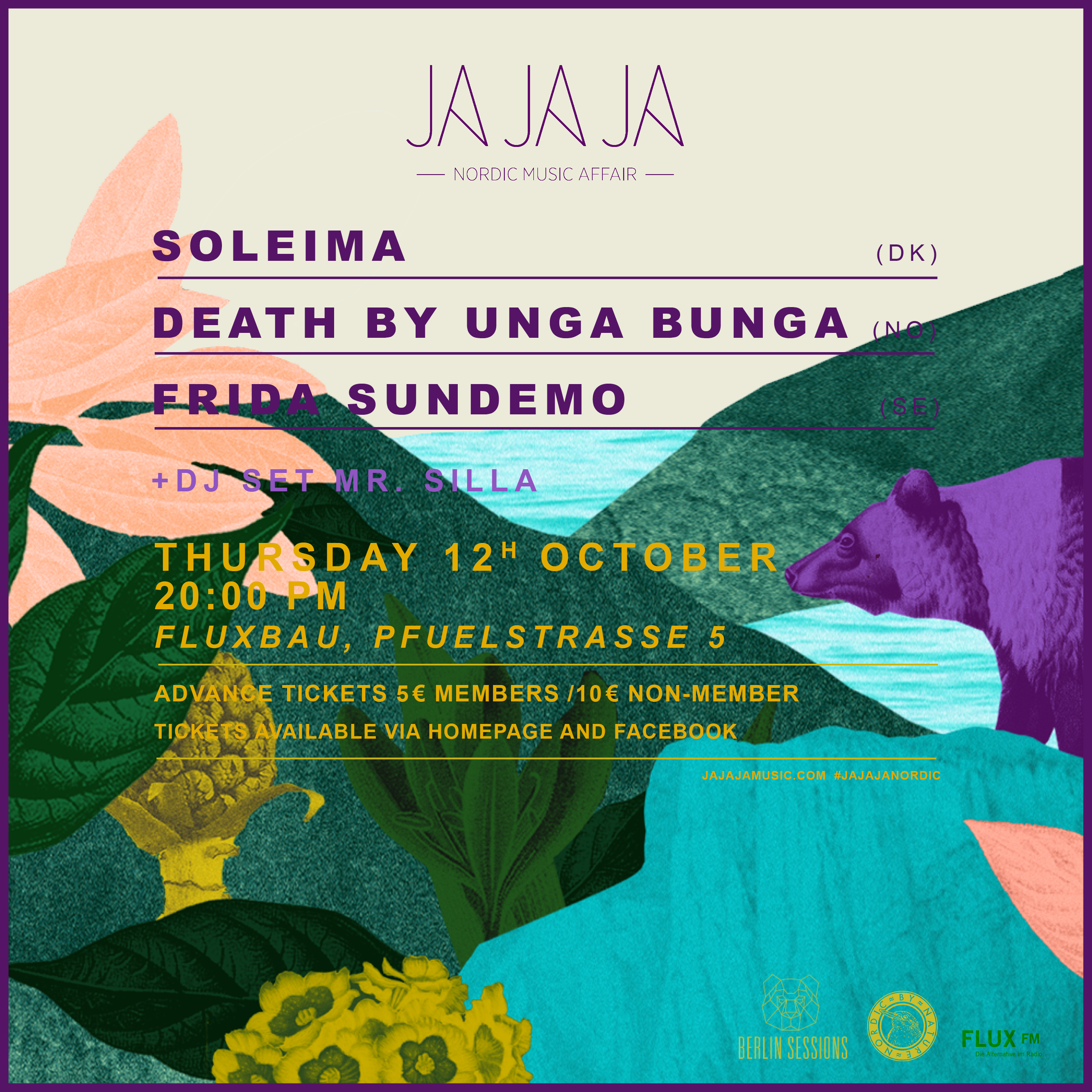 Soleima [DEN]
Soleima has cast an enigmatic and hypnotic spell with the handful of tracks that she's introduced over the course of the past year. 'Breathe', 'Cracks', 'Wasted' and 'Once Was' have presented an artist with a singular take on pop which is it once immediately engaging and fascinatingly off-kilter.
The Danish musician's heady cocktail of pitch-shifted synths, R&B, future bass and an undercurrent of world music is already something quite apart from the pack, but her vocal – simultaneously otherworldly, childlike in its innocence and sweetly sensual – elevates her individualistic style to another level.
While her tracks are skewered heavily towards the kind of modernist pop in which easy genre classifications lie just out of reach, Soleima's own story is similarly unconventional. Raised in Aarhus, a city on the Jutland peninsula, Soleima grew up in a family home soundtracked by classic soul and R&B, notably Aretha Franklin, Stevie Wonder and Otis Redding. Her subsequent gateway into the world of The Beatles came with 'I'm Only Sleeping', a song particularly notable for George Harrison's pioneering reversed guitar solo.
So far, so normal? Pretty much. Yet that's only a snippet of the tale. Soleima's mother took her to an African dance camp which operated as a cultural exchange between Denmark and Sukumaland in Tanzania, and she soon became enamoured with their music – especially with their collection of traditional African drums such as the sikulu. As a young adult, she moved out to Sukumaland for two extended spells, and even organised a grant to allow some of their members to live and teach in Denmark. She subsequently earned a bachelor's degree in Anthropology, did field work in Nepal and started to make a documentary about migration in Senegal.
That open-mindedness informed Soleima's first music project Flødeklinikken, a Danish-language hip-hop septet inspired by A Tribe Called Quest and the Wu-Tang Clan. Formed as teenagers, the collective released two albums with Soleima on keyboards and – when needed – on vocal hooks too.
Fast forward to 2017, and  Soleima's debut mini album 'No.14' arrives, which compiles her four recent tracks alongside three new productions in the shape of 'Mascerade, 'My Love' and 'This Life'. Soleima's lyrics are dualist and border both hope and melancholy – "They deal with the ambiguity in wanting to run away and hide from the world, but at the same time feeling guilty because you have this opportunity when others don't".
Ultimately Soleima's unique trait is in united disparate styles – cutting-edge productions with an immediate pop core, and relatable lyrical themes which simultaneously explore societal issues and the very meaning of what it is to be human. "Political pop is quite unpopular," she sighs, "but I think it's important to bring it back somehow. The whole challenge is to present it in a way which connects with people."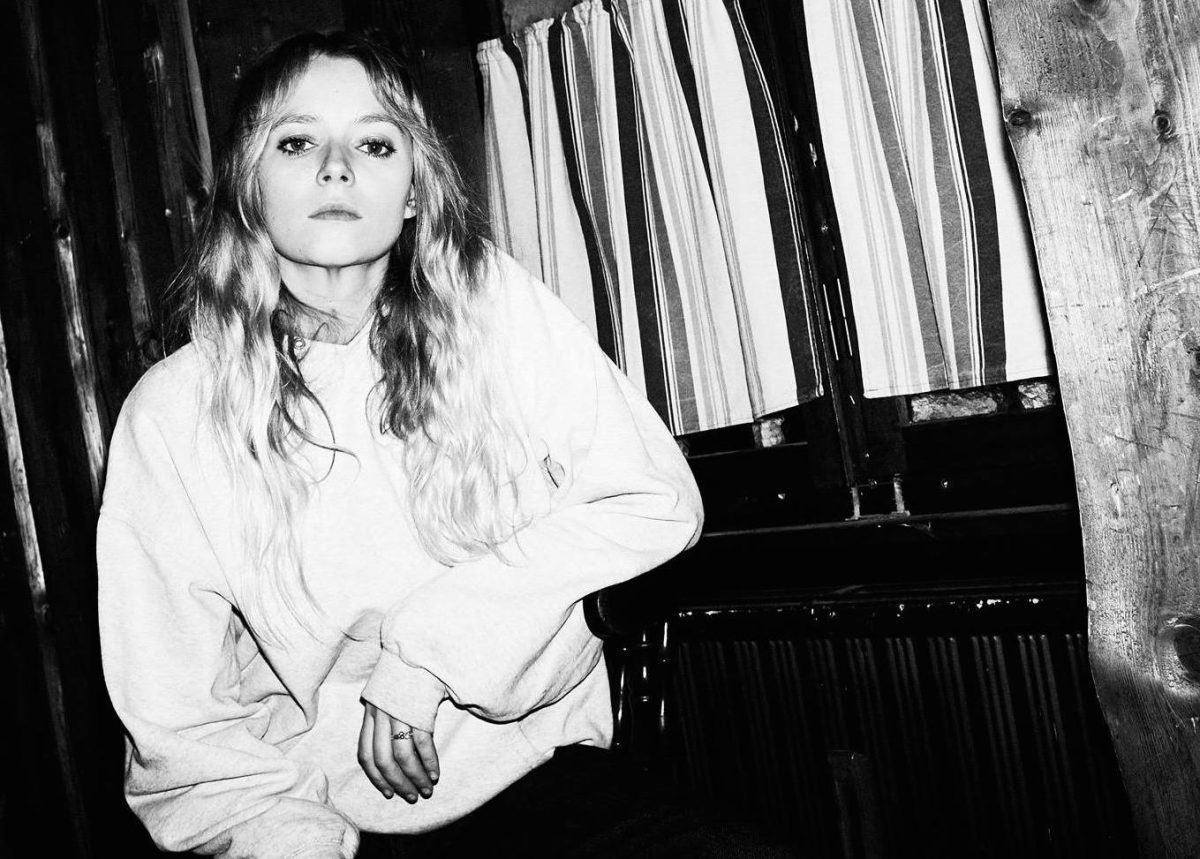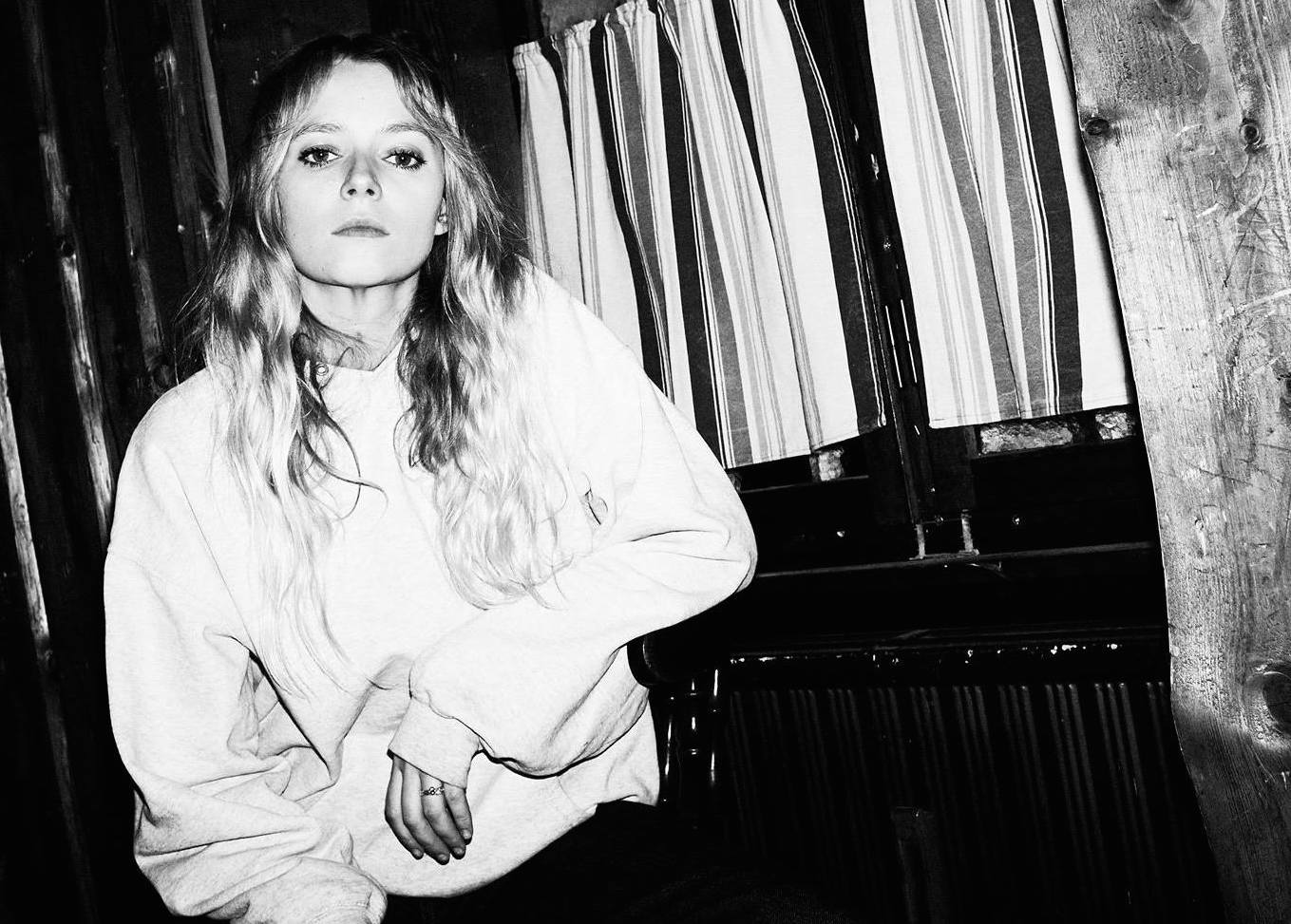 Death By Unga Bunga [NOR]
Death By Unga Bunga (DBUB) are five guys from Moss, the garage rock capital of Norway, and just like in fairytales formed with lead singer Sebastian Ulstad Olsen holding auditions in his own garage. Since then DBUB have restlessly visited town after town, village after village spreading their energetic mix of garage, psychedelia and power pop to an increasingly bigger audience. Seeing them live an experience you•ll never forget, an experience that•s best described as being hit by a rock'n'roll tornado.
With their fourth album in five years, Pineapple Pizza, DBUB have created an effortless and infectious continuation of the group•s love for quality music from the 60s, 70s and 00s. Artists like 13th Floor Elevators, The Mummies (who named them), Cheap Trick, Twin Peaks, Sheer Mag, Iron Maiden, Ramones and The Byrds at their most colourful. Death by Unga Bunga are combining the best from our musical heritage, adding a timeless energy, and mixing it into a strong contemporary form of expression.
What people say:
"an infectious blast of crunchy riffage that culminates in a pleasure-center bullseye of a guitar solo. Listen." – Stereogum
"Greatest Song in The World" – Little Steven's Underground Garage
"Their sound is uncomplicated and infectious" – NPR MUSIC ALL SONGS CONSIDERED
"Guitar riffs. Stunning and notable from the very beginning, as the punk vocals set in. Double en-tendres abound, this song is an absolute party song." – Impose Magazine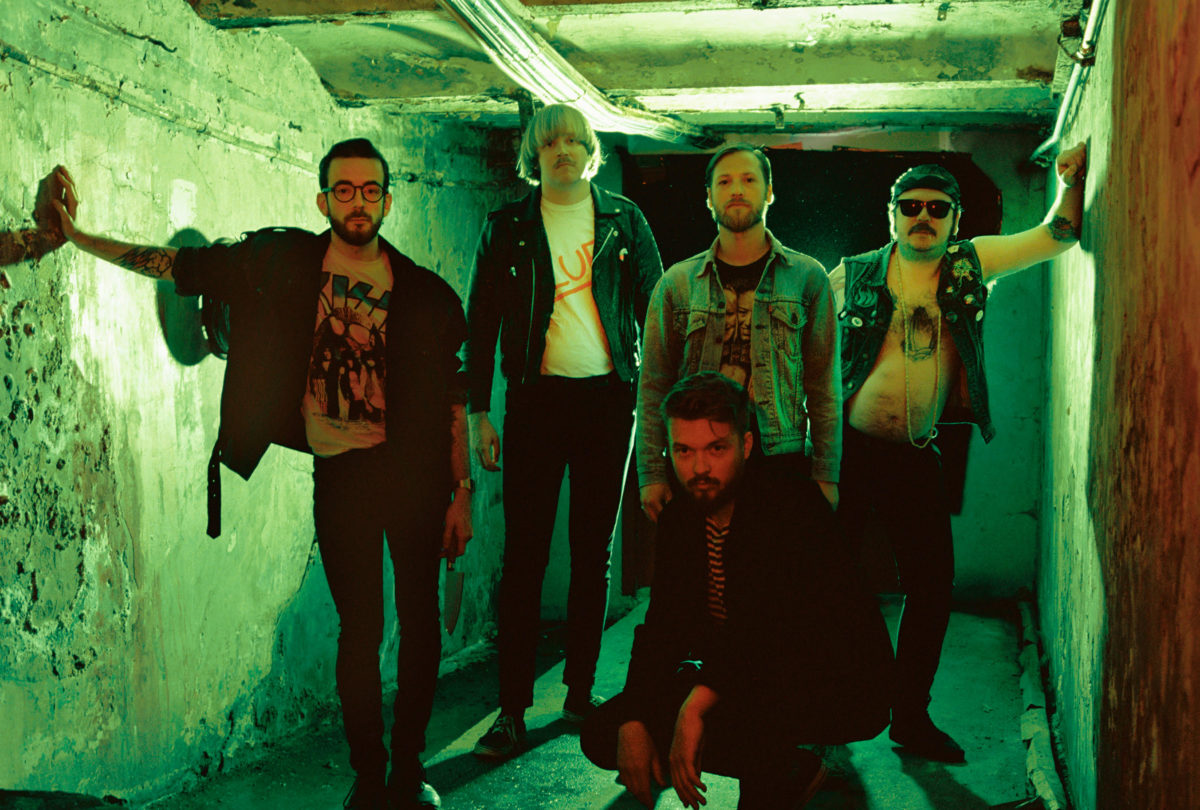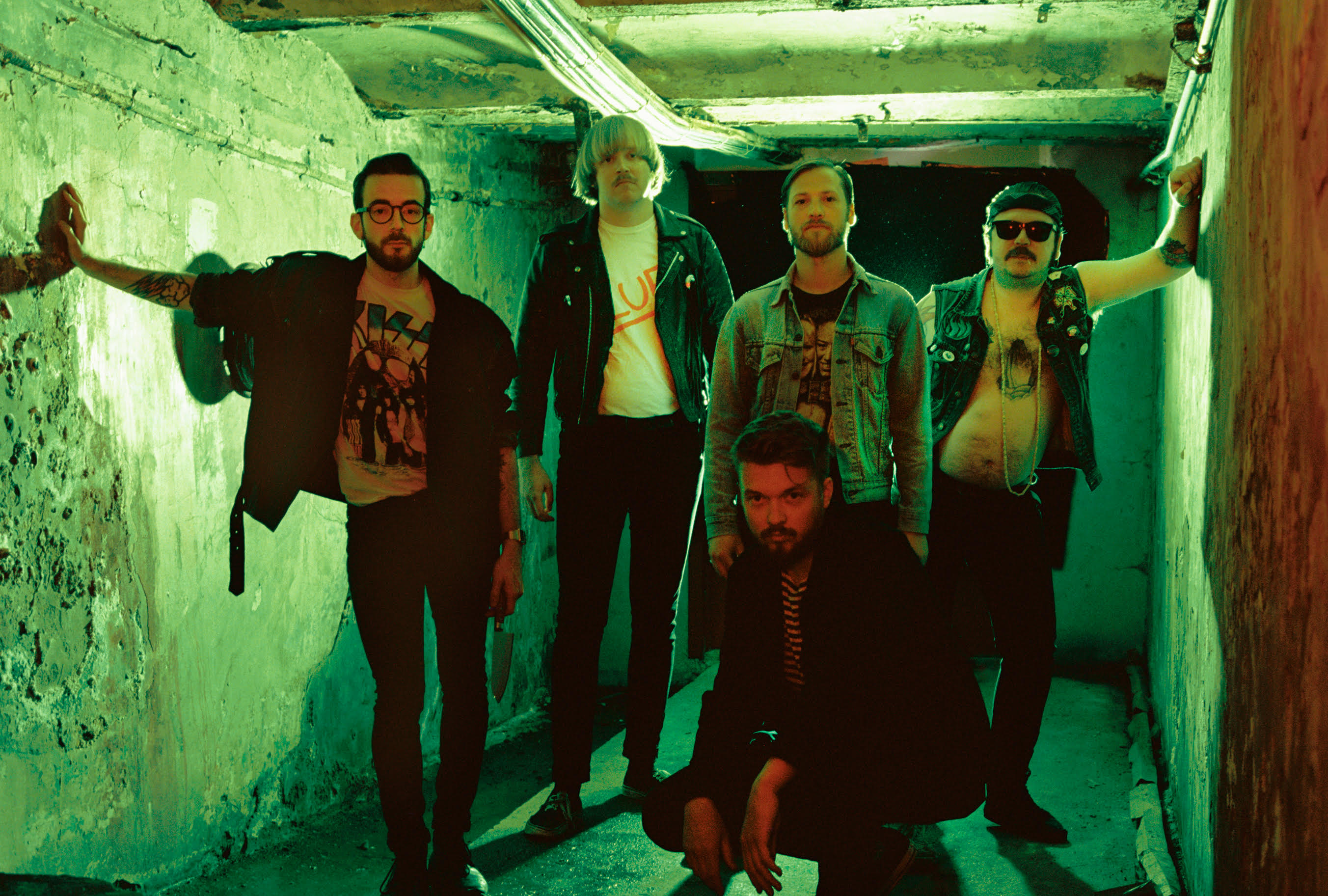 Frida Sundemo [SWE]
Born in Gothenburg, Sweden's Frida Sundemo grew up immersed in music, inspired initially by the guitar-driven sounds of her older brother's record collection, as the music of Radiohead, The Strokes and Weezer resonated throughout her childhood home.
However, it was as Frida lost herself within classical music that she found her unique talents for melody and experimentation, learning French horn, piano and guitar. Developing into a fully-fledged multi-instrumentalist, Frida started to dip her toes into recording and production as she cemented the foundations of her musical ideas. It's this multitude of disparate influences and an adept knowledge of composition and production that has led Frida to her unique and beaming sound. It showcases some of the best in glittering Swedish production and fully encompasses the heartfelt, and at times anthemic, songwriting that Sweden has gained a worldclass reputation for.
In 2010 she released her debut album Dear, Let It Out exclusively in Japan, with its lead single 'Towers' becoming a No.1 radio smash. Two years later she began to create music with producer/songwriter Joel Humlén, and together they spawned the critically acclaimed Indigo EP in 2013 for her first European release through Parlophone Records. Its release saw NME champion Frida's voice as, "sweet but sad like a lollipop dropped on the floor", and The Guardian praised her, "glistening electro-pop".
The following 2014 EP Lit Up By Neon saw Frida revered even further with Clash proclaiming the EP as, "the perfect introduction to Sundemo's work", while The Line Of Best Fit found it, "cementing her place as one of the genuine pacesetters in the Scandinavian pop scene."
Frida's profile rose even further in 2015 when she made her Hollywood acting debut with a leading role in the big screen adaption of John Niven's Kill Your Friends, alongside stars including Nicholas Hoult and James Corden. Now newly signed to leading Scandinavian record label Cosmos Music, Frida has continued to develop her passion for orchestral music, pulling influence from composers including Chopin, Hans Zimmer and John Williams, and intertwined this with her new experiences in pop and club culture, citing the likes of Boys Noize and Para One, to develop an immense aural experience.
The first taste of this is 'We Are Dreamers', a synth-pop anthem that combines her ethereal voice and expansive soundscapes with a pulsating, four-to-the-floor beat, and which sets the stage for the release of her international debut album later in 2017.