As ever, the festival line up boasts a phenomenal mix of international and Icelandic talent, with a whole new batch of artists revealed today – and we think it's safe to say that the festival have smashed the ball out of the park this year. Among the new additions to the 90-artist-strong line up are KAMARA, Axel Flóvent, Aron Can and Laufey as well as international names such as Arlo Parks, Wu-Lu, Smoothboi Ezra and many more!
The festival has every intention of running its activities in person, in venues, on the 3-6 November 2021 and we can't think of a better way to return to live festival life than making our way to Iceland for this sensational event! We've whole-heartedly missed the days of wandering around Reykjavík city centre, stumbling upon our new favourite bands in the glorious venues dotted around town – so we'll be counting down to November, and we hope to see you there!
Tickets are on sale now, and if you're quick, you'll be able to grab yours before the price increases. Travel packages are also available via Iceland Air.
Iceland Airwaves 2021 – The Line Up So Far…
ADHD, Andavald, Andy Svarthol, Any Other (IT), Aragrúi, Arlo Parks (UK), Aron Can, Ásta, Axel Flóvent, Balming Tiger (KR), Bartees Strange (US), Benni Hemm Hemm, Black Pumas (US), BSÍ, Bríet, Cell7, CHLOBOCOP (UK), Countess Malaise, Crack Cloud (CA), Daði Freyr, Daughters of Reykjavík, Denise Chaila (IE), dj. flugvél og geimskip, Dry Cleaning (UK), Eydís Evensen, Faux Real (FR), Francis of Delirium (LU), GDRN, GRÓA, gugusar, Halldór Eldjárn, Hipsumhaps, Holdgervlar, Inspector Spacetime, ISÁK (NO), Júníus Meyvant, Kælan Mikla, KAMARA (NO), Karina (FI), kef LAVÍK, KeiyaA (US), Kiriyama Family, KLEIN (LU), K.óla, Kristin Sesselja, Krummi, Laufey, Logi Pedro, Lynks (UK), MAMMÚT, Magnús Jóhann, Máni Orrason, Marie Davidson & L'Œil Nu (CA), Metronomy (UK), MSEA, Mugison, Myrkvi, Omotrack, Ouse, Oyama, Pale Moon, Porridge Radio (UK), Power Paladin, Sad Night Dynamite (UK), Salóme Katrín, Sara Parkman (SE), S.hel, sideproject, Sigrún Stella, Sin Fang, Sinmara, Skoffín, Smoothboi Ezra (IE), snny, Squid (UK), superserious, supersport!, Svala, Tami T (SE), THUMPER (IE), TootArd (Golan Heights) Tuys (LU), Tyson (UK), Ultraflex, The Vintage Caravan, Vök, Wu-Lu (UK)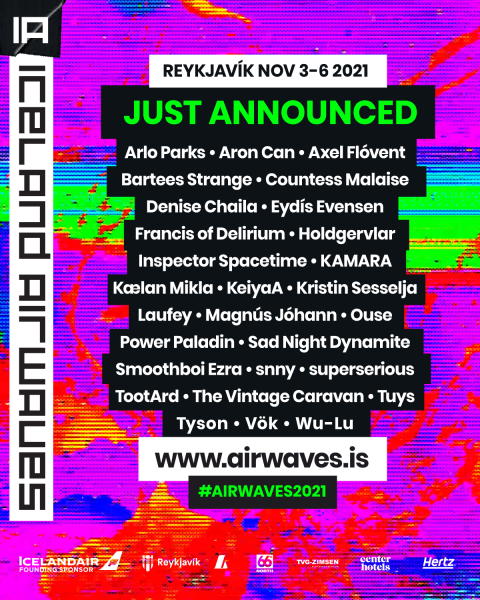 Main Photo: Iceland Airwaves 2019 – Of Monsters and Men @ Valshöllin – Photo © Ásgeir Helgi