With her latest single 'Stay This Way (ft. Kes Kross)' bringing some much needed sunshine into our lives, we're thrilled to introduce you to today's Ja Ja Ja Takeover host Zikai!
Hailing from Stockholm, Zikai landed on the scene back in 2019 with an irresistible debut single called 'Mountain Peak'. That was soon followed by her first EP Make You Mine in 2020 which garnered her the title 'Artist of the Future' by Swedish Radio station P3, among many other accolades. As we roll further into 2021, we're very excited to be getting to know this incredibly gifted artist and her spectacular voice better and better.
Scroll down to find out more about this phenomenal rising artist in our exclusive Spotlight interview – and join us at @jajajanordic on Instagram as Zikai takes control of our account for the day!
Spotlight Interview: Zikai
Hi Zikai, thanks so much for joining us for today's Ja Ja Ja Takeover! Would you be so kind as to introduce yourself?
Hello and thank you for having me! My name is Zikai and I'm a 23 year old singer/songwriter from Stockholm. I've released music for about 2 years now and I just dropped my latest single 'Stay This Way' ft. Jim Ouma and Kess Kross.
What would you say have been some of your greatest inspirations when it comes to making music?
Most of my songs are inspired by my own life events – it could be romantic relationships, self love, friendship, family, a certain night out or anything. I listen to eeeverything. I love Post Malone and Jhene Aiko, I love Swedish pop… rock, afro beat… the list goes on.
What's the first song you remember falling in love with?
It's probably 'Marvin's Room' by Drake. I remember hearing that on my mother's balcony during the summer of 2012 and I haven't stopped listening to it since. I don't think I had heard a man sing like that about his emotions and feelings towards a woman before. It was refreshing in a way.
What would you say is the best live show you've ever witnessed?
I loved seeing Post Malone in my hometown Stockholm m 2019. I was so excited to hear him play his songs from the album 'Stoney' (2016) since I knew every word of every song. I thought his vocals sounded 10/10 and I was overall in love with the songs at the time, so naturally that became the best live show i've ever witnessed.
Congrats on the release of your latest single 'Stay This Way'! Can you tell us a bit about the story behind the song?
I wrote it together with Kee Ingrosso and before we wrote it she told me about when she was in her twenties and went on a road trip to Vegas from LA with some random new friends she'd just met. The story felt very dreamy and there was something beautiful about how she described herself being so in the present on that road trip. Being in the present and not thinking about the past or future all the time is something I struggle with, but there are moments where I do find myself being fully in the present and those moments are amazing.
The track features Kes Kross, so how did that collaboration come about – and what's your favourite thing about collaborating with other artists?
I really wanted another artist to join the song and Jim Ouma (who produced it) knew Kess personally. When I heard his voice on it I knew it was the one. I like adding other artists because it can give the song that extra thing that's been missing.
What would you say is the perfect setting in which to listen to the track?
Oufff… I love that question. You should be in a car driving top down the pacific coast highway next to Malibu Beach. And oh, all that while the sun goes down.
What are some of the main inspirations and influences on the music you're creating at the moment?
I get most of my inspiration from the people I work with. The magic usually happens when we're vibing together. Other than that I'm listening to a lot of old stuff right now, like old Pharell and Daft Punk.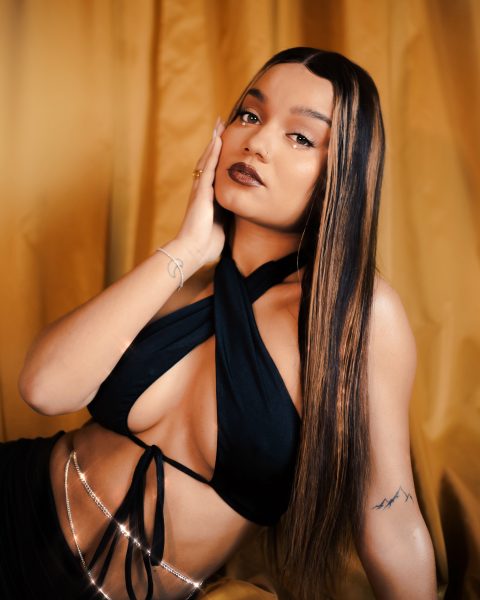 2020 was a big year for you with the Make You Mine EP being released, along with a few bonus singles – so what do you hope the rest of 2021 will hold for you?
I really hope that things go back to normal so that we can perform again. I've wanted to go on tour for a long time and I also miss writing overseas. I'll keep dropping music and I've been working really hard on my next release, can't wait to show y'all!!!
And finally, we always like to ask – do you have any good new music tips to share with us?
My good friend Svea just released a single ft Call Me Loop and it's called 'I'll Get Better'. It's actually really good and emotional, just the way I like it.