We're heading to Reykjavík for today's Ja Ja Ja Takeover, which will be taking place at the hands of the self-professed "loudest band in Iceland", Skoffín! With a brand new single newly released, and an accompanying video on the way, we caught up with the band to find out more about their creative process, and the bands that have inspired them along the way.
Head to @jajajanordic on Instagram to keep up with today's Takeover – and scroll down to find our exclusive Spotlight Interview, where we dig into the story behind the band, and what the rest of 2021 will hold.
Spotlight Interview: Skoffín
Hello Skoffín, thanks so much for joining us! Who you are, where you're from and what you do?
Thanks for having us! We are Skoffín, the loudest band in Iceland. We are four guys who met in our teens and through a series of very fortunate events, ended up playing together. Each of us is from the suburbs of Reykjavík and while we aren't busy recording music, we are usually rehearsing or playing DnD together.
What have been some of your greatest inspirations when making music?
Our greatest inspirations are the local bands in Iceland. We're big fans of local punk acts Korter í Flog and Gróa, as well as some slightly older names like Grísalappalísa and Botnleðja. We each have our own music taste which ranges from a variety of genres.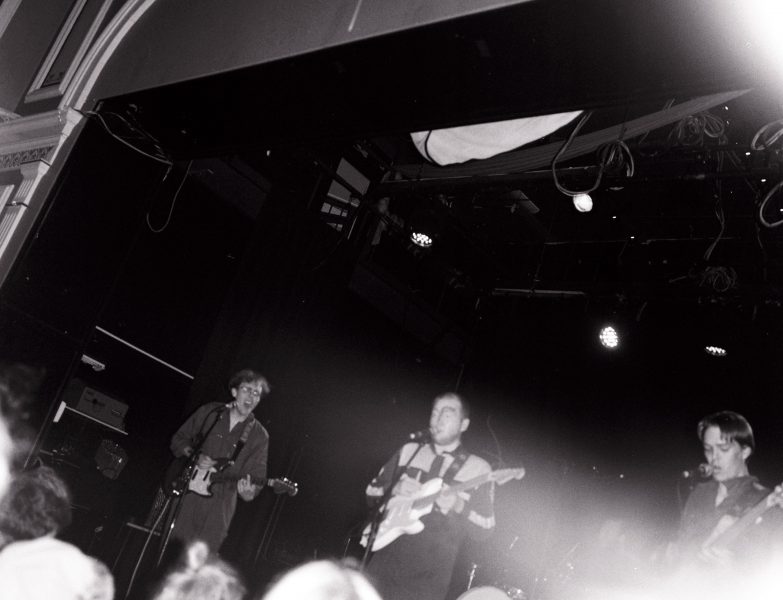 Which song would each of you say was the one that made you want to make music?
Jói: 'Sheena is a Punk Rocker' by The Ramones
Bjarni: When I was starting to experiment with playing instruments I was really into this whacky wave of mid 2000's piano pop – so Keane's 'Everybody's Changing' was probably one of the tracks that got me really interested in writing songs as a kid. To this day, I'd say it's a very solid tune.
Auðunn: '5/4' by Gorillaz
Sævar: 'Starálfur' by Sigur Rós
And what would you say is the best live show you've ever witnessed?
Jói: A few come to mind… My favourite one was the reunion show of local grunge heroes Botnleðja. They played a show when I was 16 years old – and being underage I wasn't expecting to be able to go. I contacted the venue manager who told me I was good to go as long as I had a parent with me. That's a show I'll never forget.
Auðunn: I'd have to say either Radiohead at the Secret Solstice festival in Reykjavík or IDLES at Alexandra Palace, both were mind-melting gigs.
Bjarni: Seeing Laura Secord play local DIY-venue R6013 in 2018 was a big moment for me – the songs were so powerful, and hearing them for the first time while watching how each member of the band was able to make their mark on the pieces so distinctly was just incredible. Very inspiring. I also remember seeing some impactful shows as a teenager, notably dj flugvél og geimskip at Húrra and Frank Ocean at Laugardalshöll.
Sævar: Tame Impala at Primavera Sound Barcelona in 2016.
We're very happy to be speaking to you as you release your latest single 'Rottur' – what's the story behind the track?
The track spent a few years in the cupboard before being finished in our rehearsal space. I was doing an exchange semester in Belgium as part of my studies and I spent a lot of time in my flat writing songs and lyrics. This one came to me after I recently read Naked Lunch, and being inspired by the surrealism and paranoia of the book, I wrote a song where I imagined I was being chased by rats. I was even at a place where I imagined them scurrying between my bedroom walls, but that was just the pipes making noise.
What was the process of creating the song like? Was it an easy track to write and record?
The reason why the track spent so long unfinished was because I thought it wasn't a good enough song. Time did it justice and when we finally uncovered the demo we wanted to add it to our set list. We're very proud of it and working with our producer Árni Árnason, it came out naturally during the recordings.
And we'd love to hear more about the video too…
The video will be delayed a bit – we're working on releasing it the week after the track release. It was the hardest any of us has worked, but well worth it and so much fun! We worked with Snæfríður Sól Gunnarsdóttir, director and performance maker, and Arína Vala Þórðardóttir, cinematographer, who both did our previous video for 'Sætar Stelpur'. They are super talented and it's always a pleasure working with them.
What would you say is the best setting in which to listen to 'Rottur'?
We advise our listeners to take the first listen out in public. When you're more comfortable with the song you can start listening to it alone. Just remember that rats aren't real.
What do you hope the rest of 2021 will hold for you?
We'll be releasing more singles this year and hopefully release another album. We are getting more and more hopeful of the entertainment industry getting back on its feet. Right now we are set to play Iceland Airwaves this year as well as a few other festivals.
And finally, we always like to ask – do you have any good new music tips to share with us?
Go listen to Flott – a new pop group breaking the waves as well as Inspector Spacetime – a house group guaranteed to make you dance. We are also dipping back into Salóme Katrín's debut EP, Water.