We've been huge fans of Danish duo Off Bloom ever since their debut singles 'Love To Hate It' and 'Falcon Eye' landed in our playlists in 2017. Those 2 tracks alone have garnered over 10 million streams across the streaming platforms, and while it might feel like Off Bloom have been in our lives forever, their debut album In Bloom arrived just last week – and if ever there was an album that was worth the wait, this would be it.
So it's with great pleasure that we hand things over to Off Bloom for today's Ja Ja Ja Takeover – who have not only joined us for a Spotlight interview, but will also be taking charge of Ja Ja Ja's Instagram account today (head to @jajajanordic to keep up with the action).
Get to know Mette and Mads better right here – and make sure to turn In Bloom up as loud as you can while you're getting acquainted.
Spotlight Interview: Off Bloom
Hello Off Bloom, thanks so much for joining us! Could you please introduce yourselves to Ja Ja Ja's friends and followers?
Hi, thanks for having us! We are Mads and Mette from Copenhagen, Denmark. We write and produce music together and have just released our debut album In Bloom.
What would you say have been some of your greatest inspirations when making music?
We have this thing we always say – that we have always been inspired by everything from Bowie to Britney, haha! We come from very different musical backgrounds and that has always had a great impact on our writing. But other than that I think we are inspired by each other, our friends, our families and the conversations we have together and with them about life and the constant struggle of being human.
What's the first song that each of you remembers falling in love with?
For me, Mette, it could be either a Bob Dylan song called 'Dignity' I always listened to with my father or 'Stole' from Kelly Rowland album Simply Deep from 2002 that I listened to when I wanted to just lay in my room and cry.
And what would you say is the best live show you've ever witnessed?
Probably Beyonce…
We're very happy to be speaking to you as you release your much anticipated debut album In Bloom! We'd love to hear more about the record – so what were some of the main ambitions and inspirations when creating In Bloom?
In Bloom is a reflection of our journey from when we started making music until now. There are songs from years ago and songs from yesterday – there are so many different time periods in our lives represented and feelings and thoughts from when we felt on top of the world and from being in the darkest places.
But a subject that is a red thread and that we always come back to is the difficulties of living as a human in a world that is losing its nuances – both through polarisation on social media, black and white truths and fear of the things and feelings that are ambiguous or unconstructive.
We circle around subjects that we feel are not accepted in today's reality. Feelings like doubt, anger, making mistakes, not being perfect. We wanna fight for the right to be complex human beings, who doesn't always have all the answers.
What was you main ambition when creating the album? Did you want to capture a mood, a time, a place – or just create the best record you possibly could?!
We wanted to make something that was an actual album and not just a collection of singles, which we never did before. We wanted to create an experience and a universe that the listener could travel through with us and get a sense of the songs being part of a bigger picture. There are 12 songs on the album. (12 (and 24) is my lucky number and I have it tattooed on my chest), and I feel that those 12 songs together in that order create the 1 piece we set out to make.
The lead single is called 'Hit and Run' – can you tell us a bit about the story behind the song?
'Hit and Run' was written three years ago and has been on quite a journey – it started of with a vocal chop hook, then we changed it to a sampled guitar hook and in the end we recorded and changed the guitar hook into what it sounds like today. Mads has worked on that production for literally 1000 hours or more. We thought about never putting it out because we couldn't solve it, but suddenly it was there, with Nile Rodgers and Santana inspired guitar and our first guitar solo ever and a lot of sass and tongue rolls about not being able to commit, and hurt someone over and over again.
What would you say is the perfect setting in which to listen to the album?
Anywhere, anytime you feel like diving into some music. Or maybe when you feel like both dancing and crying at the same time… and maybe laughing too.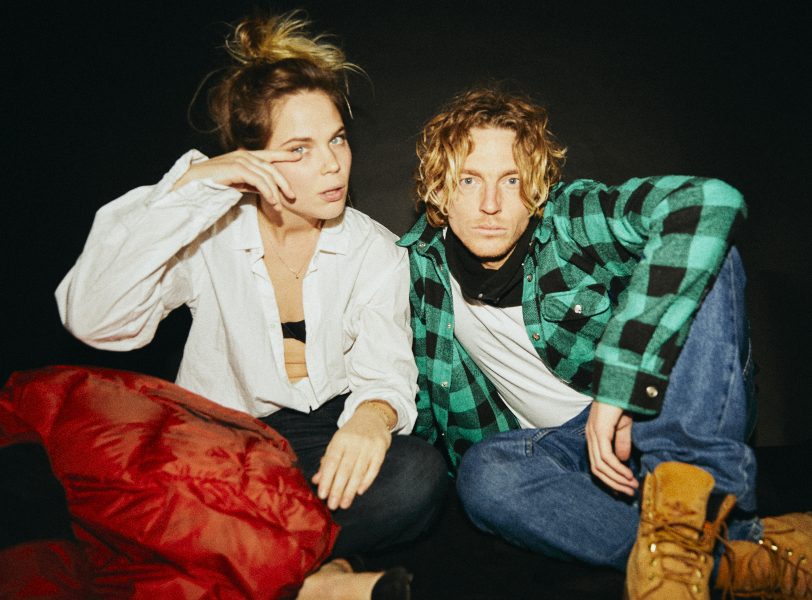 What do you hope the rest of 2021 will hold for you?
We really hope we will be able to go on a tour. I'm afraid an international tour seems unrealistic in 2021, but hopefully we will be able to play shows in our home country Denmark in the fall.
And finally, we always like to ask – do you have any good new music tips to share with us?
YES – so much new stuff on the Danish music scene! You HAVE to check out a girl called BBYBITES – she only released 3 songs, but has the most amazing voice and personality. Like a mix of Nancy Sinatra and Doja Cat. Her song 'Bby' is my favourite. Besides that listen to Jada, Dopha, Ericka Jane, Erika De Casier, Drew Sycamore – just to mention a few.