We might be only a few weeks into 2021, but the year has already produced some outstanding new music – and when we say that, we're specifically thinking of the latest release from our latest Spotlight interviewee, Delara.
We first came across Delara back in 2017, when she came along to our Ja Ja Ja club nights in London and Berlin to perform tracks from her debut EP Rebel. Since then, this uniquely talented artist has been honing and refining her sound, steadily releasing singles to follow on from her 2018 EP Running Deep – with the latest being her irresistible new track, 'Shark Tank'.
To find out more about the song and the story behind it, we caught up with Delara for a Spotlight Interview – so read on to hear about her inspirations, her story, and what the rest of the year will hold.
Spotlight Interview: Delara
Thanks so much for joining us! We first met you back in 2017 when you played at our Ja Ja Ja shows in London and Berlin – but for those that haven't met you yet, could you please introduce yourself?
Hello! Yes ofc, I'm Delara, an Iranian girl from Norway. I write and sing my own songs.
Who (or what!) have been some of your greatest inspirations when making music?
I fell in love with the idea of making music when I heard Kanye West and Jay Z. Lyrically I love the way Jay Z tells stories and how he is so freaking good with words, and I love the way Kanye has always pushed his sound and done something new that clearly is influential to a whole bunch of artists.
I think both he and Rihanna are the reasons why I wanna be a versatile artist – because every time they drop new music you know you're gonna get something fresh, sound-wise.
What's the first song you remember falling in love with?
Oh, this is an easy one. Encore – Jay Z. I used to play it all the time on my Discman.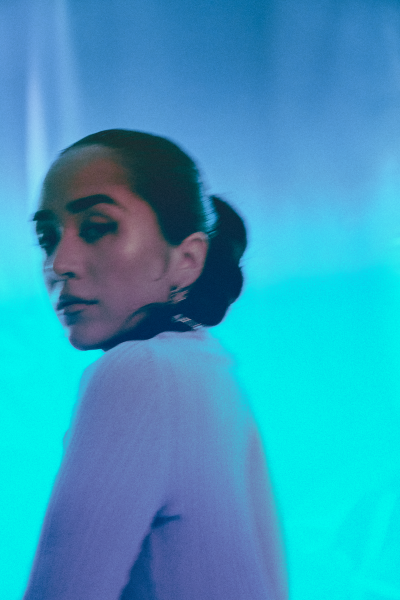 And what's the best live show you've ever witnessed?
To be honest, I have not attended so many concerts. But I do remember John Mayer at the Norwegian Wood festival in Norway many years ago. I think the reason I enjoyed it so much was that it was small and intimate, and he seemed to really be enjoying standing on that stage.
We're very happy to be speaking to you as you release your latest single 'Shark Tank' – can you tell us the story behind the song?
I wanted to make a track that felt powerful yet playful. I've been very serious both lyrically and production-wise in my previous songs. I figured I could still come with an important message, but wrap it in a whole different package. It feels really refreshing and like I'm challenging myself positively.
Was this an easy song to put together? And what would you say is the best setting to listen to this song in?
Yes, it was. Once my producer Sondre and I had the chorus and word «Shark Tank», we knew where to go from there. Like I said, I've been taking inspiration in the simplicity of just putting down a catchy melody and sticking to it, not overthinking it. I think that also shines through in this track. It's catchy and playful!
And we love the accompanying video – was it as much fun to make as it looks?!
I'm not gonna lie to you, I did enjoy doing things like crashing a meeting and kicking stuff off the table. But there is definitely a lot of work behind a music video like that, so I wanna give a big shoutout to the director Karim Fakih and the rest of the team for their hard work and for making the end result look so nice.
We've heard a few new (excellent!) releases from you over the past 12 months – so what are some of the main inspirations and influences on the music you're creating at the moment?
It has varied a lot but for this project, I've been taking a lot of inspiration from artists and producers like Ty Dolla Sign, Tinashe, Jeremih, Chrishan and Hitmaka. I've been taking a lot of inspiration in the catchy melodies and simplicity. I want the vocals to be outstanding, and not lean on the production to sound nice.
What do you hope the rest of 2021 will hold for you?
I do hope the borders open this year so I can travel abroad and work with people that have inspired me for a long time. I've also always been inspired by traveling, seeing new places and meeting new people with unique stories, so to be able to sit my ass on a flight and experience that would be a huge plus in 2021. But hey, I'm waiting patiently. There's a lot of exciting things happening anyways so I got time!
And finally, we always like to ask – do you have any good new music tips to share with us?
Ohh yes! You guys gotta check out Blxst – Chosen. It lives rent-free in my head. He's an amazing artist!
Main photo by Marius Troy / GR:OW.