We're delighted to be joined by Sweden's sensational Maja Francis to host today's Ja Ja Ja Takeover, hot on the heels of releasing her latest single 'Anxious Angel'.
Up until recently, we'd not heard any new music from Maja since 2018's Cry Baby double EP release – and then in the summer, Maja made a much anticipated return with a stunning cover of Kate Bush's song 'This Woman's Work'.
Having just revealed 'Anxious Angel' as the first single from her new album, we're so excited to be able to premiere an absolutely jaw-dropping acoustic rendition of the track, recorded especially for Ja Ja Ja! Scroll down to find out more about the song and to watch the session – and make your way to @jajajanordic on Instagram as Maja takes over our account today!
Spotlight Interview: Maja Francis
Hello Maja, thanks so much for joining us! For those that haven't met you yet, could you please introduce yourself? Who you are, where you're from and what you do?
Hi! Thanks for having me <3 I'm Maja Francis, a pink loving cry baby from south of Sweden that writes songs and sings them.
What have been some of your greatest inspirations when making music?
Intense feelings, Tori Amos, the color pink, Dolly Parton, 90s MTV unplugged clips on Youtube.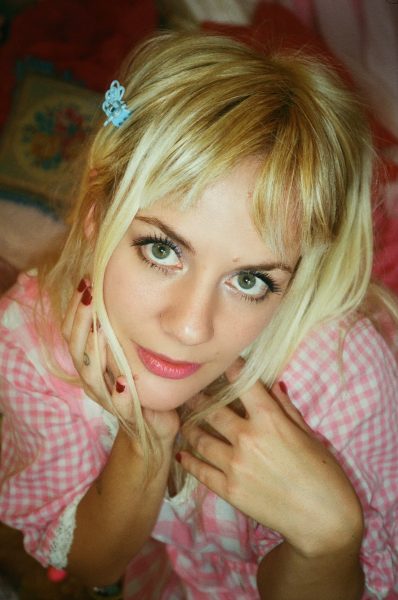 What's the first album you remember falling in love with?
Mariah Carey's "musicbox" was my first CD crush, I remember being 11 years old, having my first heartbreak and listening to "without you" over and over. I guess that's where I discovered how music could actually hurt and move you physically. I really liked that feeling, still do.
And what's the best live show you've ever witnessed?
Ohhhh it's SO hard to pick only one!! But one of my best live shows was seeing Florence and the Machine at a real small theatre in Stockholm years ago, that really got to me. Also when I got to experience a Fado concert last year in Portugal, this woman sung her heart out for like 8 people in a tiny resturant, it was only her amazing voice and a guitar. I didn't understand a word but I couldnt stop crying.
We're thrilled to be premiering this beautiful acoustic rendition of your latest single 'Anxious Angel' – can you tell us the story behind the song?
I wrote this one in a bad anxiety period. I felt really lonely so I made up this angel friend that I could relate to, and that told me everything would be ok. I have this bookmark angel next to my bed and her wing is ripped, that's exactly how I see my angel friend. She's not only light, she carries so much more. Darkness and weirdness. Tears and smiles. I wanted the song to be that angel friend for anyone who needs it.
PREMIERE: Maja Francis – Anxious Angel (Acoustic)
What would you say is the best setting to listen to this song in?
On a soft velvet cushion with mascara stains on your shirt in a peachy light on a lonely night.
Aside from a glorious cover of 'This Woman's Work', this is the first new music that we've heard from you since 2018 – so what are some of the main inspirations and influences on the music you're creating at the moment?
Awhh, thank u <3 My relationship with music was kind of toxic after releasing my Cry Baby Eps in 2018… so I needed a break. And I didn't know if that break would last forever or just for a while. But I promised myself that I would never stop singing, even if no one would hear it. So, with that in mind I kind of came back to where I started my music journey years ago- just my voice and a piano or guitar. So all songs I've written for my Pink Soft Mess album is inspired from that place.
Are you excited for the festive period? Do you have any special traditions that you can share with us?!
I'm not very traditional but I do love to hang glitter everywhere (!!!!), light a LOT of candles and put on a fake fire place on my computer. Christmas is so double for me! I love the coziness, I love spending time with my family and cuddle with my cat and just exist. But I'm also thinking a lot about people I miss that's not with me anymore, and of people who are not as privileged as me or who struggles with mental health right now, without family or friends around them. This year especially we need to find ways to reach out and check in on each other!
What do you hope 2021 will hold for you? Any New Year's resolutions?!
I have promised to "stop biting my nails" for 20 years now. So I will probably promise that this year again and not keep it. Maybe that's my Christmas tradition? haha!
And finally, we always like to ask – do you have any good new music tips to share with us?
I recommend listening to Swedish babes Nadia Nair, Grant, Jelly Crystal and Kasino!
Photos by Emelie Eriksson