Since joining us to perform at Ja Ja Ja Vienna back in 2018, Denmark's Velvet Volume have been very busy on the recording side of things – releasing a special edition version of their debut album Look Look Look! as well as creating, recording and releasing their second – Ego's Need – earlier this summer.
Although current world events have meant that the trio haven't yet been able to get out on the road to perform tracks from the album in a live setting, Velvet Volume are today offering up the next best thing as they share a sun-tinged garden performance of their track 'Sunny La'.
Enjoy the fading days of summer by tuning in below, and make your way to @jajajanordic on Instagram as Velvet Volume host today's Ja Ja Ja Takeover!
Spotlight Interview: Velvet Volume
Hello Velvet Volume! Can you please introduce yourselves?
Hi! We are Velvet Volume, a three piece rockband from Aarhus, Denmark. We're sisters and have always played music together. Noa sings and plays the guitar, Naomi sings too and plays bass, and Nataja plays the drums. We all live in Copenhagen at the moment, and we spent time playing and writing music together – and just doing what we love
Who (or what!) have been some of your greatest inspirations when making music throughout your career so far?
We've gone through numerous artists who we've got inspiration from. When we started the band it was the classic rock legends like Jimi Hendrix and Lenny Kravitz, but throughout the years it has spread out to various different artists in different genres, which is a change that is also represented on the new songs on the album. We've have gotten a lot of inspiration from for example Nick Cave, Elton John and David Bowie, and so on, where we've been looking deeper into the different sounds an artist can have.
Who are some of the artists / albums that you collectively love and bond over?
George Michael is someone that we'll always love and cherish. We grew up listening to him and his songs are quite often being played in the tour bus 😉 Rolling Stones, of course, is a must in our lives, so we mustn't forget about them.
And what's the best live show you've ever witnessed?
The best live show I (Nataja) ever witnessed was Robyn at Roskilde Festival. The show was beyond my expectations, I loved every single moment from the concert, plus she played 'Love Is Free' which is just a phenomenal song.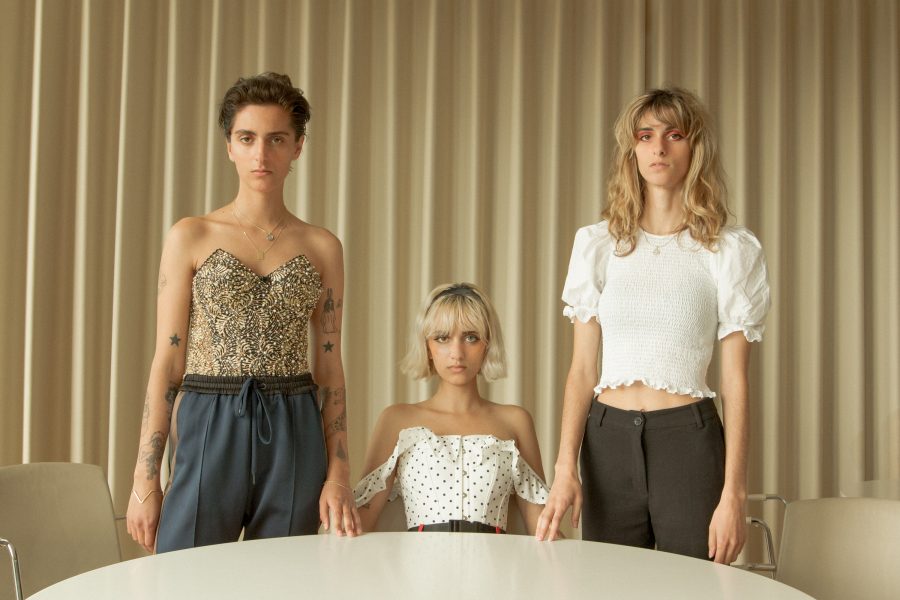 Your latest record Ego's Need landed earlier this summer – can you tell us the story behind the record? What were some of the ideas and themes you wanted to capture on it?
This album is a collection of our individual emotional experiences throughout the last couple of years that we together, as sisters, have tried to portray in the most honest ways. We wanted to embrace the urge to be even more dramatic and romantic when we describe everyday-common-feelings and situations, which we think we really achieved in this one!
And how did you find the process of making the album, compared to making your first one?
Uh very different from our debut album Look Look Look! For the first time, we really had the time, and maturity (relatively speaking) to dig deeper into the creative songwriting process, and be more experimental as individuals and as a band! The first album was really just a collection of songs we wrote in a more energetic and spontaneous fade of our teenage lives! Which was the thing we needed to do back then.
We're catching up with you just as you release 'Sunny La' – where did this song come from, and what would you recommend as the best setting in which to listen to it?
I'll quote myself! "Sunny La, is a tribute to the big show, glamor and all those who dream big about world fame and love in the sunlit Hollywood. The madness that everyone beams under, bursting under the pressure to succeed, and the load of suppressing one's inner demons."
And listen to it when you drive. Alone. At night! Or when you are heading out in the evening and need to get in touch with your inner glamorous, mysterious and secure self!
How have you been keeping busy during these recent, quieter times?
Being creative, and accepting that we can't control outer forces! Or predict shit.
We know it's been quite disrupted lately, but what do you hope the rest of 2020 will hold for you?
Our biggest hope is that we can play live again. We hope that we somehow will be able to present our album to our fans, because we haven't at all been able to play the songs live for our fans yet, and that is just beyond devastating. So fingers crossed that our government will be better at supporting music venues and small live acts like us so we can survive.
And finally, we always like to ask – do you have any good new music tips to share with us?
The EP Praise from The artist Cherry-head is something people should listen to. Lydmor released a single just a few days ago which is a banger! And then HAIMS latest release has been on repeat every day! Such a great album <3