Back with a brand new single, we're very happy to present Danish/Australian duo Palace Winter – aka Carl Coleman and Caspar Hesselager – as the hosts of today's Ja Ja Ja Takeover!
Gearing up to release their third album Keep Dreaming, Buddy in October, the duo's new single 'Won't Be Long' is the second hint of what the new record has in store, following on from their recently released, totally irresistible previous single 'Top of the Hill'.
The duo's genre-blending, boundary-bending sound is just the tonic needed as we approach the final days of summer – so tune in to 'Won't Be Long' below, scroll down to dig in to an exclusive Spotlight Interview, and head to @jajajanordic on Instagram as Carl and Caspar take over our account for the day!
Spotlight Interview: Palace Winter
Hello Palace Winter, thanks so much for joining us! For those that might've missed you when you played at Ja Ja Ja, could you kindly introduce yourselves?
We're an Australian singer-songwriter and a Danish pianist-producer living in Copenhagen, grinding out records full of dream-pop and power ballads. We're set to drop our 3rd album in October.
What was the first album you remember being blown away by?
Whoa. Heavy question. Feel like there are so many of these along one's musical/life journey. Like when I was a kid around 11, I remember being really struck by Pink Floyd's Darkside of the Moon. I mean, it's a pretty wild set of strange sounds and melodies for young ears to hear. Later on, both Caspar and I, living on opposite sides of the planet, simultaneously both found Figure 8 by Elliott Smith which still informs so much of our writing to this day. Like I said, so many life changing records out there, these 2 came to mind today for one reason or another.
And what's the best live show you've ever been to?
Good lord! You're making me feel old now! Making me look back and shit haha. Oh man. Iggy and the Stooges, The Dirty Three, Nick Cave and the Bad Seeds….. there's just too many.
You've got a brand new single out today, called 'Won't Be long' (congrats!) – can you tell us about the story behind the track, and how it came together?
I remember when Hessy (Caspar) sent me the original synth theme I was instantly hooked and just kept looping the chorus in my head. The song's lyrical arc deals with fear personified into the ghost of a woman. The chorus is a simple mantra, but sometimes there's not a whole lot else to do but just sit in the boat and hold the hell on!
The dirty guitars have this sassy TREX/Weezer vibe which adds a little tongue-in-cheek. The looping vocal theme in the intro is just me layered but we wanted it to have this "gospel choir in outta space" kinda sound. So the idea was to use these darker themes but give the overall feel of tune a positive outlook and a sort of celebratory tone.
This is the second song to have been shared from your upcoming album Keep Dreaming, Buddy – what further hints can you share with us as to what to expect?
Lots of colour and big choruses. We had a crack at making big ballads, like something from a Foreigner album, but also explored and built around slower hip-hop style beats. There are horns and guest vocalists and weird drum machines. We really had a lot of fun with his one and also lost a lot of hair making it. We reckon it's our best yet.
And what have been some of your hopes and ambitions while putting this record together?
Well, this is an interesting question. I guess when you get to where we are – our 3rd album – your ambition always, is to create the strongest work you've ever made. But also, constantly evolve and go down another street. One you haven't been down before and open some doors to some gnarly looking nightclub and look around in there and see what you can find haha. Cheesy analogy but you get my drift.
And then of course as for our audience, well you just hope that they get it and dig it as much as you do. Time will tell, eh! After a while at it now, you tend to stop caring about that stuff so much and make the music you want to make. We're privileged enough to be able to do that.
This is your third full album release – what advice have you given to yourselves from previous experiences, to help you reach the finish line?
See above. But WORK HARD AND WRITE GOOD SONGS! Just keep grinding and grinding. It's like anything really. Work your ass off and keep honing your craft. Stay honest. Take risks. And hopefully the rest will fall into place.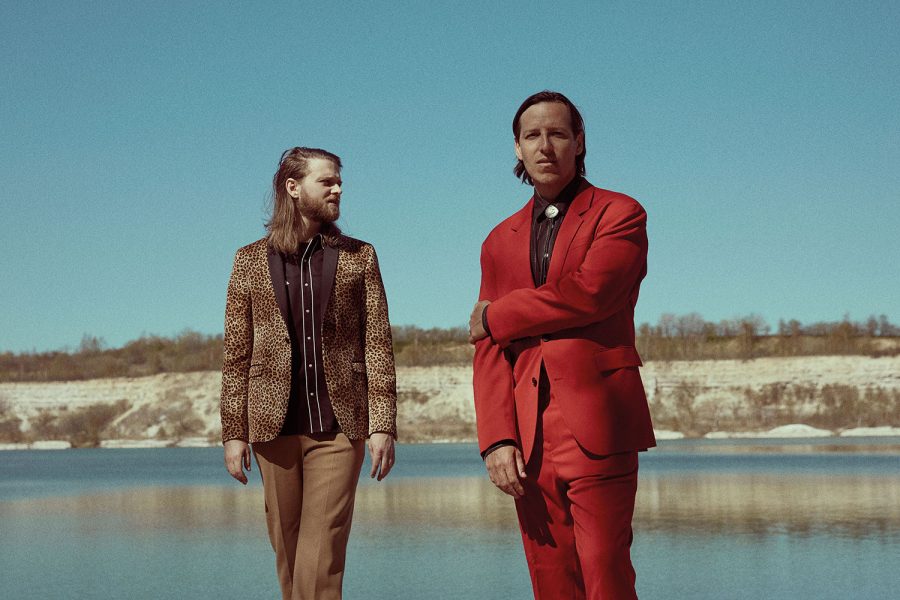 What would you say is your favourite part of the music making process – are you all about the studio, or is it the live performances that get you excited?
I think we're a good yin and yang here. Caspar is in his zen place in the studio. I personally love touring and playing live. We both have a soft spot for all of it I guess. The creative process when dreaming up new songs is so fun and rewarding, but there's nothing quite like the roar of 30 people in a basement in Sheffield is there!? haha
We know it's been quite disrupted lately, but what do you hope the rest of 2020 will hold for you?
Good reviews! haha. Nah but we hope that our beloved music venues can survive this shitstorm!
And last but by no means least, do you have any good new music tips to share with us? Danish wise: School of X, Less Win, diggin Barselona's new single. Rest of world: Andy Shauf, the dad in me has to say Bob Dylan's new one is a masterpiece of course. That latest Sufjan Stevens single blew my brains out. Art Feynman. Caspar loves the new Fiona Apple. Black Lips. My Morning Jacket. Daniel Romano's live album.