We're heading to Stockholm, Sweden for today's Ja Ja Ja Takeover – where we're joined by LOVA – an intoxicating, emerging artist that already has a string of unmissable releases under her belt.
2018's debut EP Scripted Reality was a sophisticated pop triumph, with last year's follow up EP A Gentleman's Guide proving that this rising singer and songwriter has plenty more musical tricks up her sleeve. Now, with more than 20 million streams amassed on Spotify alone, LOVA has released a brand new collaboration with Danish artist Alex Holtti, titled 'Oblivion'.
Read on as we catch up with LOVA to find out more about her 2020 releases, as well as digging into her musical background and what the future holds. And if you'd like to get to know LOVA even better, then head to our Instagram – @jajajanordic – as she takes charge of our account for the day!
Spotlight Interview: LOVA
Hello LOVA! Can you please introduce yourself to Ja Ja Ja's friends and followers?
My name is Lova and I'm a Swedish artist and songwriter based in Stockholm. I released my first single called 'You Me and The Silence' in the beginning of 2018 and right now i'm working on my debut album.  
Who (or what!) have been some of your greatest inspirations when making music throughout your career so far?
What really inspires me is my childhood. The place where I grew up and things I've gone through. But also the music I listened to when I was younger, I never really go through the top 50 songs on Spotify when looking for inspiration, instead I listen to old classics that I loved as a child. Then I take a lot of inspiration from social media and the news. I always try to stay current and inform myself about what is going on in the world and then I express my thoughts and feelings about it in my songs.  
What was the first album you remember being blown away by?
Does Hits for Kids count? Hahah. I was never really into albums when I was younger but an album that really blew my socks off the first time I heard it was Khalid's debut album Teenage Dream.  
And what's the best live show you've ever been to? 
This is so difficult to answer. I've been blessed with a lot of amazing shows in my life but something I never really do is cry at concerts. Only two people have brought me to tears and that was Justin Timberlake in Stockholm 2014 and watching Lauryn Hill for the second time in 2018, celebrating 20 years of The Miseducation of Lauryn Hill which is my favourite album of all time. 
You dropped a brand new track last week alongside Alex Holtti called 'Oblivion' – we'd love to hear more about it! How did the collaboration come about, and what were some of the main ideas going into the song?
It was actually Alex's song from the start. He wrote it together with some friends of mine and then he wanted it as a duet and had come across my music on Spotify. Immediately when I heard the song I knew that I wanted to be a part of it.
I decided to rewrite the lyrics for the second verse so I could put my own spin on it and identify with it more. The song is about a toxic relationship where both are having trouble letting go and are getting hurt in the process. If only there was a place where broken hearts could go. A place to ease the pain and help you forget the past and start over. That's what oblivion is to me.  
What would you say is the perfect setting in which to listen to this track?
Hmm good question. I either see like a rainy day and you're in your car going somewhere. Or you've been out with your friends and are now sitting on some cliffs watching the sunrise, 'cause that's how late you've been out and you don't want the night to end. 
We've had a string of excellent new releases from you so far this year, so what have been some of the themes and ambitions you've had in mind for the music you've been making lately?
Thank you so much. The music I've been releasing this year will be a part of my debut album and the main theme for my album is that I want it to be personal. Not that my music hasn't been personal before. But both of my EPs focused a lot on bigger topics such as social media, norms, insecurities, equality etc – and when it comes to my album I really just wanna give my fans a chance to get to know me on a deeper level. It will also focus a lot on growing up and finding myself as an adult.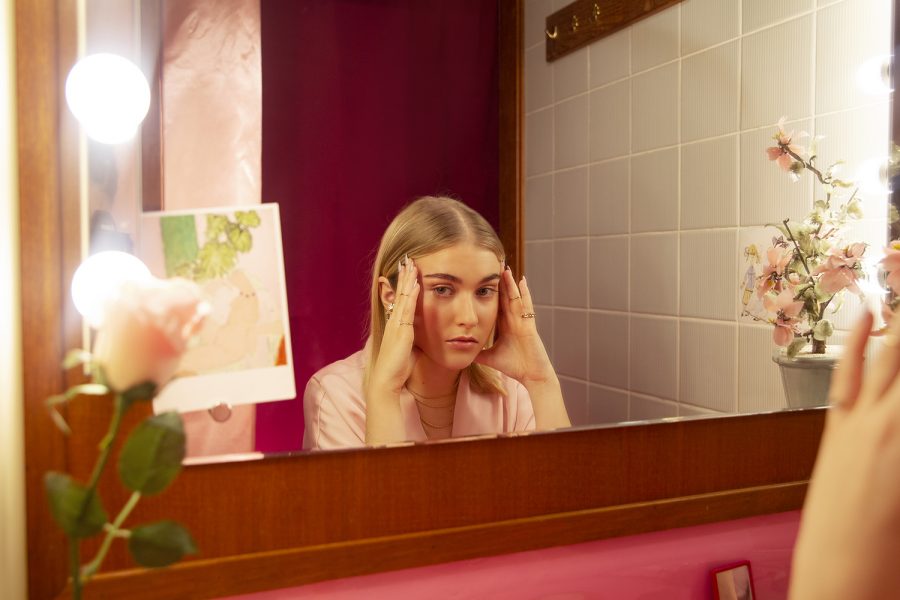 We know that world events have meant everything's been quite disrupted lately, but what do you hope the rest of 2020 will hold for you?
I really hope that I'm done with the album and can release it later this year. It would also be a dream if it's possible for me to the play the songs live and get to meet my fans that I've built a friendship with over this year in quarantine. Then I would love to start to write more for other people and grow as a songwriter as well. 
How have you been keeping busy during these recent, quieter times?
I actually feel like that not that much changed for me. Of course I had to put a lot of opportunities on hold this year but this has also bought me important time to spend on the album and figure out where I want to go from here. But when not working on the album I've been cooking a lot and finding new ways to be creative, like customizing clothes and jewelry.
Finally, we always like to ask – do you have any good new music recommendations to share with us?
Hmm I feel like I always give the same answer to this question but if you want a Swedish recommendation, I would say Boy In Space. Otherwise I love Naaz's new song 'Mute Love' and I've been really into Jack Antonoff's band Bleachers lately 🙂