There's only one thing that's better than your favourite artist releasing a new track, and that's two of your favourite artists collaborating to create a song that can only really be described as 'exquisite'.
Sweden's sir Was and Denmark's Casper Clausen – aka one third of Efterklang – discovered a unique rapport while taking part in an immersive creative experience in Berlin called PEOPLE Festival, which also featured artists such as Bon Iver, Feist and the National's Dessner brothers. Seeking each other out, that rapport has blossomed into a creative partnership that has seen the duo work together across multiple projects, the latest product being the sumptuous brand new single 'Flyder'.
We're so excited to have Joel (sir Was) and Casper host today's Ja Ja Ja Takeover, so read on to find out more about their creative collaboration – and join us on Instagram as they take the reins of our account for the day!
Spotlight Interview: sir Was & Casper Clausen
Hello Joel and Casper! So happy to have you join us as today's Ja Ja Ja Takeover hosts. I'm sure that our friends and followers know you both well, but could you please say a quick hello and introduce yourselves to those who haven't met you yet? 
JOEL: Hi! I'm a musician and producer who makes music under the artist name sir Was and I live in Gothenburg Sweden. I currently have long hair. 
CASPER: Hej I'm Casper, I sing and make music, mainly in a band called Efterklang and several other sprout work. Currently I'm living in and out of Lisbon in Portugal. I just cut my long hair. 
We're very excited that you've paired up for the release of 'Flyder', so we'd love to hear a bit more about the story surrounding your collaboration – how did you both come across each other? 
CASPER: Joel and I met at People Festival in Berlin, 2018. It was kinda love at first sight, Joel and I clicked and during that week of creation at the festival, we became friends, which led to many more hangs and recordings over the past couple of years.
Joel joined the Efterklang recordings of our most recent album Altid Sammen last year and we also wrote the Efterklang song 'Lyset' together in Joel's studio in Gothenburg. 'Flyder' (floating) started as a small sketch when Joel joined the Efterklang recordings, in fact it was part of the raw material for Altid Sammen. Joel put the beat and some other ideas down, and that suddenly turned 'Flyder' into a song. After a bit of ping pong between Gothenburg and Lisbon over the past year, and Corona closing everything down, we decided to finish and release it. 
You mention working together previously on Efterklang's Altid Sammen – so what was it about 'Flyder' that made you want to release it together, rather than making it purely a sir Was or Efterklang track? 
JOEL: It just became something else than an Efterklang or sir Was track. It really felt like a collab and it made sense to let it be just that. A floating meeting point if you will. 
CASPER: Totally, the feel, the making and the sound of 'Flyder' made sense to release together the 2 of us.
Joel, what are some of Casper's music-making traits that you appreciate the most? 
JOEL: Casper has a very direct and intuitive way of just diving into the music. That I really love. His voice and presence just make me feel inspired and I immediately feel like playing a chord or hitting a drum. 
And Casper, same question! What are some of Joel's music-making traits that you appreciate the most? 
CASPER: I love writing music with Joel, his ability to frame a moment and his ear for melody, texture and groove is incredible and such a rare treat to be around. We have a lot of fun making music together and we share a sort of similar speed / impatience, which is something I really enjoy in the studio.
What would you suggest is the perfect setting in which to listen to 'Flyder'? 
JOEL: I would say at a very loud volume in a car. If budget allows may I humbly suggest an open cab with high end sound system. I myself would love to try this. One day maybe… 
And as it's such a gorgeous song, can we hope for further collaborations from you both in future?! 
JOEL: Everything is possible! 
CASPER: Crossed fingers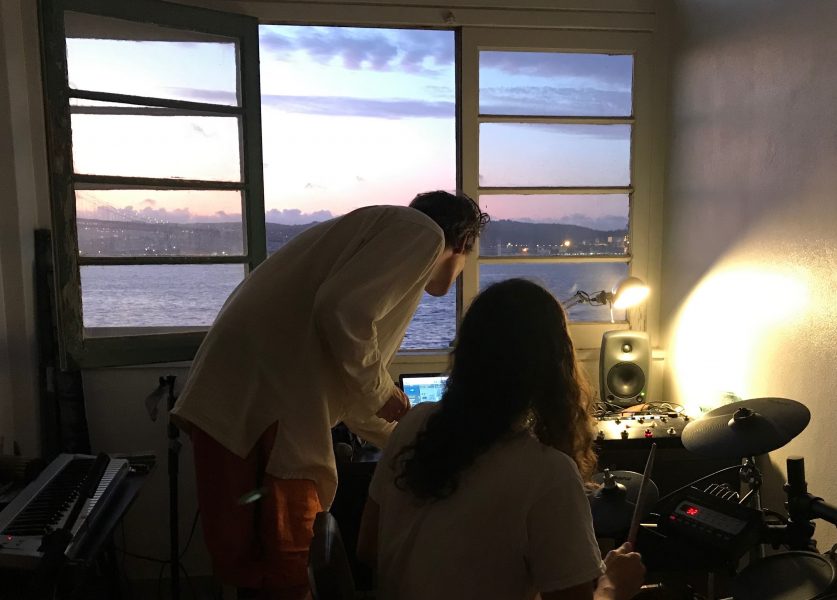 We know it's been quite disrupted lately, but what do you both hope the rest of 2020 will hold for you? 
JOEL: Health, prosperity, happiness and hopefully some live shows. 
CASPER: It's been a wild year already, so true, and despite all the people losing their jobs and lives to Covid, it's been incredibly hopeful to experience this globally shared moment. I hope it can change the world to become greener and less hateful. I hope to be greener and less hateful. 
How have you been keeping busy during these recent, quieter times? 
JOEL: I've spent most time in the studio experimenting with new ideas and occasionally searching for new old instruments online. 
CASPER: Me too, I've been in my studio a lot as well, mainly writing new songs for Efterklang. We were touring and had plans for the entire summer – they obviously vanished, so we decided to make new sketches and share them in a Dropbox instead. It's been very productive. And I also look for instruments on the internet, mainly on Youtube, so many gear videos, that is another thing Joel and I have in common. 
And finally, we always like to ask – do you have any good new music tips to share with us?
JOEL: Sven Wunder
CASPER: I recommend you listening to Clarissa Connelly.