Hailing from Espoo in Finland, and with a whole host of irresistible tracks to her name already, we're very excited to introduce Olivera as today's Ja Ja Ja Takeover host!
Starting out by glistening under the radar back in 2015 with her debut EP release Flow, the past few years have seen multiple, unmissable releases from this rising artist. Her excellent EP Life is a Blooper Reel landed last year, and the prolific creator has already released two new singles in 2020 so far. We caught up with Olivera for an exclusive Spotlight Interview to find out more about her music making methods, and the inspiration behind her latest tracks.
So what are you waiting for?! Scroll down to meet this Finnish pop sensation, and head to our Instagram – @jajajanordic – to see what happens as Olivera (and maybe also her pet bunnies?!) take control of our account for the day!
Spotlight Interview: Olivera
Hello Olivera, thanks for joining us at Ja Ja Ja! Can you please introduce yourself to our friends and followers?
Thanks for having me! I'm Olivera, 26-year-old singer and songwriter from Espoo, Finland. I have two bunnies who live in my garden.
Who (or what!) have been some of your greatest creative inspirations so far?
My husband, Lenno, who's also my producer. He's a musical genius and we always have so much fun when we work together! People around me inspire me very much. I steal cool lines from strangers all the time. I like to keep my ears and eyes open.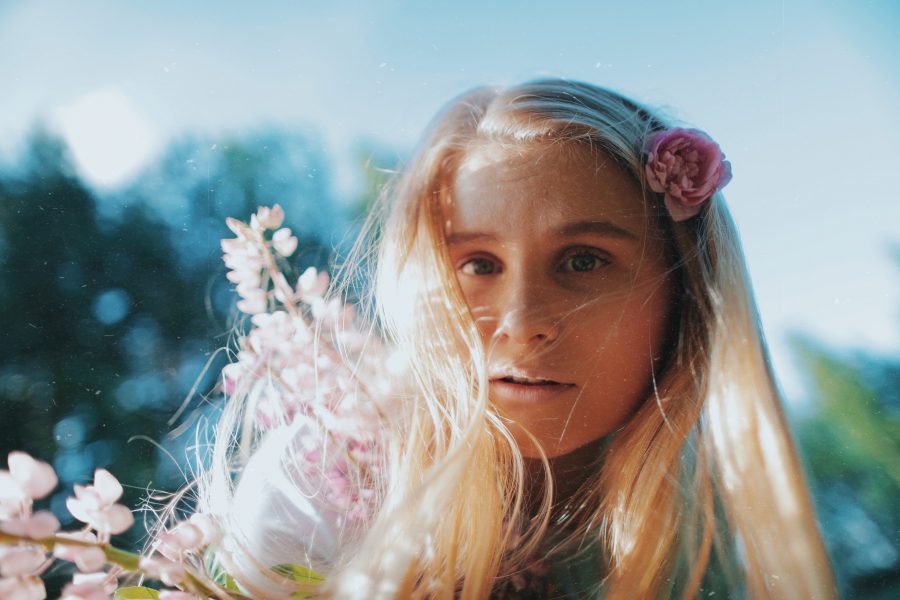 What was the first album you remember being blown away by?
Back To Basics by Christina Aguilera. 
And what's the best live show you've ever been to? 
Lorde's show in Stockholm in 2018 was very impressive! I like her aesthetics a lot. She had super cool huge neon signs on the stage. I had a small Olivera neon sign myself but I just broke it in a photoshoot a couple weeks ago. Neon is super fragile and expensive – that's why it's not so much seen on the stage.
Your latest single 'Tomorrows' landed a few weeks ago, so we'd love to hear more about the track – what did you have in mind when you were making the song, and was it an easy track to get on record in the studio?
I had never had a song that has only one line in the chorus. I like those kind of songs. Axel Ehnström came up with the "bad days have tomorrows" idea, and we started to build the song around that line. 
This is the second track we've heard from you this year, so what have been some of the things and themes that have been inspiring you when making these latest tracks?
I see that 'Hope' and 'Tomorrows' basically tell the same story in different angles: life is hard, sometimes things go to shit. Where 'Hope' is basically a song about disappointment and losing all hope, 'Tomorrows' has a much more optimistic message. 'Hope' was released around the time when the Corona pandemic started to escalate.
And what's your favourite part of the music making process? Are you all about the studio, or is it the live performances that get you excited?
I'm in my comfort zone when I'm in my living room playing my piano and humming. That's where I've spent my spring and summer so far. My favourite moment is that magical point when a new song idea just grabs me, and for a second it's brand new and I can just let it be. After that comes the work part which is usually pretty far away from magic and art.
About performing: I've only done a few gigs so all that is still pretty new to me. Performing is what makes this job feel the most concrete. I love the lights, the sweat, the atmosphere when I'm on stage playing with my good friends who I've known since we were children. 
We know it's been quite disrupted lately, but what do you hope the rest of 2020 will hold for you?
Hmm… I'm planning to release more music later this year. I have a few gigs booked here in Finland so hopefully more time on stage as well. In general, I can't wait for fall! I've always loved fall. That's when all the new things start and the nature is so beautiful. 
How have you been keeping busy during these recent, quieter times?
I've been playing with my bunnies Niisku and Tuuheli and writing new music. 
And finally, we always like to ask – do you have any good new music tips to share with us?
Finnish singer and songwriter Ringa Manner is maybe best known for the band Ruusut, but she also makes her own music under the name The Hearing. It's beautiful, intense and haunting kinda-dance-but-not-really music. There's also a Finnish artist called olli, whose song 'To The Moon' is a masterpiece.