The past few years have seen Tomine Harket developing a reputation as the Norwegian queen of smash-hit collabs, working alongside the likes of Alan Walker and Unge Ferrari to release tracks that have marked our summers and our winters, and introduced her as a phenomenal new vocal talent to keep a close eye on. Having just released her debut EP I'm Not Crying, You Are into the world, we're so excited to welcome Tomine as today's Ja Ja Ja Takeover host!
Tomine took the time to tell us some tales about the making of the EP, as well as to share influences from her musical upbringing, and some adorable photos of her beloved dog, Miley.
Dig in to the interview below – and make sure to follow us on Instagram if you haven't already, as Tomine (and maybe Miley!) takes charge of our account for the day!
Spotlight Interview: Tomine Harket
Hello Tomine, thanks so much for joining us! Could you please introduce yourself?
I'm Tomine Harket from Norway. A singer/songwriter who's a little bit obsessed with star signs aka astrology. I live with my dog Miley (yes, she's named after Miley Cyrus) and I just released and EP. I live In Norway, but my mom lives In L.A, so that's my second home. Hmm what more can I say about me? I'm loud, emotional, direct and obviously I would think this about myself, but I feel like people would agree with me when I say i'm pretty fucking funny. Let's just say, I have my moments… Can you tell i'm a fire sign yet…? 
Can you give us an insight into some of your greatest inspirations around your music?
Hmm.. Im inspired by a lot of artists who don't necessarily have the same sound as me, I just find something about it that inspires me. Like Kehlani or Tame Impala. I know, a pretty far stretch between those two. But yea, I can find inspiration everywhere really 
What was the first album you remember being blown away by?
Baby One More Time by Britney. Whooo I remember All I wanted then was to grow up to be just like her.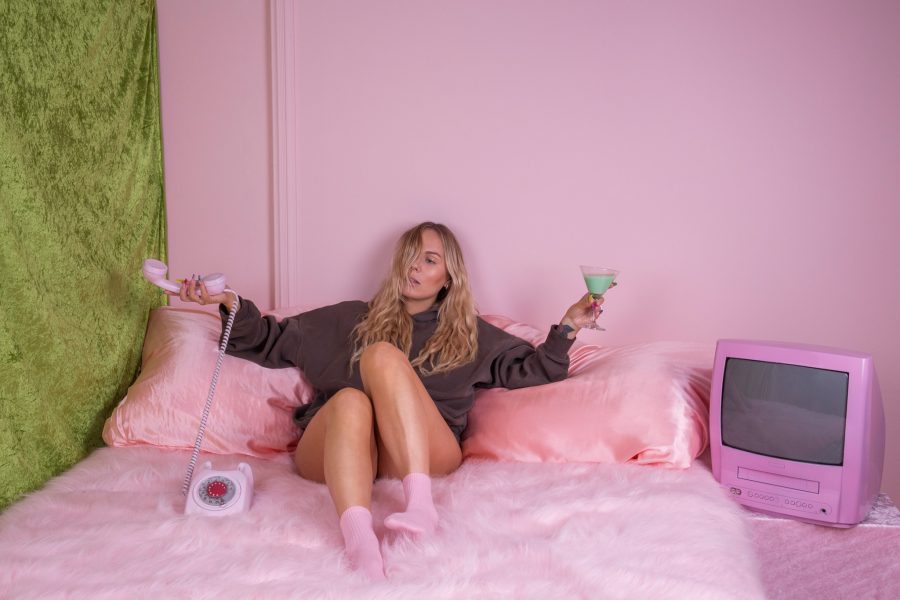 What would you say is the best live show you've ever been to? 
I've seen Rihanna so many times, and she always blows my mind. And I love how you can see and hear how she just gets better and better every year. 
We're catching up with you as you release your brand new single 'Dead To Me'! Can you tell us the story behind the song? 
I was put in a session with Couros and Boots. I had never met them before, but we got along right away and the song also just appeared really fast. I think Boots started singing in gibberish and sang The "dead to me" part and I was like "THIS IS AMAZING!!". I was kinda surprised by how fast we came up with the idea. And I had just gone through a break up, so we turned it into being about that. I just love the line "you're dead to me" cause that's really how it feels sometimes. 
And the track is from your debut EP which has also just landed, I'm Not Crying, You Are – what was the process of making the EP like? And if you have to pick one, which would be your favourite song on there?
Late summer last year, I went to so many sessions with different people, in Berlin, London and Bergen. The EP is a collection of songs from those trips. I love the fact that I made this with so many different people, and I love making tracks with people I've never met before. You kinda have to hurry up and get to know each other and then just get to work. 'Cause usually you don't have a lot of time in sessions like these. Luckily I always spill my guts to everyone whether they like it or not, so yea, it's not that hard for me. Plus, I kinda want the people I'm writing with to know what I'm about so they can help me write if I'm stuck.
Ah it's hard to pick a favourite, but if I have to I wanna say 'About You' because it's so real and honest. I didn't wanna listen to it at first because it always made me cry. But now i'm 100% in love with it, and I've accepted the fact that something that personal to me is out there. 
Which is your favourite part of the music making process? Is it creating the idea, or the moment you get to dance to the finished song on stage? 
Creating it from the start. Just seeing how it develops from a simple beat to a whole song. It's my favourite part for sure. I also love when we have the finished product, but I'm such a perfectionist when it comes to my music – to the point where it's annoying as hell… But when it's done, and I'm able to let go, it's the best feeling ever. 
What would you say is the perfect setting in which to listen to your new EP?
In a car looking out the window, especially if you're listening to 'About You'. But also in the sun, playing it loud while drinking a cold beer with some friends. OR in your underwear at home dancing around and feeling yourself… should I go on… ? 
How have you been keeping busy during these recent, quieter times? 
I've painted on clothes, learned some Tik Tok dances and spent a lot of time with my dog Miley. She's so amazing, I would've lost my mind real quick during this if I didn't have her. 
And finally – do you have any hot new music tips to offer us?!
Kiana Ledè, she released an album in April! Her voice, attitude, beats… Ah I love it…