We're so excited to introduce today's Ja Ja Ja Takeover host: Finnish singer and musician Tomi Saario! And today's the perfect day for Tomi to take over Ja Ja Ja, as he releases a much anticipated remix of his excellent latest single 'Don't hurt yourself' into the world, expertly reworked by Dutch superstar DJ Deepend.
We caught up with Tomi for an interview to get to know this exciting artist better, and to delve deep into his songwriting process. Read on to find out more – and make sure to follow @jajajanordic on Instagram, as Tomi's taking charge of our account all day today!
Spotlight Interview: Tomi Saario
Hello Tomi, how are you doing? Thanks for joining us today – can you introduce yourself to Ja Ja Ja's friends and followers?
It's my pleasure so thank you for having me! My name is Tomi Saario and I'm a singer-songwriter/guitarist/artist from Finland. I lived in London for the past 4 years of my life but after signing a record deal with Sony Music Germany (Four Music) last year I have relocated back to Finland for the time being.
Throughout your music-making career so far, what would you list as your greatest inspirations?
I'd say the greatest inspiration to me has been, and will always be, my own life and the experiences within it. As I've grown as a person I've learnt to make music and be creative with much more honesty. That progression inspires me every day. I feel like people really crave something to relate to and you can only really do that if you open up. I have also been able to surround myself with incredible songwriters, friends and family who inspire me greatly.
What was the first album you remember being blown away by?
The first record I ever got was the Greatest Hits by the Beatles and the songwriting on it baffles me to this day. I was also blown away by Stevie Ray Vaughan and BB King the day I discovered blues. I had never heard anything like it. Of course I also have to mention Continuum by John Mayer… what an album.
Can you tell us about the best live show you've ever been to?
There's two. John Mayer at Jones Beach is one. That whole day was pure magic. I spent the day with my family on the beach and when the evening came we moved over to the Nikon amphitheatre that is also by the water to see him play. There was a thunderstorm brewing over the ocean on the horizon but over the stage we had just the starry sky. Truly incredible. Second one is Anderson .Paak at the O2 Forum in London. The energy in that room was so electrifying that I've never really experienced anything like it before. One of the best performers out there for sure.
There's a brand new Deepend remix of your track 'Don't hurt yourself' out today! How did the remix come about, and what do you feel it adds to the track?
Yes there is! Honestly my label just called me to say that Deepend would be interested in remixing the track. I was familiar with his work because one of my dearest friends, Axel Ehnström, who I also co-write with the most, had co-written Deepend's last hit. After I heard what he did with 'Don't hurt yourself' it was a no brainer to put it out with him! It just brings out a whole different vibe in the song and it feels a lot like summer. He's super talented.
And how about the original song? What's the story behind it, and how did the track come together in the studio?
I wrote the track with Axel Ehnström and Fanny Hultman in Stockholm. It was a really easy session and we were done with the song quite quickly which doesn't always happen. It's not really inspired by anything specific though. It's more of a sum of experiences from all the writers. Just like anybody else, we've all gone through times of love and lack thereof. This time we wrote about something in the middle. I produced the track in Helsinki together with my friend Gustav Nyström who's an incredibly talented producer from Sweden.
What's your favourite part of the music making process – are you all about the song writing, or is it getting on stage and performing (when we're able to!) that gets you excited?
I think you hit the nail on the head with those two options because they are both my absolute favourites. I love writing songs and I feel like if I didn't get to go out and perform them they would lose a little bit of their purpose. Songs are made to be played and heard, so writing and performing kind of go hand in hand to me.
We know it hasn't quite gone as planned so far, but what do you hope the rest of 2020 will hold for you?
Yes, it's been an incredibly odd, shocking, saddening and yet influential year so far. I feel like there is a real change brewing in the midst of all the tragedy though and that makes me hopeful. I hope we all get to connect through music face to face once again soon. I really miss playing live. I've written so much new music and I can't wait for everyone to hear it!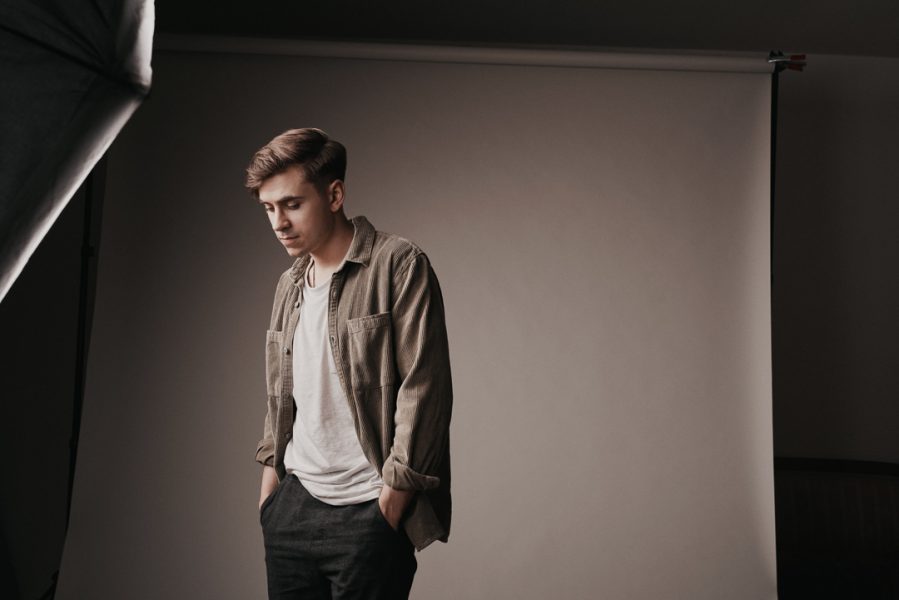 How have you been keeping busy during these recent, quieter times?
I've actually been really busy with writing new music and also working on the visuals for 'Don't hurt yourself' took a lot of effort and time. I filmed the music video and the cover in my flat while my photographer Max Motel was directing me from Germany. We used a couple of iPhones, Skype and some empty toilet paper rolls to do it. I'm very proud of what we managed to put together!
I've also been working out and trying to enjoy Finnish nature whenever I can.
And one final questions – can you share any songwriting wisdom with us?
Yes of course! Whenever writing a song is making you feel a little bit naked, vulnerable and uncomfortable you're probably on to something good. So keep going.