We at Ja Ja Ja have been big fans of Josephin Bovién for a long while – and were so excited when she agreed to come and perform at our Ja Ja Ja Berlin club night in March. Unfortunately, the show had to be cancelled as the pandemic began to take hold of the world, but as soon as we're able to, we'll be inviting Josephin back to grace our stage. In the meantime, we're delighted that she's joining us to host today's Ja Ja Ja Takeover!
The majesty of Josephin's music lies in her candid lyrics and playful rhythms, which she combines with melodies and layering as intricate as lace. Josephin's perfecting the art of crafting intelligent and touching R'n'B, and her brand new single 'Cherry Boy' is a perfect example of that.
We caught up with Josephin for an interview in which she opens up about her creative process, her greatest influences and the story behind her sumptuous latest single. So read on to find out more, and join us at instagram.com/jajajanordic as Josephin takes over our account today!
Spotlight Interview: Josephin Bovién
Thanks so much for joining us Josephin! To get things started, could you please introduce yourself to Ja Ja Ja's friends and followers?
Yes, hello! I'm Josephin Bovién, independent upcoming artist based in Aarhus, Denmark. Half Ghanaian, a quarter English and a quarter Danish. Other than working at a cafe, I try to create, challenge and expand the genre R&B. Young woman, just turned 20.
What do you feel some of your greatest inspirations have been in your music making?
Hmm, I actually started listening to R&B when I was introduced to J.Cole. I was 15 and had always enjoyed singing and listening to music, but the deeper interest in creating started when I listened to 2014 Forest Hills Drive. I was amazed by his beautiful and playful way of storytelling. I think that's when my writing went from imagining to reflecting.
I listened to a lot of rap. Ivan Ave, 2Pac, 50 cent, Snoop Dogg, Rejjie Snow, Kendrick Lamar, Joey Badass and so on. Then I discovered Prince, D'Angelo IAMDDB, Solange, LION BABE, Tirzah, Lava La Rue and more neo-soul, funk and jazz elements were introduced. The list of inspirations is very long and all depending on whether it's on behalf of my writing or producing. For producers, Jitwam, Uffe, Max Graef, Sam Wilkes and Henry Wu really caught my attention.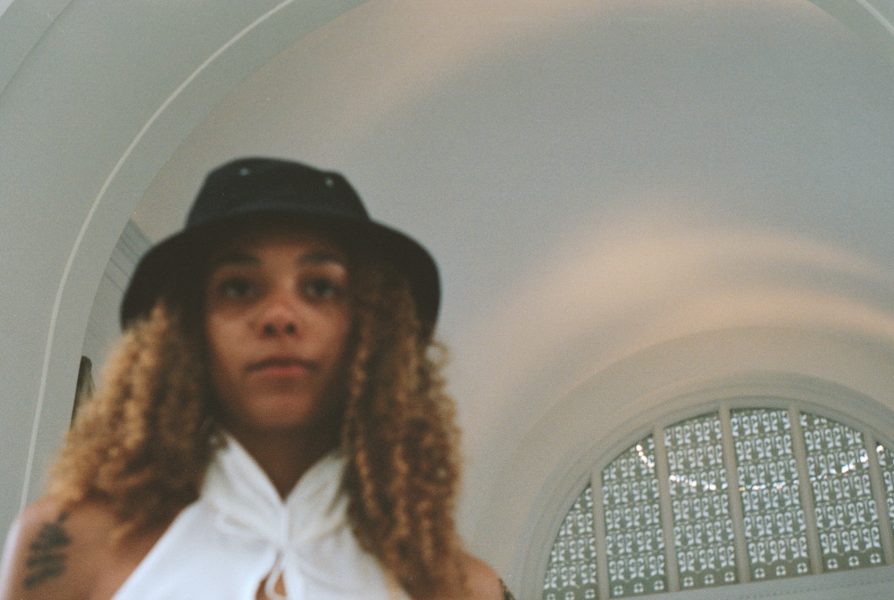 What was the first album you remember being blown away by?
If you're thinking that first "Ooh ok, this just became a drug", then I would have to say channel ORANGE by Frank Ocean. I was really digging the whole raw atmosphere, and how effortlessly but still perfectly put together the melodies Frank did on that were. But if it's that "Holy shit this is nasty good" – Dr. Dre 2001.
What's the best live show you've ever been to?
You know what. The best shows are always random artists I haven't heard before, just blowing me away. When I saw Athletic Progression for the first time, my jaw dropped haha. A whole different high. I love that. But the most beautiful live show where I've felt most emotionally attached is hands down Solange at Roskilde Festival, 2017.
You've just released a brand new single, 'Cherry Boy' – what's the story behind the song? Was it an easy track to capture on record?
'Cherry Boy' is a tribute to my childhood memories with my little brother and the emotions that follow. I think of the track as a playground really. Taking chances and having fun. My brother and I used to climb our cherry trees in our yard a lot. Berries were often sour but just sweet enough for us to stay up there.
None of my tracks are easy or fast to record. My ideas are fast once I crack the code. But finishing a track is a long term devil haha.
What would you say is the perfect setting in which to listen to the track?
I actually really like the idea of different people in different settings listening to the same track. Creating their own associations and connecting differently depending on how they're feeling in that moment. Maybe they feel different while listening? Maybe the track reinforces a feeling? But hopefully, a comfortable setting for all.
What's your favourite part of the music making process – are you all about the song creation, or is it the live side of things that gets you excited?
I mean, there's a lot more organising and practicing when it comes to creating the live performances. Sometimes my head drowns a little in all the planning and not actually performing or meeting your audience. But I love my band, man. There's is so much support and genuine interest in each others qualities and creating a vibe together. I am always proud after a show, even if we fuck up. Also the response from your audience is something on a whole different level haha.
But I am definitely still more of a creator than a performer – at the end of creating a sketch of a new track, and you're in the core of the vibe. The only moment the music is held within the circle of you. And you know you're about to create a beautiful piece. That's a precious feeling. And I've really found the importance in marking and appreciating that moment.
We know it's been quite disrupted lately, but what do you hope the rest of 2020 will hold for you?
We had a lot of really nice gigs lined up, including you guys! But now I just have more time for finishing the music i'm working on. And that has actually done me good to just focus on the creative part.
How have you been keeping busy during these recent, quieter times?
Everything has been kind of a blur. But like a hurried one. Denmark's government chose to lock down our country pretty fast, so different obstacles occurred which have been keeping me quite busy. But I also have a lot of music to work on. So yeah. Been busy.
And last but not least – any good music tips to share with us?
Okay so artists from Denmark to most definitely keep an eye on: JeremyTroy, AGGi DiX, Athletic Progression, Julie Pavon and Yellow Spoon! Check out HansSOLO, Ydegirl.