We've got a real treat lined up in today's Ja Ja Ja Takeover, as we have one of Sweden's most exciting emerging artists joining us as the host! Meet JÁNA, an overwhelmingly talented songwriter and musician based in Stockholm, who's gearing up to share her debut collection of works later this week in the shape of an EP called Flowerworks.
Gliding seamlessly between alternative pop and R'n'B, Flowerworks is completely irresistible and as the EP was created in collaboration with Swedish pioneers Little Dragon, we can guarantee that you've found your perfect soundtrack for the imminent hazy summer evenings.
JÁNA kindly joined us for a Spotlight interview, so read on to get to know this unmissable artist better – and join us on Instagram today at @jajajanordic, as JÁNA takes the reins of our account for the day!
Spotlight Interview: JÁNA
Hello JÁNA! To get things started, could you please introduce yourself to Ja Ja Ja's friends and followers?
Thank you for having me! My name is JÁNA, I'm a writer and singer from Sweden. Currently based in Stockholm, I grew up in a city just outside of Stockholm called Uppsala where I started to play the guitar at the age of nine. I later moved to Stockholm, London and Örnsköldsvik (up north in Sweden) to continue my music studies. I'm releasing my debut EP Flowerworks this Friday, 3rd of July.
Who (or what!) have been some of your greatest inspirations when making music throughout your career so far?
Being introduced to Erykah Badu, D'Angelo and Frank Ocean in my early teenage years changed my view of music in terms of melody and lyrical writing. The music felt so natural yet complicated. 
What was the first album you remember being blown away by?
That would be Channel Orange by Frank Ocean. It still is mind blowing.
And what's the best live show you've ever been to? 
I saw Kwabs in Bristol 2014, it was a really intimate gig and I had come such a long way with really high expectations and they were all met. That was a good one. I actually prefer smaller, more intimate gigs. 
We're so excited that you're joining us as you're preparing to release your debut EP! Can you tell us the story of making Flowerworks? How did it all come together, and what were some of your hopes when making it?
Thanks, me too! It was a lot of me going back and forth to Gothenburg to write with Yukimi Nagano and Erik Bodin from Little Dragon, which was super fun! Also a lot of alone time in my home built studio in my parents garage. That's where I made most of the demos for Flowerworks. 
We know it's probably impossible to pick, but is there one song that means more to you than the others?
I think that'd be 'Carpark', which is the last song I made for the EP. It had so many different forms of "clothing" before turning out the way it is now. The melodies were always the same, it was just a long process to find the right surroundings for it. It's interesting how a song can lose and gain its magic in different forms. In terms of lyrics and singing quality I feel like how I felt in the moment really shines through. 
And what's your favourite part of the music making process? Are you all about the studio, or is it the live performances that get you excited?
I love the writing part especially; when you have an idea of what the song is about to become and when you hear and see things connected to this one song. Although, my favourite part is when it's coming together and I can picture how I would make it differently live. I love performing live – that's how I started, me and the guitar. 
We know it's been quite disrupted lately, but what do you hope the rest of 2020 will hold for you?
I hope to be able to perform this EP and more soon!! Other than that I hope to continue to write with people I like.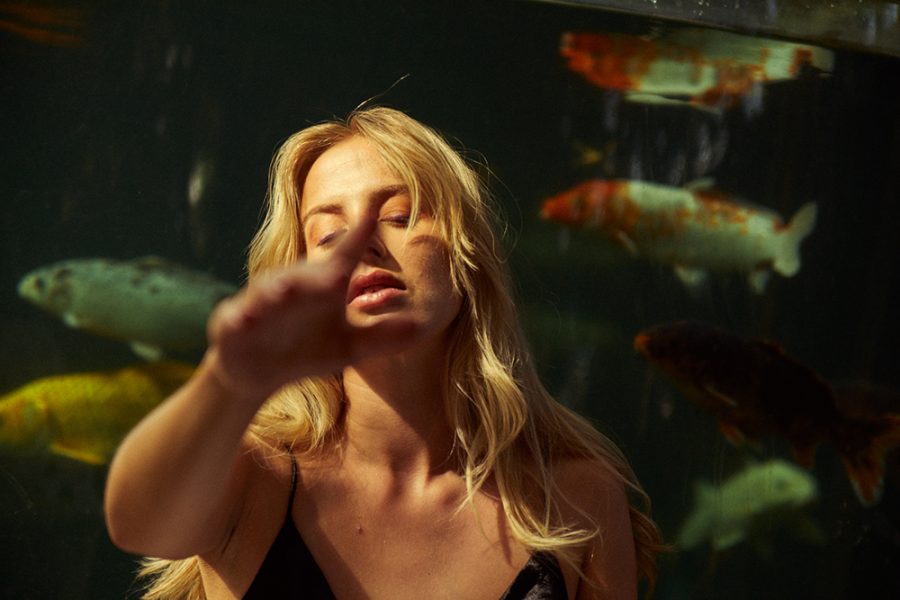 How have you been keeping busy during these recent, quieter times?
Just writing. It's pretty much the same in that way, which is nice. I have the privilege to forget about all the horrible things happening outside the studio for a while. 
And finally, we always like to ask – do you have any good new music tips to share with us?
I'm in love with the voice and song of Swedish Damien Martial. Go listen to his song called 'Who?'. Also, if you haven't checked out Little Dragon's new album you should def do that.