It all started with a single release back in 2015, and now here we are, 5 years later, with a finished, polished debut album from Helsinki's feelwithcaps shimmering through our speakers!
Weaving its way through various different themes while exploring a number of different sonic identities, the album has arrived in two parts – so we caught up with the band to find out more about its creation, how the future's looking, and to delve into each of their music-making backgrounds.
Read on to find out more, and make sure to join us on Instagram at @jajajanordic as feelwithcaps take the reins of our account today!
Spotlight Interview: feelswithcaps
Thanks so much for joining us! Can you please introducing yourselves to Ja Ja Ja's friends and followers?
We are feelswithcaps, an alternative pop band from Helsinki, Finland. There's three of us: Aleksi Kinnunen – drummer and producer, Mikael Myrskog – keyboardist, and Sofi Meronen – singer and songwriter.
What have been some of your greatest inspirations when making music throughout your career so far?
Mikael: Herbie Hancock, Weather Report, The Beatles, Michael Jackson, Beach Boys, Antonio Carlos Jobim, John Williams, Sci-fi anime.
Aleksi: I listen to a lot of different kinds of music, from mainstream pop to avantgarde jazz and so on. I'm trying to find something new and interesting almost every day. I've been into jazz and electronic music for a long time and I think that the combination of those genres is something that really inspires me. I'm in love with powerful synthetic sounds but at the same time it's really important for me to have something organic and human.
Sofi: The ocean has been an important inspiration for me for as long as I can remember. And as I've grown older, the cities I've lived in and the people that have touched me. I believe my music taste started developing when I found an Incubus CD (Morning View) in my sister's room when I was thirteen, that started a long emo phase. Something about that melancholy and those strong choruses has stuck with me for sure!
At the moment, I believe we're all quite into Four Tet's new album, and that's probably the album I've rinsed the most this year. We were all impressed by James Blake's show at Flow Festival last year as well, same as Robyn – I saw her live twice last year and adore her latest album, Honey.
What was the first album you remember being blown away by?
Mikael: The Beach Boys – Greatest hits.
Aleksi: If we're speaking about albums as a whole, I think it was The Offspring's Americana. It was the first CD I ever owned and I was so fascinated about everything about it from cover art to the energy of the music and lyrics and so on.
Sofi: Hanson – Middle of Nowhere. Same as Aleksi, it was the first album I owned. I even had two versions of it since they had different cover art… I loved those catchy songs and sang along with nonsense-English!
And what's the best live show you've ever been to?
Mikael: Stevie Wonder in Helsinki in 2015 maybe.
Aleksi: This is hard because there are so many. As a teenager Slipknot and Metallica blew my mind. Seeing the Finnish jazz drummer Teppo Mäkynen with Five Corners Quintet had a huge impact on me and my career. Last summer Robyn and her show was amazing. Her skills, experience, charisma and how she acts on stage when she's not singing and everything! Outstanding!
Sofi: Björk at Flow Festival around five (or more) years ago was amazing. She had some sort of a Tesla hovering up above the stage, and a 30-piece choir… But the most impressive thing for me was how she played to a massive audience and everyone was so focused and quiet, she hoped no one would use their phones but instead focus fully on the concert. I don't think many artists can grab the attention of the whole audience in that way. When one song ended it was so quiet that you could hear clearly when she whispered in her mic: ''thank you''. That was touching.
We're catching up with you as you release your debut album Absence! The record has been revealed in 2 parts – can you tell us a bit about the story behind putting the album together?
Sofi: Lyric-wise, these songs are a bit like the diaries of my recent years put into one album. It's a lot about growing up, painfully learning about love. And the name Absence to me is this void you have inside that you're trying to fill with something, anything, trying out different things.
Musically – we started really honing our sound once I came back from London in 2018. I think things have come together real nicely and we've found a bolder sound for us as a band. It's so much fun working together <3 To start things off, we spent a handful of days at my family's cabin by the sea where we started working on the songs. On 'Drains', for example, you can hear someone closing the door of the cabin as part of the beat.
You come from quite different musical backgrounds, so how do you create the feelswithcaps sound?
Mikael: Sofi usually comes to sessions with singer/songwriter versions of the songs, and lets me and Aleksi try fun stuff on top of it.
Aleksi: I think the differences in our musical backgrounds as one of our biggest strengths. Mikael brings in a hint of jazzy harmonic content and those spaced out synth hooks and sounds. I love clubbing and I also have that strong background in electronic music, beats and sound design, so that's something I try to combine to this. And then there's Sofi who is the mastermind behind the actual compositions, lyrics and stories. Usually everything starts from her and then me and Mikael try to bring our hearts and souls to it. I think we have found quite specific divisions in our work which suits for us very well! We are working as a unit where every member is giving something important to the big picture.
And what were the themes you had in mind, and your ambitions when writing the record?
Sofi: as I mentioned before, I think lyric-wise it's the events and people that have had the biggest affect on me during the past few years. And as an undercurrent underneath it all is this search for something to fill the absence, which I guess many people who are growing up can recognise? And I think as a band our ambition was just to clarify our sound. Other than that, I don't think we thought about any themes or direction when we worked on the music, we just did what felt good. And there's a lot of Juno synth on the songs because it's set up ready at the studio so it was easy for Mikael, haha. At the end we had these songs that felt natural to release in two entities, part one and part two!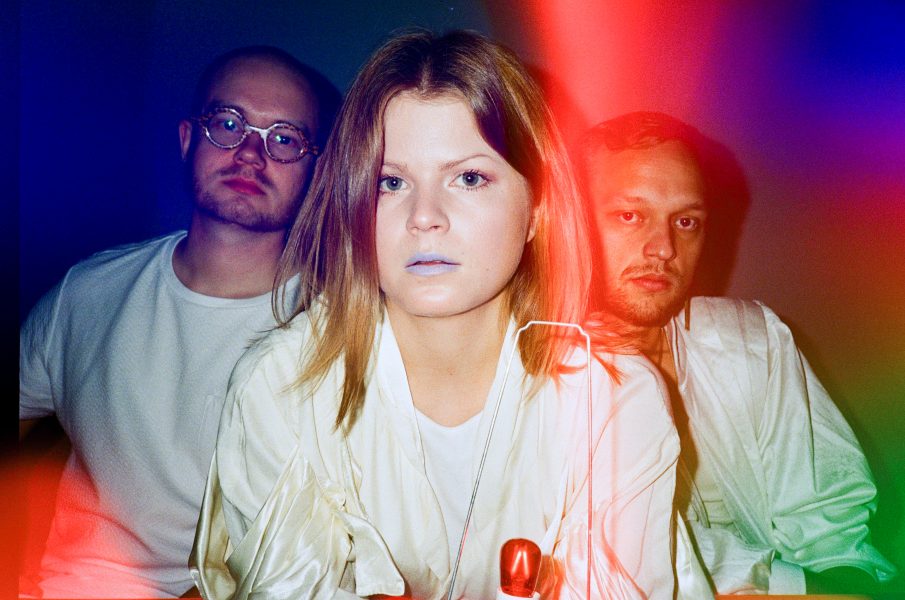 We know it's been quite disrupted lately, but what do you hope the rest of 2020 will hold for you?
Mikael: Playing gigs, getting a huge pile of money and a record deal with the new album and buying a minimalistic/futuristic small house on the shore somewhere in Japan.
Sofi: Same as Mikael, but I'm planning for a tiny house here in Finland by the sea… We're already working on new music, and we have a couple of other ideas as well, such as a new version of an old song of ours. I would like to write good music, help save the oceans and spend lots of time with the people I love!
Aleksi: Hopefully Absence will do well and opens up some new opportunities for us. We're really looking forward to get to perform our new songs live as soon as possible. But unfortunately it's not in our own hands at the moment, so in the meanwhile I hope everyone will enjoy our new album!
How have you been keeping busy during these recent, quieter times? Your Quarantine Series sounds like it's been keeping you occupied!
Mikael: I had a baby so that keeps one busy!
Aleksi: Quarantine Series has been a great project because now we have acoustic live arrangements for some of our album songs. We're going to keep working on that because it would be nice to have a full-length acoustic live set option for smaller gigs. We've been also planning some social media content for the future and making new music!
Sofi: I've been writing grant applications, painting my walls, jogging, swimming in the sea and thinking about the future. I did this thing on our Instagram where I wrote one song idea every day for a week, based on ideas collected from our followers, that was super fun! 
And finally, we always like to ask – do you have any good new music tips to share with us?
Aleksi: From Finland of course the long long-awaited Alma album Have U Seen Her?. I fell in love with the debut album of Chicago-based R&B singer KeiyaA called Forever, Ya Girl. I love the dark, gritty lo-fi feel and the minimalistic production there!
Mikael: Olli Aarni
Sofi: You can find a bunch of my current favourite tunes on our 'juicy tunes' -playlist on Spotify. I'd also recommend a Finnish band called Ruusut!