Ever since his debut EP Faded. Dream. arrived in 2017, Copenhagen's School of X has been pushing boundaries. From his intricate live performances, to his role as drummer to pop sensation MØ, to his creative approach to collaborations, this is an artist that revels in the extraordinary – and his debut album Armlock pays perfect testament to that fact.
We caught up with School of X – aka Rasmus Littauer – as he unleashes Armlock into the world, to find out more about his background, as well as talking us through this enticing album track by track, detail by detail.
Read on to get to know this riveting artist better – and join us on Instagram at @jajajnordic as Rasmus takes over our account for the day!
School of X: How I Made 'Armlock'
Thanks so much for joining us! For those that haven't met you yet, can you please introduce yourself? Who you are, where you're from and what you do?
I'm born and raised in Denmark and I've been living in Copenhagen for 12 years or so. I've been playing music since I was a little boy. Mainly drums and later on expanded to other various instruments. I've just released my debut album ARMLOCK under my artist alias School of X after many years of touring and working with other artists. It's a lifetime goal and a big moment and it's calling for more.
What was the first album you remember being blown away by?
Bob Marley and The Wailers – Kaya. I found it in my parents' LP collection. It felt like I discovered it by myself and it was pure euphoria. I still love the album. I also did some scratching later on that LP, much to mine and my parents' regret 🙁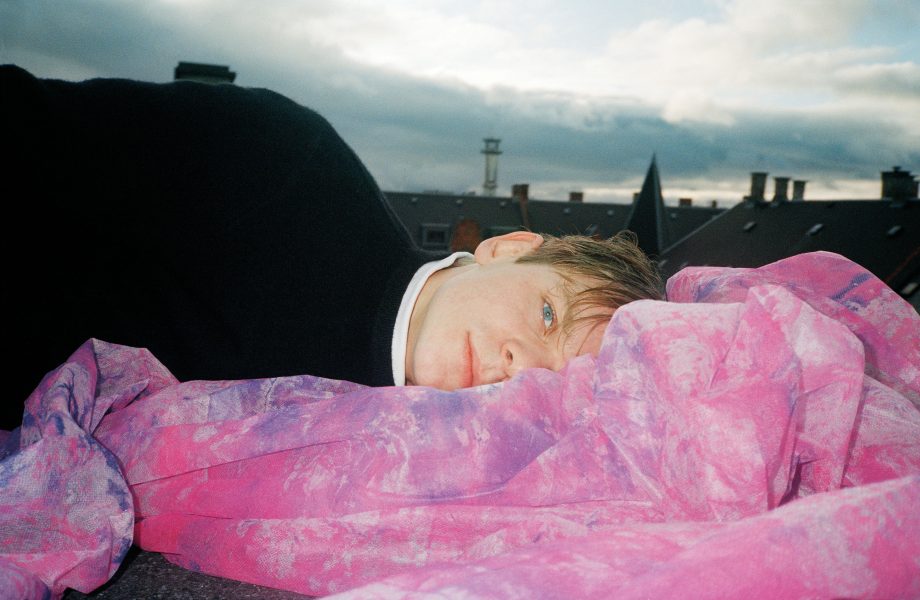 And what's the best live show you've ever been to?
First that pops to my mind is Portishead at Benicassim in 2016 or so (around that time). Portishead is one of my favourite bands but their live shows sound SOO extremely good. Anyone who's seen them knows.
We're catching up with you as you release your debut album Armlock, which we're extremely excited about! Could you walk us through the album, track by track?
Where Do I Start: To me this is a perfect first track on this album. Not only for the title but it shows an old and a new side of School of X. When I started recording this album I did this song the very first day and I almost finished it that day. Very intuitive, and I feel that's a big part of the identity of the song. This song is basically about the reality I'm living were virtual life has become as important as our real life. About my own struggle being against it and also being part of it.
Bad Love: I think it might be a personal top song from the album. There's so many things I always wanted to do that's happening in this song. Chorus from the beginning, raindrops in the intro, organ solo in the end and toms all over the place. Actually I had Mauro Refosco (David Byrne etc) do percussion all over the place too, haha, but in the end I stripped it back so it's mostly it the end.
Believe It: This song might be the song that has existed in most versions. I could release a double album with only different versions of this song. Tbh I like most of them but this one felt right and it felt new to me. At the same time there's something in the vocal that goes back to Faded. Dream. productions. It's about when a relationship slips through your fingers and you don't realise until it's too late. 'No one took our love from us, We left it at last'
Parking Lot feat Soleima: I really love this song. It came so easily. I always dreamt of a song with only electric bass and vocal, and here it is at least half way through it. I recorded the bass with Spencer Zahn (Twin Shadow etc) in a hotel room at the Ludlow. He played the thing through once and it was there in the first try. I think Sarah's (Soleima) and my voice complement each other better then we ever knew – I'm just really excited to do such a beautiful song together with her.
Forgot Me On The Moon: I wrote the chorus of this song about 10 years ago where I was extremely mad at myself for not moving on from what I was doing because I was obviously super bored. The meaning of the song develops into something new and to me it's about the happiness and relief that sometimes/rarely comes with being left, and not the one who's leaving. I used to be afraid of conflicts so that probably explains the relief when you're bad at acting yourself. It changed a lot though and now I think acting is a life philosophy for me, haha.
Collarbone ft Lord Siva: This song has an old friend of mine on it. Brian (Lord Siva) recently started singing in English which I'm really happy about since I think the world deserves to know about his voice. I love it and I love him and I'm very happy we made this song together.
Flowers: This song somehow means a lot to me. I love the arrangement and the lyrics. Very simple and sad, but it really tells a story about being afraid of being alone and being left. Loneliness is my biggest fear I think.
Rivers: It goes a little bit in the same theme as some of the other songs lyrically, but it's built more as a story, in metaphors – which is not typical for my writing. It was also written with Mads Koch and composed and recorded with Vera and Trentemøller.
Blood Flow: This was the very last song written for the album. I love this song so deeply. I made it out of fractions of different old songs and then entirely rewrote and recomposed it. It happened in a small apartment in New York and I recorded the vocal with a really bad mic and I seriously couldn't sing it better than when I wrote it. Chris (Tabron who mixed the album) made it sound great anyway, so I guess the saying "never blame the mic" goes well here. I will have to mention Rune Risager in this context too who did the amazing guitar solos in the second half of this song.
We know it's been quite disrupted lately, but what do you hope the rest of 2020 will hold for you?
I hope to play shows. It feels a little bit empty to release music and not play it live. We're trying to plan shows in the fall but who knows how this will all end. Other then that I'm doing really interesting album projects in different constellations and of course, I hope to finish the next School of X album during this year.
How have you been keeping busy during these recent, quieter times?
I've just been going to the studio everyday making music for myself and others. Other then that I've spent some weeks in the countryside and in general, just been chilling.
And finally – do you have any good new music tips to share with us?
My brother Yangze is definitely worth checking out. Then I think these newer danish acts such as Ydegirl, Yune and Dirt Bike are some of my favourite Danish acts.