We've been keeping a close eye on Karina for a long while now, having been captivated by their eponymous debut album which arrived in 2018. The record, captured in their native Finnish, opened a host of new doors for the Helsinki-based duo, who subsequently headed on the road throughout Europe with Beirut, perfecting a striking live set along the way.
Today is a particularly special day for the band, as not only are they hosting today's Ja Ja Ja Takeover, but they'll also be performing a live streamed concert tonight (10th June) for the first time since the release of their brand new album, 2!
If you're not already doing so, make sure to follow us on Instagram as the band take over our account today leading up to tonight's live stream, and read on right here as Helmi and Karin walk us through the journey of making 2, shining light on each song's origin, its hidden sounds and its deeper meanings.
Karina: How we made '2'
Thanks so much for joining us! Can you please tell us a bit about yourselves?
Helmi: Thanks for having us! My name is Helmi and I have a band called Karina with my dear friend Karin. We come from Helsinki, Finland and we make dreamlike music in Finnish language. We just released our second album.
Karin: I'm Karin from Finland. I play guitar and sing in a band called Karina. We founded the band with my best friend Helmi. We share our deepest emotions to the music that we play.
Can you tell us about the story of Karina? What drives you to make music together?
Helmi: We met in high school back in 2010. Our similar interest in music was one of the main reasons why we became friends. We used to go in to our school's basement, to the band space, and play around with various instruments. We just had a lot of fun with them. Then one day Karin asked me if I wanted to play bass on some of her songs she had composed. That's how we found each other also as great music making and composing partners. That's how Karina was born.
Karin: We don't need words when we play. Everything just magically connects when we take our instruments and start jamming. Soon after we discovered this connection between us, we founded a band.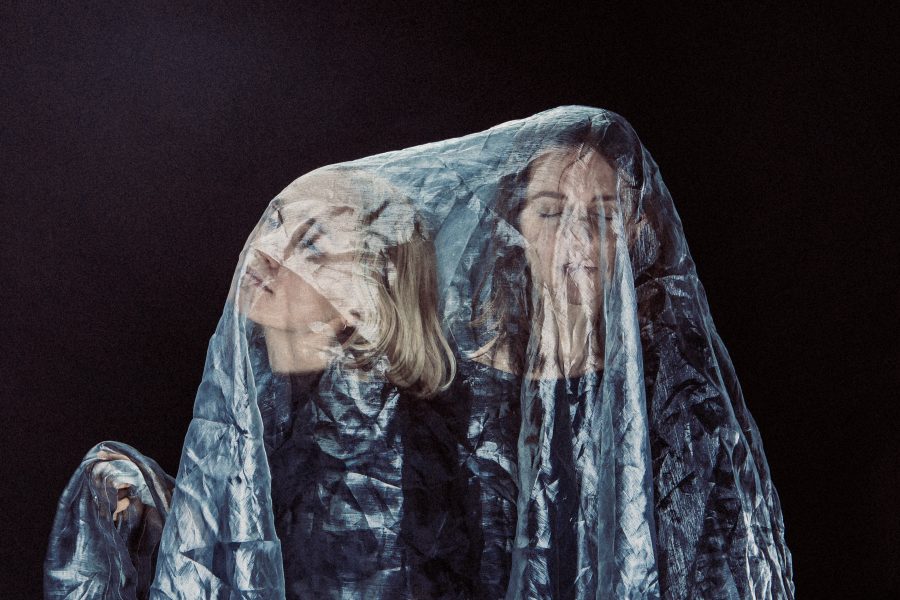 What's the best/most memorable live show you've ever performed?
Karin: Every show is different. I tend to remember the shows that didn't go so well but we always figure out a way to go on even with the worst conditions. The first time we got to play in Flow Festival we got the same slot as Sia. We couldn't hear anything to the stage because 'Chandelier' was coming from the main stage so loud. She was very popular then.
Helmi: One of my favourite shows was last summer when we were opening for Beirut in Luxemburg. That chance to play and the warm welcome from the audience who had no idea who we were was a deeply moving experience for me. Another one of my favourite shows happened only a few months back when we were supposed to have our album release concert in Helsinki but the pandemic cancelled all of our shows. We were still able to perform at the venue with a live stream. Playing in a giant hall for no one was quite something different!
Your second record 2 landed just a few weeks ago, which we've been listening to non-stop ever since! We'd love to hear more about the story behind the tracks…
'Tunnustus'
Helmi: This track says something about envying one another. It has some double bass melodies which people tend to mix up with the voice of a cello. It was quite clear from the beginning that this would be the opening track for the album. The song is about jealousy, its forms and reasons. The lyrics are an apology and a confession from someone who has done wrong towards someone by envying them.
Karin: I loved creating this track. There are so many little things like field recordings (water splashing etc) that give me very strong visual images.
'Auta'
Karin: The first sketch of this song was called 'Afraid'. That inspired me to write about one being too hard on oneself, which usually comes out of fear.
Helmi: For me 'Auta' is a song about hope. I hear the story lifting up someone who feels lost – it doesn't matter, there's still always someone telling you it is OK and you will get through this. The beat of this song really backs up the message too with its uplifting and gripping mood.
'En oo tän enempää'
Karin: We recorded the first version of this in Berlin, December 2018. It was a beautiful moment and after recording this we saw the first snowflakes in the sky.
Helmi: I think 'En oo tän enempää' had a great impact on all the sounds we built for the rest of the tracks later on.
'Claus'
Karin: The name of this song is 'Claus', who is a therapist. Very tanned, he has glasses and fine clothes. But very professional.
Helmi: 'Claus' is a true breaking point on this album. The ending was born one late night at the studio when we picked up our instruments and started playing what ever came in to mind. All of a sudden a great wall of distortion was born and we loved it.
'Juuret'
Helmi: 'Juuret' is a tale between two persons and their minds. Both of them are having the same thoughts about themselves and are not sure if they are capable of revealing their true self to one another. The atmosphere of the song is tense. This was a piano ballad before we went to the studio. Now it's something completely different. I love the club-like vibe it has throughout.
Karin: We played so many different instruments to this song, Helmi was showing her amazing skills as a percussionist.
'Aila'
Karin: We were singing vocals to this song and we couldn't stop laughing since the high notes are so high that we sounded like Minnie Mouse when we were trying to sing those.
Helmi: 'Aila' had many forms before it settled to this one. It's a heartbreaking story of never ending love. The sound narrative is surprising and I bet everyone who has had their heart broken can understand the feeling in the massive ending.
'Teko'
Helmi: A song about dreams and finding yourself. Finally making the choices you've wanted to for a long time and the consequences of your actions. This felt like a huge song to arrange and we had some pieces of the puzzle that just didn't seem to fit. This one wrote itself somehow as we started to find a way to build the whole thing together.
Karin: I always see horses running when this song starts.
'2000'
Karin: This is a story about a girl who decides to move out at the age of 15. It's pretty hard on her mother. This topic interests me a lot, the chemistry between mother and a daughter.
Helmi: '2000' has a beautiful melody in the chorus that binds the song and its story together. One of my favourite songs on the album. It sounded very different during the demo phase, but eventually it found its natural form in being like it is now.
'Ariel'
Helmi: 'Ariel' makes a wish of solidarity – how to deal with differences and how to give loving space to every living thing on earth. We made the bass drum sound by hitting an oven mitt. We like to do all kinds of nerdy sound-stuff like that and hide them in the tracks.
Karin: We just used the first instrumental take of this song. The atmosphere was just perfect.
We know it's been quite disrupted lately, but what do you hope the rest of 2020 will hold for you?
Karin: I hope we get to unite as people and find good and long-lasting solutions to big problems. For me I hope I get some good new inspiration to music and get to rest as much as possible. Maybe drive a car and listen to Abba A LOT.
Helmi: I try to live one day at a time and with a positive mindset. I hope the rest of 2020 will bring goodness in forms I could never guess.
How have you been keeping busy during these recent, quieter times?
Helmi: I knitted one sweater, had my birthday in quarantine and cooked a lot. I'm quite a chef nowadays actually, which is a huge improvement to my cooking skills before the spring of 2020. Also watched great series from HBO and read books.
Karin: I've been doing some music projects that I haven't had time to do before. I also got a van, have been reading a lot and watched Skam again.
Do you have any good new music tips to share with us?
Karin: Ruusut, Aho, Elia, Kyynel and Selma Juudit Alessandra
Helmi: SITOI, Selma Juudit Alessandra, Exploited Body, Lac Belot