We're delighted to be joined by one of Denmark's most exciting emerging talents, Nicklas Sahl, for today's Ja Ja Ja Takeover!
Nicklas is proving to be quite the prolific songwriter, following up 2019's debut album Planets with a number of new releases this year already. The most recent is a sumptuous track entitled 'In The Window Frame', which arrived just a few weeks ago, and which follows on from his multi-million streamed recent singles 'There For You' and 'Four Walls', each taken from a new album which Nicklas hopes to have wrapped up later this year.
As his name and his songs become more and more well known, we've invited Nicklas to join us for today's Ja Ja Ja Takeover – so read on to get to know this promising artist better in an exclusive Spotlight Interview, and head to @jajajanordic on Instagram as he guides us through a day in his life!
Spotlight Interview: Nicklas Sahl
Hi Nicklas! For those that haven't met you yet, can you please introduce yourself?
Sure thing! My name is Nicklas Sahl, I'm 23 and I'm a Danish singer & songwriter. I grew up in a small city in a rural area, until I moved to the capital Copenhagen 3 years ago as a part of pursuing my dreams.
I have played and performed music my entire life but my career started for real after I signed a record deal with Warner Music a couple of years ago which led to the release of my song 'New Eyes' that became a big hit in Denmark.
Who (or what!) have been some of your greatest inspirations when making music?
My songs start from personal experiences from my life. I often write to get thoughts I'm struggling with out of my head. I find it easier to cope with whatever happens in my life by writing it down and organising it. My musical heroes are legends like Paul Simon, James Taylor and The Eagles mixed with newer acts like John Mayer, Bon Iver and Harry Styles.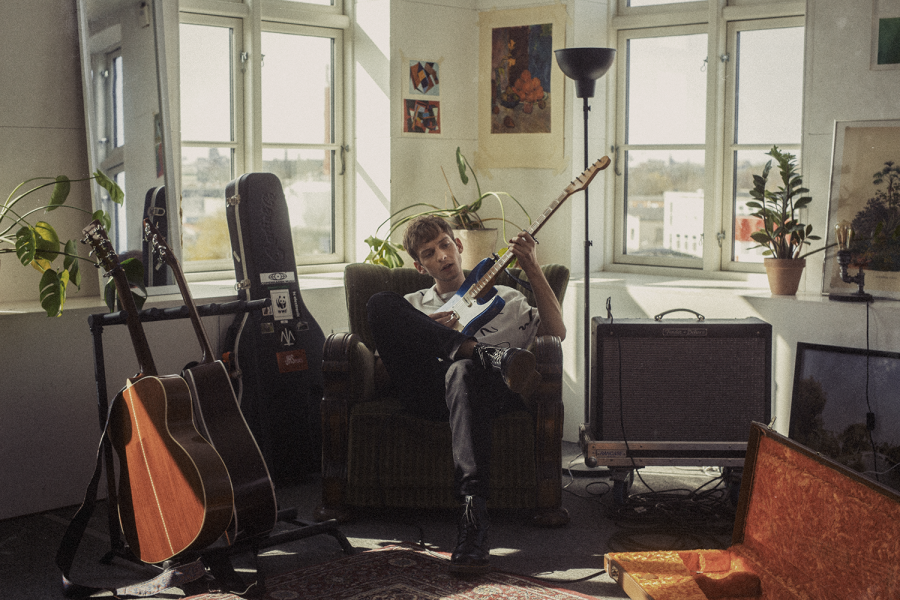 What was the first album you remember being really excited about?
Honeyburst by a Danish artist named Tim Christensen. I brought these songs to my guitar teacher and I remember how challenging they were for me to play. I was so excited about it that I bought both the vinyl and the CD edition of the album. I highly recommend you to look up 'Whispering At The Top Of My Lungs'. Still one of my favourite songs!
And what's the best concert you've ever seen?
Bon Iver at Royal Arena in Copenhagen. The sound was mind blowing and although the arena housed 16.000 people it was totally quiet. People had so much respect for the music and the band rewarded us with a unique, world class live performance and incredible songs.
Tell us about your beautiful latest single, 'In The Window Frame'! What's the story behind it – and was it an easy song to get on record in the studio?
We were 3 people in a studio in Stockholm writing it. It's a song about the feeling of being stuck in the past. When you've had one drink too many and love seems to be out of reach, and you start reminiscing about previous relationships and (naively?) start to reconsider your choices from the past – was she perhaps the one after all? Or are you just feeling so lonely right now that you're willing to convince yourself that she is?
It took us 3 hours to finish the song so that went very natural and fast. The production of the song, however, took us a year and a half to finish. First version was too Motown inspired, the next was too pop and so it went on. Then the producer of Ed Sheeran's 'Perfect' had a great go at it, followed by a few last sessions with several other amazing musicians and producers. Finally the feeling was right!
What do you think is the perfect setting in which to listen to this track?
I think it's the kind of song that works really well in all sorts of settings (see how I make you listen to it everywhere?!). No but really, the way I see it, the song has a rather hidden layer of darkness and melancholy (it's actually a tragic story if you listen to the lyrics) which makes it perfect for thorough listening when you're somewhere quiet and you can hear it without too much disturbance so that you can reflect about life and love.
On the other side, it's a soft and easy-going song with uplifting, classic melodies which makes it sound happy. I love it when a song can't really decide if it's happy or sad.
And we've heard this is from your forthcoming album – can you tell us more about what to expect from the record, and what your ambitions have been when making the album?
I want to give people a broader perspective of who I am as artist. I need to share more music in order to give people the chance to properly understand me, my art, my skills and my ambitions. I've written so many songs and they just lie there and wait to be released and I can't wait to get it out there. I'm not even nervous to be honest. I love every second of every song, and as long as I've got that feeling, nothing about releasing music can truly scare or disappoint me.
We know it's been quite disrupted so far, but what do you hope the rest of 2020 will hold for you?
Yeah, it's crazy… The situation has given me extra time to create new music. I think I might have the foundation of my second album ready before the end of summer, haha! In the fall I go on tour in Denmark and my first headliner tour in Germany which I'm obviously SUPER excited about. The band and I have just started rehearsing because we couldn't wait. I'm constantly imagining the first time I'll be back on the stage.
How have you been keeping busy during these recent, quieter times?
Despite writing, I've been doing several live streams. I've even had a few talks with some of my fans on Instagram live and in some ways I feel even closer with my fans now than I did before the world locked down. Other than that, I've been spending time with my friends and family and in some ways it's nice to have a little extra time on my hands… but I miss my job.
And finally, we always like to ask – do you have any good new music tips to share with us? (Danish tips are particularly welcome!)
To name a few of my favourite, fresh Danish acts:
1) Danish/Welsh singer & songwriter named Drew and her album Brutal. She's incredible!
2) If you're into some silky-soft r&b summer tunes check out Elias Boussnina and his 'Summertime Blue'.
3) Lastly I want to recommend you to follow the journey of my talented friend Daniel Schulz. He recently released his song "Bad Company" and it's such a banger!