In April of last year, we were in Berlin, preparing to step into Spring with an unforgettable performance from Icelandic duo, Jóipé x Króli!
At the time, Jóipé x Króli – aka Jóhannes Damian Patreksson and Kristinn Óli Haraldsson – were working hard to create a brand new album, which saw the light of day upon its release at the start of 2020. Í miðjum kjarnorkuvetri is its name, a collaboration packed release that's being accompanied by some brilliant videos, including the recently released clip for the single 'Óska mér'.
We're very excited to welcome Jóipé x Króli back as they host today's Ja Ja Ja Takeover – so read on to meet the pair, and follow us on Instagram as they hijack our account for the day!
(Main photo: Marsibil Sól)
Spotlight interview: Jóipé x Króli
Thanks so much for joining us! We first met you when you performed at Ja Ja Ja Berlin last year – but for those that haven't met you yet, can you please introduce yourselves? Who you are, where you're from and what you do?
We are Jóhannes and Kristinn, two best friends from Iceland that are also musicians training to become professional dart players.
Who (or what!) have been some of your greatest inspirations when making music throughout your career so far?
The most inspiring thing for us is probably that we are able to work in the same place with other great artists that are also our good friends.
What was the first album you remember being blown away by?
JóiPé: For me it's probably Midnight Marauders by A Tribe Called Quest.
And what's the best live show you've ever been to?
JóiPé: I went to the release show for Auður's album Afsakanir – that show is probably one of my favourite.
Króli: Last December I went an Idles concert in London – it definitely is the best live show i have ever been to.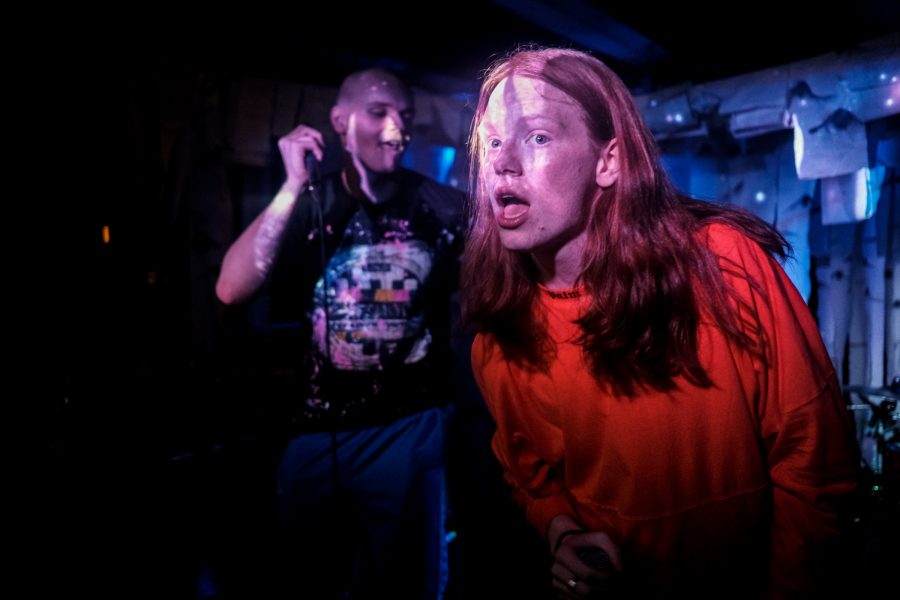 Your brand new album Í miðjum kjarnorkuvetri landed just a few weeks ago! (congrats!) What was your ambition when you started making the record? Did the songs come together easily?
The process of the album took about two years, the first demo was made in April 2018 but early the next year we were on a roll and we started seeing a possible album.
It comes accompanied by the brilliant 'Óska mér' video – for those that haven't seen it yet, can you let us in on the story?
The 'Óska mér' video is the first video that we didn't direct, produce or write, it was made by the brilliant Julia Bambino. But as far as the story goes it would be, in my humble opinion, best to check it out yourself and interpret it yourself in any way you want to. That is the beauty of art.
There are some great collaborations on the record – how do you pick who you want to work with (and who are your favourite collaborators!)?
There are many different kinds of working formulas that we had when making the album. Some of the features were well thought out and planned to every little detail, some happened by accident, while others were long time collaborators and friends that were always around and put their mark on the album one way or another.
As far as the choosing the favourites I couldn't pick between, I love each and every one of the featured artists, co-producers, session players. It is like one big family.
We know it's been quite disrupted lately, but what do you hope the rest of 2020 will hold for you?
Hopefully staying safe, physically and mentally, learn new things, nourish relationships with loved ones. Personally I am not too stressed out about live shows, or anything like that, you just have to live in the moment and remember that the world is in the midst of a pandemic. We are all trying to reach the same goal, defeat the virus by isolating ourselves.
How have you been keeping busy during these recent, quieter times?
We have been playing a lot of Football Manager, golfing and just trying to do more outdoors stuff.