As 2020 kicked off with a January that lasted about a year on its own, we here at Ja Ja Ja figured we'd start the year mid-February instead. And what a kickoff it is! From Iceland's superior sound wizards in Kiasmos to Sweden's soul-saving Alice Boman; we present to you The Nordic Gig Guide February 2020.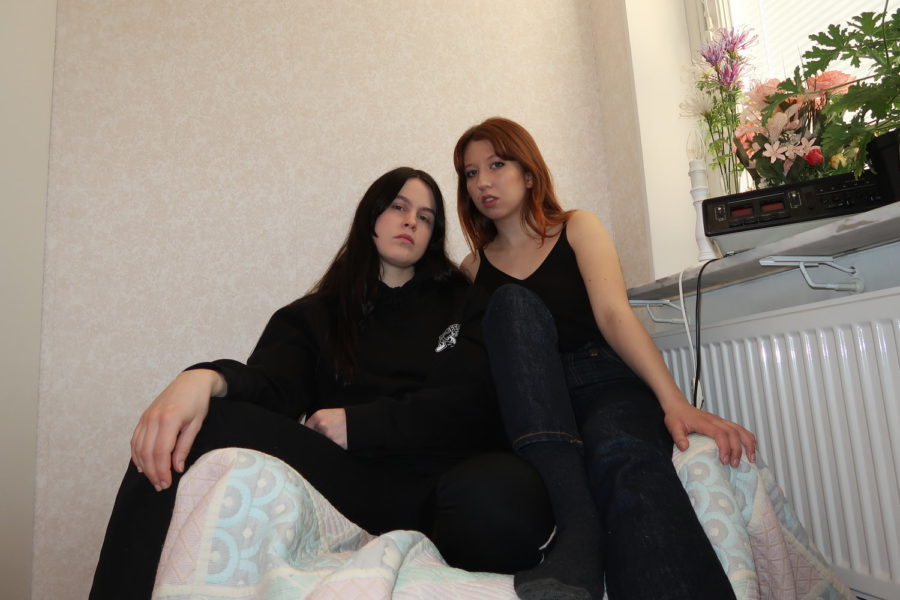 02.02 The Hope & Ruin, Brighton
05.02 Rough Trade – East, London
06.02 Elsewhere, Margate
07.02 Kazimier Stockroom, Liverpool
08.02 The Old Blue Last, London
Stockholm based duo ShitKid have embarked on a world-winding tour from Denmark to America. With the release of their latest album Duo limbo /'Mellan himmel å helvete' on January 24th, they're playing a number of gigs in the UK in February.
ShitKid started with Åsa Söderqvist making mix tapes in her car and has now developed into a genre blending, barrier breaking and continuously evolving project with bassist Lina Moarin Ericsson. Don't miss ShitKid live!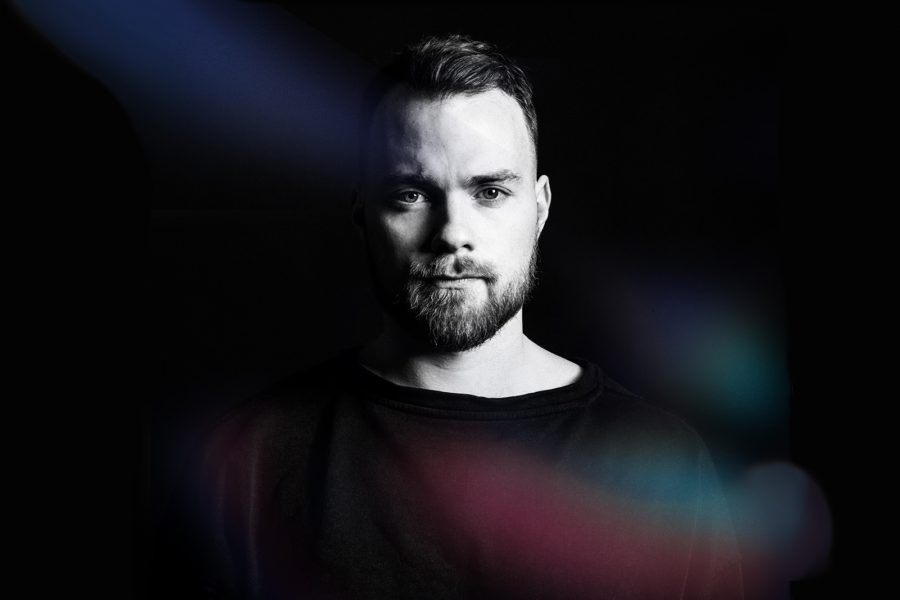 07.02 Gorilla, Manchester
08.02 Brudenell Social Club, Leeds
09.02 Classic Grand, Glasgow
11.02 SWX, Bristol
12.02 02 Shepherds Bush Empire, London
Iceland's singer-songwriter phenomenon Ásgeir just released a brand new single, and a long anticipated album arrives on February 7th. This is of course cause for celebration, which luckily for us comes in the shape of a UK tour – including shows from Glasgow to London. We at Ja Ja Ja simply can't wait to hear Ásgeir's third album and to see this brilliant artist live so check out the tour dates, book your tickets and have an amazing time!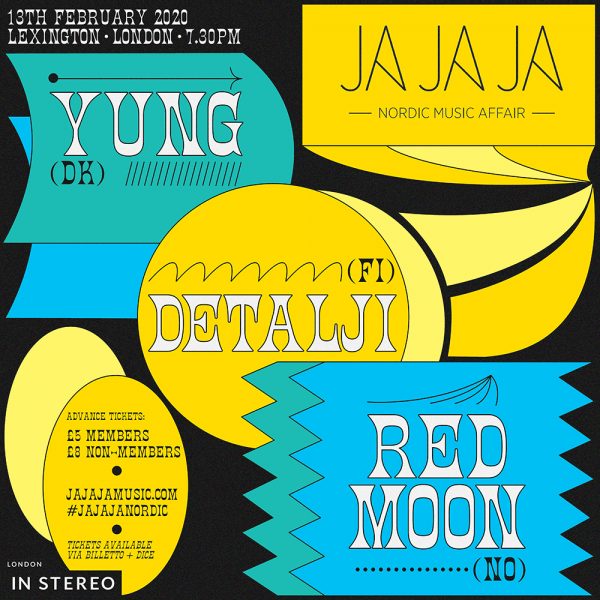 Ja Ja Ja London
with Yung (DK), Detalji (FI) and Red Moon (NO)
13.02 – The Lexington
Having just about recovered from our 10th birthday celebrations back in November, we're very excited to announce the first line-up to feature in Ja Ja Ja's spring 2020 season!
We'll be kicking things off in London on Thursday 13th February with a diverse line up, giving you the chance to meet the finest rock, electronic and pop propositions coming out of the Nordics right now.
Joining us will be Denmark's Yung, a punk-infused, powerful live band who've conquered pretty much all the festivals in their native Denmark, releasing an album and multiple EPs along the way. Joining Yung will be Finnish electronic maestro Detalji, who performed for us in Berlin back in 2019. With intense, powerful beats and striking imagery, Detalji promises to bring pumping electronica to The Lexington, so make sure to pay close attention. Completing our line up is fresh Norwegian face Red Moon, who's set to release brand new music just ahead of the show! Already tipped as one of the most exciting artists coming out of Norway this year, we're thrilled to be hosting Red Moon's first ever UK show.
TICKETS ARE ON SALE NOW! They cost just £5 for Ja Ja Ja members – so sign up as a Ja Ja Ja member now (for free!) right here!
More gigs coming up:
WEDNESDAY, 5 FEBRUARY
SKOTT
£12 ADV // 7.30pm // Oslo // MORE INFO
TUVABAND
£7 ADV // 8pm // The Lexington // MORE INFO
SHITKID
£5 ADV // 6.30PM // Rough Trade – East // MORE INFO
THURSDAY, 6 FEBRUARY
SHITKID
£7 ADV // 7.30pm // Elsewhere (Margate) // MORE INFO
FRIDAY, 7 FEBRUARY
SHITKID
£8 ADV // 7pm // Kazimier Stockroom (Liverpool) // MORE INFO
ÁSGEIR
£17.60 // 7pm // Gorilla (Manchester) // MORE INFO
SATURDAY, 8 FEBRUARY
ÁSGEIR
£16 ADV // 7.30pm // Brudenell Social Club // MORE INFO
SHITKID
Free // 8pm // The Old Blue Last // MORE INFO
SUNDAY, 9 FEBRUARY
ÁSGEIR
£17.60 ADV // 7PM // The Classic Grand // MORE INFO
CHRISTOPHER
£16.50 // 7.30pm // Oslo // MORE INFO
TUESDAY, 11 FEBRUARY
ÁSGEIR
£16 ADV // 7pm // SWX Bristol // MORE INFO
WEDNESDAY, 12 FEBRUARY
ÁSGEIR
£24 // 7pm // 02 Shepherds Bush Empire // MORE INFO
OTTA
£7 // 7pm // SET, Dalston // MORE INFO
THURSDAY, 13 FEBRUARY
JA JA JA – with Yung (DK), Detalji (FI) and Red Moon (NO)
£5 ADV // 7.30pm // The Lexington // MORE INFO
SUNDAY, 16 FEBRUARY
SIGRID
SOLD OUT // 7pm // Omeara // MORE INFO
TUESDAY, 18 FEBRUARY
MORTEN LAVA
£6.75 // 7pm // 02 Academy Islington // MORE INFO
SUNDAY, 23 FEBRUARY
LINDEMANN
SOLD OUT // 7pm // 02 Forum Kentish Town // MORE INFO
TUESDAY, 25 FEBRUARY
ALICE BOMAN
£14 // 7pm // Union Chapel // MORE INFO
SATURDAY, 29 FEBRUARY
EFTERKLANG
£20 // 8pm // Barbican Centre // MORE INFO