The autumn has properly arrived now, and do you know how we know? Because Ja Ja Ja has returned! As the days grow shorter, we've once again popped up at our cosy home of The Lexington in London to get our latest season of Ja Ja Ja underway. We teamed up with Iceland Airwaves festival for our first edition, inviting Icelanders Warmland, Finland's The Holy and Sweden's Pink Milk to join us for the ride.
Thanks to each of the bands for their stellar performances, and to everyone who came down to witness the show unfold – as captured by our photographer Rachel Lipsitz in the gallery below.
Ja Ja Ja will be back in London on the 31st October with a very special show in store, featuring Sweden's Janice, Norway's Birgitta Alida and Denmark's excellent The Entrepreneurs! Find out more here, and sign up as a Ja Ja Ja member to be the first to hear about Ja Ja Ja's news!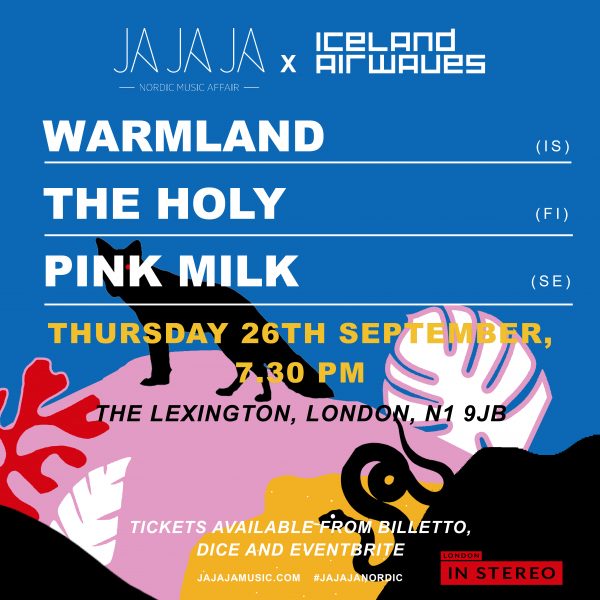 Ja Ja Ja – Pink Milk

Ja Ja Ja – Pink Milk

Ja Ja Ja – Pink Milk

Ja Ja Ja – Pink Milk

Ja Ja Ja London

Ja Ja Ja London

Ja Ja Ja – The Holy

Ja Ja Ja – The Holy

Ja Ja Ja – The Holy

Ja Ja Ja – The Holy

Ja Ja Ja – The Holy

Ja Ja Ja – The Holy

Ja Ja Ja London

Ja Ja Ja – The Holy

Ja Ja Ja – Warmland

Ja Ja Ja – Warmland

Ja Ja Ja – Warmland

Ja Ja Ja – Warmland

Ja Ja Ja – Warmland

Ja Ja Ja – Warmland

Ja Ja Ja – Warmland

Ja Ja Ja – Warmland

Ja Ja Ja – Warmland

Ja Ja Ja – Warmland