It's that time of year again, when the summer holidays are approaching (although the weather might be saying something different) and Ja Ja Ja's spring season of club nights come to a close!
And what a season it's been – we've been delighted to host so many avid Nordic music fans, turning out en masse to catch the best and brightest new Nordic music around.
May's season finale was no exception, with Finland's Plastic Tones, Denmark's KOPS and Sweden's Pale Honey all making their way to Berlin to take part in the show. Scroll down to see some photos from the night, taken by master photographer Ceren Saner!
Ja Ja Ja will be back in Berlin in September, with some extra, EXTRA special shows lined up. Want to find out more? Sign up as a Ja Ja Ja member, and you'll be the first to hear what's coming up…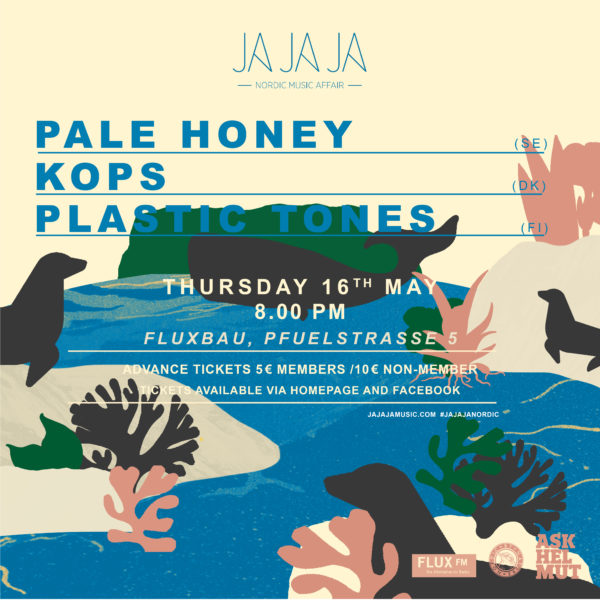 Ja Ja Ja

Ja Ja Ja – Plastic Tones

Ja Ja Ja – Plastic Tones

Ja Ja Ja – Plastic Tones

Ja Ja Ja – Plastic Tones

Ja Ja Ja – Plastic Tones

Ja Ja Ja

Ja Ja Ja

Ja Ja Ja

Ja Ja Ja

KOPS – Ja Ja Ja

KOPS – Ja Ja Ja

KOPS – Ja Ja Ja

KOPS – Ja Ja Ja

KOPS – Ja Ja Ja

KOPS – Ja Ja Ja

Pale Honey – Ja Ja Ja

Pale Honey – Ja Ja Ja

Pale Honey – Ja Ja Ja

Pale Honey – Ja Ja Ja