The spring season of Ja Ja Ja is now well underway (although the weather might be claiming something different…) and it was our pleasure and honour to be back in Berlin to present three new Nordic artists for our beloved Ja Ja Ja audience to discover,
Norway's blissful Konradsen, Icelandic party starters Jóipé X Króli and Swedish power pop superstar GRANT were all in town to take part in the show, so a huge thanks to each of the performers for their superb performances, and thanks to all who came along to watch the show! Photographer Ceren Saner was with us on the night, taking snaps for our Ja Ja Ja gallery as the night unfolded – scroll down to find them!
Ja Ja Ja will return to Berlin in May for a final show before the summer break, so make sure to join us there – and don't forget to sign up as a Ja Ja Ja member to be the first to hear who's set to play!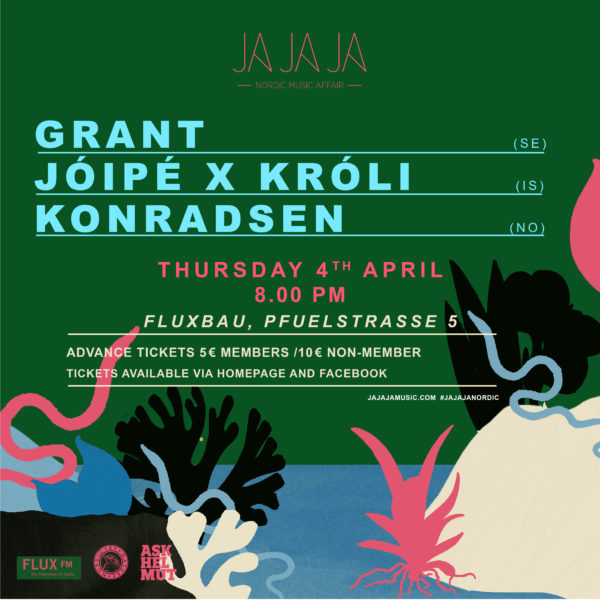 Konradsen -Ja Ja Ja

Konradsen -Ja Ja Ja

Konradsen -Ja Ja Ja

Konradsen -Ja Ja Ja

Ja Ja Ja

Ja Ja Ja

Jóipé X Króli -Ja Ja Ja

Jóipé X Króli -Ja Ja Ja

Jóipé X Króli -Ja Ja Ja

Jóipé X Króli -Ja Ja Ja

Jóipé X Króli -Ja Ja Ja

GRANT – Ja Ja Ja

GRANT – Ja Ja Ja

GRANT – Ja Ja Ja

GRANT – Ja Ja Ja

GRANT – Ja Ja Ja